Celebrate Outdoor Drinking Season at Pittsburgh's Best Rooftop Bars
Once again, it's that time of the year where all anyone wants to do is collapse into a kiddy pool full of tequila and margarita mix. If that sounds a bit decadent for your taste, we've got the next best thing: Prepare yourself for endless nights of ice-cold cocktails atop some of Pittsburgh's finest rooftops.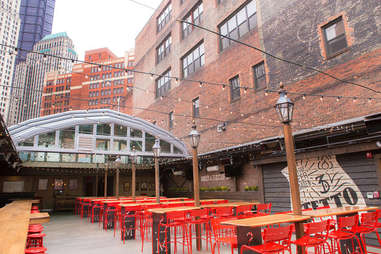 Downtown
With a glass retractable roof in the heart of Downtown (meaning, this bar's open even in the coldest depths of winter), Il Tetto's atmosphere and view of the overarching skyline is hard to beat. Somehow, beer from the bar's impressive draft list tastes even better when you're surrounded by skyscrapers. Along with the brews and full bar, Il Tetto also has classy snackage, like an artisanal cheese plate and beef tartare. If you're looking to impress an out-of-towner, here's where to do it. Don't forget to tell them the literal translation of the place you're at is "the roof."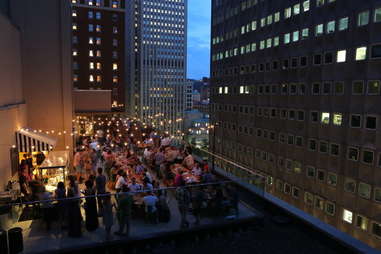 Downtown
Biergarten sits at the top of Hotel Monaco's ninth floor, making it the tallest rooftop bar in the city. Good crowd control maintains the space's low-key but playful vibe (have you played giant Jenga yet?), making it easy to spend a whole evening swigging European beers and eating enormous pretzels & sausages here.
East Liberty
A covered roof provides the perfect rooftop perch to watch the happening intersection of Highland and Centre. Order up a juicy burger (go for the Shrooms burger, it's one of the best in the city) and a boozy milkshake, or get there for happy hour when signature cocktails are $6 -- hello, Corpse Reviver!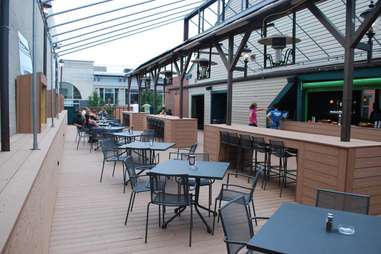 Shadyside
With TVs galore (yes, built into the wood-planked walls on the roof), Mario's is a go-to for catching any of the big games, though you might have to wade through a pool of college kids to get a drink. Even better, Tuesday is outdoor movie nights on its newly renovated rooftop.
Shadyside
Steel Cactus is rife with strong margaritas, high heels, and bro, which is to say: expect a full-on party when you come here. If that isn't your jam, there are plenty of other downtempo rooftops on this list, but if/when you're jonesing for that kind of night, get some chips and salsa and a Yinzerita (beer upside down in a margarita) and head up to this Shadyside roof deck.
Lawrenceville
In 2016, New Amsterdam underwent renovations that included the addition of an open-air rooftop beer garden, meaning the previously cramped-feeling bar is now a welcoming hot spot on Butler Street. Enjoy daily cocktail specials like Hump Day Happiness, as well as a menu that serves up everything from Dutch-inspired sandwiches, to lobster nachos, to a 'Little Nederlanders' menu for the kiddos.
Southside
Listen: you can order a 64oz drink at Carson City Saloon. Byyyye. It goes without saying, then, that this bar is made for parties. The rooftop space looking over the greenery on the banks of the Monongahela River is also nice enough to host weddings in the summer months.
Homestead
If you don't live in Homestead, there's a good chance you've never heard of Duke's. With an impressive selection of 48 local and craft beers on tap, and an attached wine bar right next door, Duke's offers a laid-back vibe with a patio that's open year round. It also hosts events like Cornhole-League Nights -- because nothing is more Pittsburgh than throwing back some Fat Head's IPA and becoming a competitive cornholer for the night.
Sign up here for our daily Pittsburgh email and be the first to get all the food/drink/fun in the Steel City.
Julianna Bagwell loves hanging out on rooftops but is also terribly clumsy after a couple of drinks. It's a dilemma. Follow her on Twitter @JuliannaLocal.
Laura Zorch loves a good cocktail paired with sunshine. Pittsburgh can provide at least one of those most of the time. Follow her at @eatpgh.