If there's anything better than sipping an icy beverage outside on a warm summer's night AND looking out over Pittsburgh's cityscape, we'd like to hear what you've got. In the peak of our city's best season, we can hardly imagine a better setup, so let's head to these roofs for the best ways to take in all the sun (and booze) we possibly can this summer.
Downtown
With a glass retractable roof in the heart of Downtown (meaning, this bar's open even in the coldest depths of winter), Il Tetto's atmosphere and view of the overarching skyline is hard to beat. Somehow, beer from the bar's impressive draft list tastes even better when you're surrounded by skyscrapers. Along with the brews and full bar, Il Tetto also has classy snackage, like an artisanal cheese plate and beef tartare. If you're looking to impress an out-of-towner, here's where to do it. Don't forget to tell them the literal translation of the place you're at is "the roof."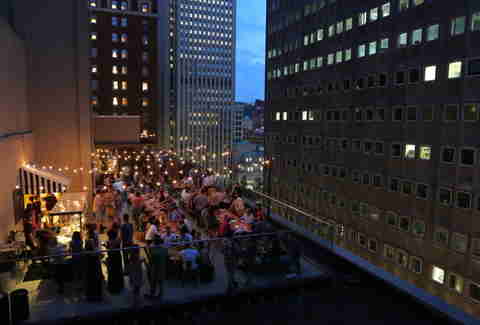 Downtown
Biergarten sits at the top of Hotel Monaco's ninth floor, making it the tallest rooftop bar in the city. Good crowd control maintains the space's low-key but playful vibe (have you played giant Jenga yet?), making it easy to spend a whole evening swigging European beers and eating enormous pretzels & sausages here.
East Liberty
A covered roof provides the perfect rooftop perch to watch the happening intersection of Highland and Centre. Order up a juicy burger (go for the Shrooms burger, it's one of the best in the city) and a boozy milkshake, or get there for happy hour when signature cocktails are $6 -- hello, Corpse Reviver!
Shadyside
With TVs galore (yes, built into the wood-planked walls on the roof), Mario's is a go-to for catching any of the big games, though you might have to wade through a pool of college kids to get a drink. Even better, Tuesday is outdoor movie nights on its newly renovated rooftop.
Shadyside
Steel Cactus is rife with strong margaritas, high heels, and bro, which is to say: expect a full-on party when you come here. If that isn't your jam, there are plenty of other downtempo rooftops on this list, but if/when you're jonesing for that kind of night, get some chips and salsa and a Yinzerita (beer upside down in a margarita) and head up to this Shadyside roof deck.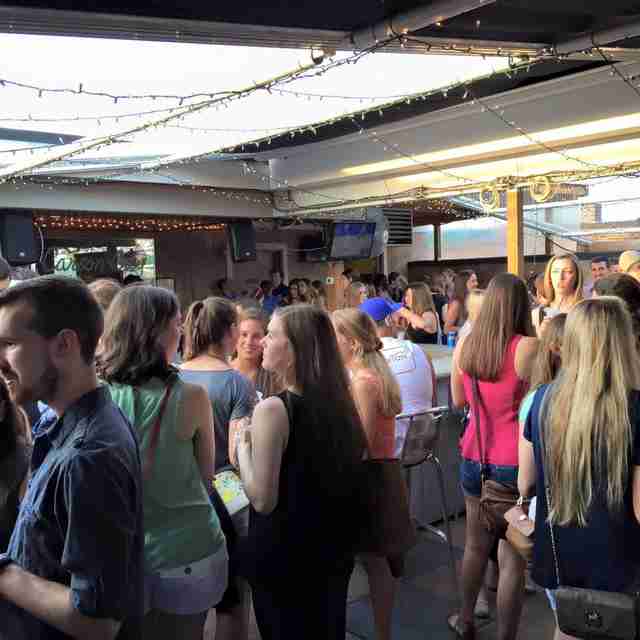 Southside
Listen: you can order a 64oz drink at Carson City Saloon. Byyyye. It goes without saying, then, that this bar is made for parties. The rooftop space looking over the greenery on the banks of the Monongahela River is also nice enough to host weddings in the summer months.
Lawrenceville
Take in the brick church and colorful homes of Lawrenceville from the small rooftop deck at Pints on Penn. Along with its quaint surroundings, this corner bar has a rotating draft list and funky beer cocktails, like the Shave & a Haircut: Sailor Jerry rum, Coke, and a stout. We'll try anything twice.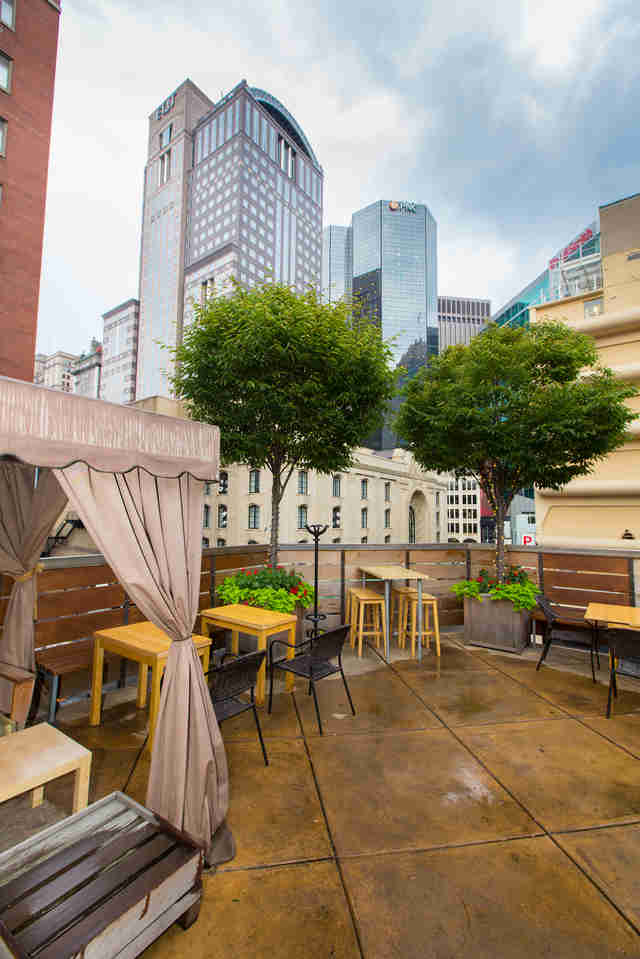 Downtown
Walled off from any lurkers down on the street level, Six Penn's intimate space, replete with plush benches, big tables for friends, and lush, green trees, feels like a Downtown PGH oasis. (Bonus points for being close enough to hear cheers float across the river from the stadiums on big game days.) It might not be the tallest roof in town, but this charming spot is great for sipping on mojitos and sangria in warmer weather.
Downtown
The expansive third-floor bar is off the beaten path of Downtown, making Tavern 245 a hidden-in-plain-sight gem for rooftop drinking. Weekday happy hour runs for three hours, so there's no excuse to not drop in for a decompression drink on the roof after work while it lasts.

Sign up here for our daily Pittsburgh email and be the first to get all the food/drink/fun in the Steel City.