Pittsburgh's 12 Bad Decision Bars
Everyone knows Pittsburgh has its fair share of hip, innovative bars delivering amazing food and drinks all wrapped up in an enticing ambiance. But who cares about that when it's 1am on a Friday and you just got dumped, or fired by your boss who you were also dating? That's when it's time to turn to these 12 bad decision bars around Pittsburgh that promise to be uncomfortable, unforgettable, and leave you soaked in sweat (at least you hope it's sweat).
South Side
A dimly lit cavernous bar, Lava Lounge never fails to attract the worst of crooners on its weekly karaoke night. According to one of its own bartenders, a woman came into the bar, tumbled down the stairs to the restroom, and then proceeded to pee on the dance floor. Also, don't miss Emo Night. People dress up.

Braddock
Murphy's can best be described as an urban Twin Peaks. The bar's most prominent feature is one of its regulars who makes his way to the center of the room for a slow, solo dance anytime someone feeds the jukebox. This Irish joint is sparsely occupied in the evenings, but packed with steelworkers early in the day who make it feel as though you've taken a step backwards in time.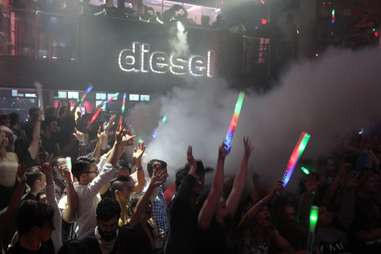 South Side
Diesel is Pittsburgh's answer to a Las Vegas high roller's club with a top 40 playlist, questionably sticky floors, and unsolicited grinding. It's like your own personal episode of Jersey Shore came to life, and has even been known to have A-listers like Tara Reid drop in to host.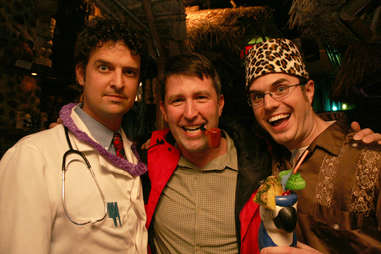 South Side
Tiki Lounge has it all: pushy bouncers, a menagerie of cheap Hawaiian decor, and a multi-level dance floor that will make you fall face first during your Justin Bieber dance routine. There's also a downstairs bar and lounge, complete with dark nooks where you are guaranteed to get trapped by that guy who will give you a long and completely inaccurate history of the South Side.
McKees Rocks
With an unassuming storefront adorned simply with the word "SHOOTERS" in red letters, this bar in no way will remind you of what a bad neighborhood you're in. This McKees Rocks staple is known best for its cheap pints and diverse crowd. If you want to see a fist fight between a crotchety yinzer and a punk kid, this is the place for you.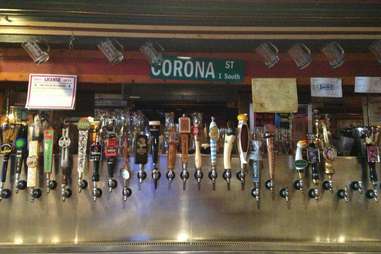 Oakland
With a name like Hemingway's, this bar probably had potential to be a sophisticated college club where great minds could wax philosophically over aged scotch. Instead, it currently serves lite beer and Cloggin' Fries to students who want to gain their freshman 15 in the only bar they've ever stepped into. Pitt's most popular (and, seemingly, only) university bar will perpetually be packed from wall to wall with sweatshirt clad undergrads, and professors who want nothing more than to be inappropriately chummy with their class students.
Strip District
Formerly known as Club Zoo, Pittsburgh's only 18+ club is the best spot in the city to feel like a huge creep. "18 to party, 21 to drink" roughly translates to "Hey old man, I'm only talking to you because I know you'll illegally buy me liquor." So if you're looking to wake up in a dorm room and have an uncomfortable conversation with your hook-up's disapproving roommate, you've found your safe haven.

South Side
Tad's may have been going for a '50s diner vibe, but just ended up looking like a rundown school cafeteria with unfortunate tile floors, poor lighting, and tired bartenders. If you applied to the University of Pittsburgh with dreams of joining a frat, but didn't get accepted, this is probably where you party. Definitely a must if you want to learn how to play darts from a guy in a Von Dutch T-shirt with personal space issues.

South Side
On the outskirts of East Carson's bar scene, Jack's is loved by many for being a simple, dirty bar that doesn't try to impress anybody. The atmosphere and cheap drinks far too often lead to a night of heavy drinking and roughhousing. But no one can deny that Jack's has everything: free stale popcorn, a questionable back room, and a claw-style vending machine that taunts you with the promise of free gift cards.

Strip District
More commonly known as Lucky's, its downstairs bar is usually occupied by two or three old men watching a Steelers game. But if you have the courage to brave the rickety outdoor staircase to its upstairs bar, you'll find yourself surrounded by a pulsing dance floor and a herd of male bar top dancers -- all of whom are very sweet and talkative. Oh, by the way, they're completely naked.
South Side
The self-proclaimed "original party bar" is tucked away on Bradish St, two blocks off East Carson. The inside is littered with decor including faux foliage, garlands, disco balls, and random knickknacks. Bar 11 provides its patrons with candy necklaces, little plastic toys in their drinks, and a TV that is always tuned to Cartoon Network. If you've ever woken up covered in plastic army men and flashbacks of fog machines, you probably spent your night at Bar 11.

Cultural District
Open until 3am, Tilden is one of Pittsburgh's most genuine club experiences. As the one and only after-hours clubs in the city, Tilden attracts all the stragglers. And although many have deemed it a gay club, don't be surprised if you see some middle-aged straight dudes outside trying to "recruit" female passerby.

Sign up here for our daily Pittsburgh email and be the first to get all the food/drink/fun in the Steel City.