The Best Spots to Watch the FIFA World Cup in Pittsburgh
Everyone knows Pittsburgh is a sports town, but does that include international futbol? You betcha; Pittsburgh even tried to get on the shortlist to host the 2026 World Cup, but was sadly rejected. With the Penguins out of the Stanley Cup Playoffs, many Pittsburghers will be throwing their support toward their favorite soccer team in the World Cup (even though the US team didn't make the cut).
The matches take place from June 14 through July 15, and since the games are held in Russia, folks who wanna watch live will have to do so in the morning and afternoon hours. Fortunately, Pittsburgh's got more than a few great bars and restaurants up for the task. You'll find the best spots for World Cup viewing below, and we'll be updating this page periodically with soccer events and food/drink specials as they get announced, so make sure to check back.
Bridgeville
Sports tavern with American fare and on-site brewhouse
From June 14 to July 15, the Pittsburgh Bottleshop will be showing the World Cup matches every day starting at 11am, with food and drink specials during the games. The Bottleshop is one of the premier sports bars and restaurants in the region; when the Pens won the Stanley Cup in 2016, the Cup made its first stop at this establishment. If you're lucky you'll catch Pittsburgh's own Super Genius Mark Madden watching the World Cup games here (he's known to hang out at this bar).
South Side
Family-owned pub that's a packed house every World Cup
Just like it has for the past 18 years, Piper's Pub will be showing every World Cup match and serving food according to the country playing that day, with tons of international specials throughout the competition. For food, Piper's serves European entrees like bangers and mash and shepherd's pie, but it's known for Boxty Tot boxes: house-made Irish potato boxty tots covered with your choice of Thai chili fried chicken, steak and gravy, and more. Whatever you get, though, get it early: this place is known to be packed, with people often spilling out of the establishment. If coverage starts at 8am, you can bet it'll be packed at 7:30 am.
South Side
Neon-lit hometown corner bar filled with up-and-at-'em Yinzers
Since the games are running on Euro time, you're gonna have to start drinking early (which most people who've been on the South Side can attest to at some point). Enter, Jack's Bar on the South Side, which opens Monday through Saturday at 7am, and Sundays at 9am. Even though Christmas is Jack's biggest day of the year, Premier football fans are also known to pack into this place for early hours, cheap drinks, and a dive atmosphere. Drinks come with a side of popcorn, and this is one of the few bars that's also smoke-friendly, so smokers can feel free to light up (and non-smokers should take note). But make sure you bring cash, as it's a cash-only bar (although there is an ATM).
South Side Works
Irish-inspired pub that makes you feel like you're in the Emerald Isle
Right next to the South Side Works Cinema is The Claddagh pub, which by its name, you can pretty much tell who this bar is rooting for. You'll find lots of drink specials here, as well: BOGO fish & chips on Mondays, and if you're catching a World Cup game on a Tuesday, there are $2.50 pints and $5 Irish car bombs all day long. During halftime, head outside and lounge in the outdoor seating, which includes a fire pit. In addition to drinks and specials, you can enjoy an assortment of Irish-themed fare like corned beef, Scotch eggs, and Guinness while you cheer on the teams.
Downtown
Belgian beer and burgers make this bar/restaurant ideal for a Red Devil
If you work downtown, Sharp Edge is a great World Cup destination to catch a game on a lunch break, with three flat-screen TVs and a bar that serves 30. The Penn Avenue destination includes 35 taps and 200 beers from all over the world, including Carlsberg, Guinness, and Hacker-Pschorr Hefe Weiss. Craft beers are half-price all day on Wednesdays, and while Sharp Edge is known for its standard American bar food (like pretzels, burgers, and salads), its wings and Buffalo bites are especially delicious and pair perfectly with beer.
Mount Washington
Go 'Bigham or Go Home' at this American tavern
With 19 flat screens, you'd be pretty hard-pressed to find a bad seat to watch World Cup matches at Bigham Tavern. If you're a European football fan with an American appetite, this place is for you, with a mosty red-white-and-blue menu consisting of burgers, salads, and sandwiches. It gets pretty loud here during sporting events like the Pens games, so if you're looking for an enthusiastic atmosphere, the "Go Bigham or Go Home" mantra applies. Weekday Happetizer specials from 5-7pm include $1 off drafts, $2 domestic beers, $3 well drinks, and $5 snacky things.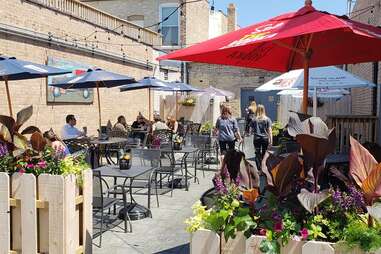 Strip District
Pittsburgh's No. 1 St. Paddy's Day destination consoles disappointed Ireland fans
One of St. Paddy's Day's most popular destinations is also one of the best spots for watching the World Cup -- and even though Team Ireland didn't qualify, they'll be showing the games regardless. For more than 25 years, Mullaney's Harp & Fiddle has brought everything from Irish dancing to bands to Penn Avenue. The menu offers a vast array of Irish beers (including Guinness, Smithwicks, and Harp), and specialities like bangers and mash, shepherd's pie, and fish and chips. Plus, you can choose from more than 35 Irish whiskeys (just not all at once), and Wednesdays are all-day $3 Guinness days, perfect for Hump Day World Cup matches.
South Side Works
German-inspired brewery for fans of the FCB
Pretend like you're really in Germany cheering on Bayern when you watch the games at Hofbrauhaus Pittsburgh, which is modeled after the Hofbrauhaus in Munich. This place is huge (they have to make room for the Shotski after all), with a main dining hall in the center that includes a bar and TV screens. It also features a beer garden in the back overlooking the Monongahela River, one of the best places for outdoor drinking and dining in the city. There's also German music and live bands periodically, so this place goes all out. Munch on pretzels with bier cheese and potato pancakes as you savor Bavarian ales -- lederhosen not required.
East Liberty
Traditional Mexican restaurant with bar for cheering on The Tri
For traditional Mexican food and beers, head to the locally owned Patrón in East Liberty, which includes vibrant decor and a bar with TV screens for watching the game. On Mondays you'll find $1 tacos and $3 margaritas, but there are plenty more options to choose from, like Mexican and imported beers, and of course delicious dishes like burritos and enchiladas. And if you're ridiculously hungry, snack on the delicious chips and salsa while you wait (although you may fill up and not be able to finish your meal).
Sign up here for our daily Pittsburgh email and be the first to get all the food/drink/fun in the Steel City.
Megan McLachlan is a freelance writer living and working in Pittsburgh. She frequently likes to go on dates with herself around Pittsburgh to places like AMC Theaters and Doce Taqueria.