Since we totally got away with stealing Austin's weird city slogan, we decided to jack something else: their idea for a local booze Battle Royale, in which we round up eight locally made liquors (from the mainstay Bull Run Distilling Company and various other spirits slingers), take itty bitty* sips of 'em (*lie), then write down super-scientific and coherent tasting notes, and see if we can pick the best vodka, gin, rum, and whiskey made right here in the PDX.
GIN

Bull Run Distillery's Aria
Initial Impression: Aria is one letter away from the only fond memory I have of MTV.
Flavor Notes: Wonderful juniper; dry, tastes British.
Bummer: This has to go up against Aviation so early in the bracket.
After-thoughts: I could really go for a gin and tonic.
Rating: 4.25 out of 5 Darias

VS.

House Spirits Distillery's Aviation American Gin
Initial Impression: Honestly, the old bottle was better.
Flavor Notes: Mellow but present juniper melds nicely with cardamom and anise. Delicate touch of lavender.
Bummer: They changed the bottle?
After-thoughts: Lives up to its accolades. The craft gin that'll get you into craft gin.
Rating: 5 out of 5 Aeronautic Examples

FINAL VERDICT: Aviation never had anything to worry about. It's a badass, and totally unique, gin.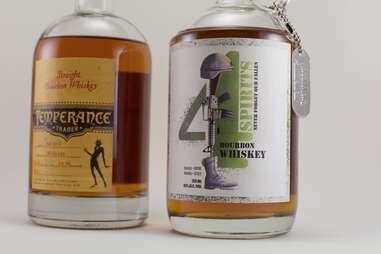 WHISKEY

Bull Run Distillery's Temperance Trader
Initial Impression: Cool logo, but not a fan of calling your hooch bourbon unless you're at least near the South.
Flavor Notes: Hot and spicy. Not not picking up those vanilla notes popular in bourbon.
Bummer: No depth.
After-thoughts: Wanna look like a cowboy and shoot throat-burning whiskey? This is the guy for you. (Although, somebody slipped an ice cube in theirs and it totally opened up.)
Rating: 3.75 out of 5 Cowboys

VS.

4 Spirits Bourbon Whiskey
Initial Impression: Gosh, everyone is calling their whiskey bourbon these days.
Flavor Notes: Maybe my tongue is still numb from the Temperance, but this hardly tastes like alcohol. Almost too sweet, though not anything near Maker's Mark.
Bummer: It's gone?
After-thoughts: This bottle's getting finished tonight!
Rating: 4.25 out of 5 Certain Hangovers

FINAL VERDICT: 4 Spirits wins the neat taste test hands down, but the Temperance would probably hold its own in cocktails.
VODKA

4 Spirits WebFoot Vodka
Initial Impression: Lovin' the marketing scheme. Totally chose the Ducks, eff the Beavers.
Flavor Notes: It tastes like vodka.
Bummer: It tastes like vodka.
After-thoughts: Vodka tastes best when it doesn't.
Rating: 3.75 out of 5 Civil Wars

VS.

Bull Run Distillery's Medoyeff
Initial Impression: Doesn't look like Portland, or Oregon, at all. Very Eastern European.
Flavor Notes: Velvety texture with a bit of a kick at the end.
Bummer: Should've added olive.
After-thoughts: Surprisingly tasty.
Rating: 4.25 out of 5 Russians

FINAL VERDICT: To the American palette, vodka seems to taste best the less it tastes, but the spicy finish of the Medoyeff is actually quite pleasant.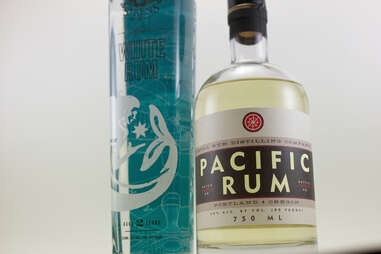 RUM

Bull Run Distillery's Pacific Rum
Initial Impression: Probably got a lot of exposure over the summer.
Flavor Notes: Strangely fruity, very sweet. A bit of complexity on the finish.
Bummer: Strong, sweet flavors cloud complexity.
After-thoughts: Once again, perhaps best in a cocktail.
Rating: 4 out of 5 Trips to Pamplona

VS.

7 Sirens
Initial Impression: There's something different about this one... it's actually made/ aged in Trinidad.
Flavor Notes: Very traditional. Where's the Coca-Cola?
Bummer: It's actually made/ aged in Trinidad?
After-thoughts: I haven't had a rum and coke in a really long time.
Rating: 3.75 out of 5 Sirens

FINAL VERDICT: They're drastically different, but the brown liquor aged in whiskey barrels on the Willamette wins.