Pitch-black beers and pitch-perfect chowder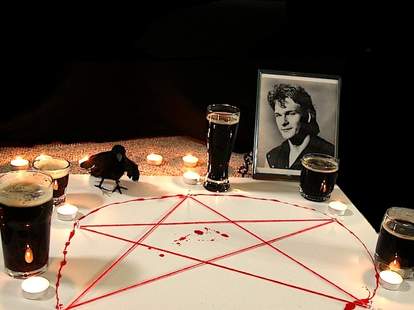 Move over, Masters of the Dark Arts (teleport over?), because Masters of the Dark Beers are coming to town this weekend, bringing more than a dozen rare, barrel-aged stouts (all darker than playing Ouija with Marilyn Manson) to Lompoc's Black Out Beer Fest Friday night. Then, because nothing cures a hangover quite like steaming mollusks, those same brewers'll be competing in Saturday's Chowder Challenge, where the surly mothershuckers square off against local restauranteurs.
Like the Blitzen Trapper dudes? Well, the fest will have one of them! And also, gallons of oil-dark beers like the host brewery's bourbon barrel-aged 8.1% Monster Mash and spicy Rosemary Stout, plus other breweries' greatest & darkest like Breakside's Irish-style Dry Stout, Columbia River Stumblers Oatmeal Stout, and Widmer's 10.6% O'Ryely Dark, which's made with New Zealand hops not seen since Middle Earth's basketball league.
Once the darkness has passed, wake up at noon on Saturday and watch those probably-also-hungover brewers throw down in the Chowder Challenge with chefs from joints like Acadia, Fishbox, and Salty's. Play chowder hound in a blind taste test, and at the end of the day, they'll tabulate your votes and crown a winner. And don't bother asking why brewers are making clam chowder, or what the hell clam chowder has to do with dark beers anyway. Actually, feel free to ask, but only when playing Ouija with the festival's organizers.