Drew Tyson
Drew Tyson
If there is one thing the people of Portland like more than going to bars, it's going to bars where women take their clothes off. If there's a second thing we like more though, it's going to bars where we can make bad decisions... or possibly ones that're Doctor Who-themed. But, in addition to all that, there're also places where you can play bar/video/lawn/pretty-much-any-kind-of games. That's why we assembled a list of PDX's 10 best bar game bars, and will totally crush you in giant Jenga anytime...

Best arcade bar: Ground Kontrol
Chinatown
They've got four-player Pac-Man and pinball upstairs, and frustratingly large crowds (far too few of whom are cute lady nerds who can school you in Joust), but wait until after 1am, or get there just after happy hour, and you'll be able to jump on whatever you want to play.
Best dive: Triple Nickel
Belmont
Pool. Darts. A bunch of booze. This place has it all, but be careful: win that especially heated Giant Jenga match, and you could lose a friendship... at least until get the next round.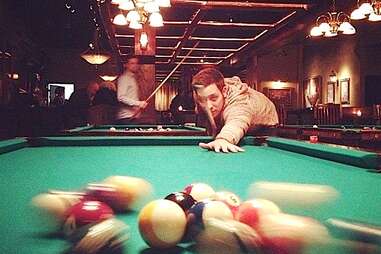 Best pool hall: Uptown Billiards Club
NW 23rd
This swank little billiards club houses some of the best tables in town, and some of its better players, so it's probably time to give up those Color of Money-inspired fantasies... except about Mary Elizabeth Mastrantonio, obviously.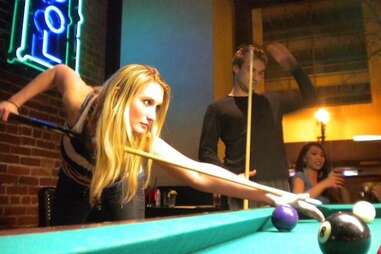 Best place to win (lose?!) money: Rialto Poolroom
Downtown
Known for their stiff pours, this boozer is a one-stop-shop for the real gamers/boozers: they've got off track betting from around the world, Texas hold 'em, as well as other card tournaments, rows of video lottery, pool tables galore, and... wtf, no pull tabs?!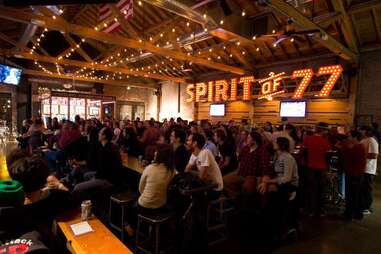 Best place to pretend you're Damian Lillard: Spirit of 77
Northeast
Basically the ultimate Blazer bar, this place feels like your high school gym, complete with screaming bros and girls who won't talk to you. But that's okay, 'cause the skee-ball and pop-a-shot are free.
Beat adult version of Chuck E. Cheese's: Punch Bowl Social
Downtown
This open-pretty-much-all-day boozer boasts bowling lanes, ping pong, private karaoke rooms, marbles tables, deck-shuffle, shuffleboard, darts, pinball, foosball, board games, and a giant pit of balls you can totally dive into wall of throwback 1980's video games.
The best place for sausages: The Wurst
East Burnside
They're slinging some seriously good/exotic-stuffed local meats (the "Wally Gator" w/said reptile meat & red peppers, the duck & pancetta "Donald", etc.), an excellent suds selection, and giving you a chance to work off both by... um, standing around and tapping (vigorously, presumably) buttons on their sizable selection of pinball/video games.
The best place to dominate Chutes & Ladders: Tugboat Brewing Co
Downtown
This tiny little spot tucked away in the heart of Downtown specializes in British ales, and in creating the kind of convivial atmosphere you find in Irish... just kidding, British pubs, so relax and grab one of the books/board games lining the walls, or you'll be Sorry. Yet another game we will totally crush you in.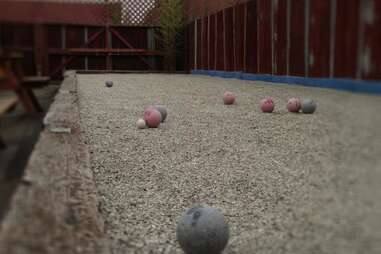 Best bocce ball court: Leisure Public House
North Portland
They've got a sweet line-up of Italian eats (build your own bruschetta, hot-pressed caprese sandwiches, etc.), and a charmingly inviting patio where you can break out the ping pong paddles, or post-up at their old-school outdoor bocce ball court... at least until someone who actually knows how to play shows up.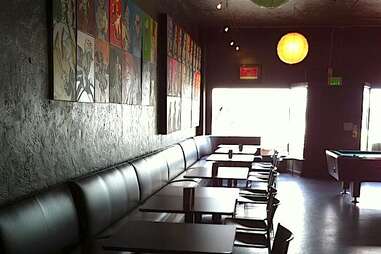 Best place to work on your game: Slingshot Lounge
SE Powell/Foster
Sure, they host pinball/8-ball tournaments, but most of the time, this laid-back boozer is the perfect place to hang out and play Big Buck Hunter, where you never hit a doe accidentally... unless they're standing RIGHT IN THE WAY OF YOUR SHOT, DARN IT!