The Portland bar scene is a fickle beast. Hot trends become old news faster than you can say "mixed-use development," and the endless churn of transplants in search of the hippest place to stare into their phone and sip Whiteclaw makes it difficult for newcomers to gain any traction. 
That being said, it's comforting to see some time-honored traditions find success in such a harsh and unforgiving landscape. Bougie cocktails are still going strong in spite of the relentless retooling of beloved dives, and neighborhood bars with no theme other than "just the good stuff" are on the rise as well. As always, a stable of mainstays are holding it down comfortably while the new kids on the block jockey for clout, and us booze hounds are all the better for it. Behold: the best places to drink in Portland at this very moment. 
Buckman
A vintage vacation in a luscious paradise
When it broke that Emily Mistell of Rum Club was teaming up with the ownership of the inexplicably broey party palace Dig a Pony to create a vacation-themed hotel bar, it was anyone's guess as to whether or not they could impress the locals and avoid pandering to the roving throngs of bridge-and-tunnel jabronis who flock to the area on weekends. The supergroup has succeeded at doing both with a charmingly overblown reimagination of '70's island-themed excess, complete with vibrant vacation cocktails, excellent bar food, and an unfathomable amount of foliage dangling from the ceiling. One of the best drinks on the menu is a fusion of anejo rum, amari, and ginger tamarind called the Belafonte, and there's a good chance you may actually hear a track by its titular songsmith emanating from the makeshift DJ booth near the front door. If that doesn't explain the simple joy of Hey Love then what else will?
Buckman
A retro-futuristic tequila bar founded by heavy metal royalty
Aside from shirtless Sting and an endearing turn from pre-Twin Peaks Kyle McLoughlin, the 1984 cinematic adaptation of Frank Herbert's iconic sci-fi desert epic Dune was a real stinker. Luckily for us Portlanders, the bar adaptation of the film courtesy of Matt Jacobson -- the man behind Sizzle Pie and Wayfinder, as well as the design-centric heavy metal label Relapse Records -- is not. Located in the former home of the tragically short-lived hipster convenience store, Mini Mini, which closed due to a rogue fire in 2017, Bar Dune offers an impressive breadth of cocktails that use tequila as a jumping-off point for more sophisticated and Portland-y pleasures, like the Little Blood (Banhez mezcal, Mexican Fernet and gran gala) or the Goodnight (reposado mezcal, chartreuse, apricot, Mexican chocolate and bitters). Add in a late-night menu with a focus on fresh veggie-forward dishes like a mushroom tostada or a creamy sikil p'ak and you've got one hell of a place to ponder the futuristic abyss that lies ahead.
The Pearl
A slick and artsy cocktail bar that pays homage to Brooklyn dad-rock quintet the National
When word broke that Tyler Stevens -- the former bar manager of Tusk and Teardrop Lounge -- and Billy Hasson (the owner of popular third-wave coffee chain Barista) were in cahoots, expectations for their forthcoming project were immediately sky high. The duo makes good on the hype with Pink Rabbit, a funky Pearl District lounge that features classic cocktails with elegant upgrades and Asian-influenced drinking snacks like Korean fried chicken, pork tonkatsu sliders, and a banh mi hot dog. Their menu is uprooted somewhat regularly, with its original format featuring beverages named after songs by The National. You know you're in good hands when Stevens is at the wheel, so your best bet is to choose a drink based on your liquor of choice and let the party unfold from there.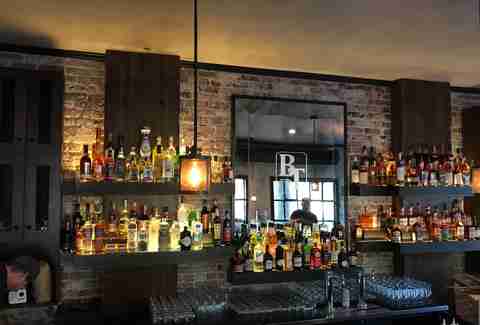 Alphabet District
A cozy neighborhood cocktail spot from the owners of Interurban and Prost
Every corner of Portland needs a bar like Bantam Tavern. It's the kind of place you can wander into thinking you'll just grab a quick cocktail, then leave four hours later with a belly full of hearty bar food, rare beer, and of course, some top-shelf liquor sold at respectable prices. Its owners count German beer spots Stammtisch and Prost as their own, and as such know a thing or two about beer. Bantam had kegs from de Garde and Holy Mountain on tap right from the get go, and a year after opening, it seems like their Instagram page is just one flex after another. With Interurban in their DNA it's a foregone conclusion that the food and cocktail programs are also killer, and you can always count on interesting twists on classics to wash down serious proteins like spam sliders, a hulking barbecue chicken sandwich, and the delightfully retro steak Diane.
Alberta
A subterranean wine bar run by a pair of freewheeling industry vets 
John House and Jeff Vejr are a pair of winemakers who've spent enough time in proper drinking establishments to be palpably aware of the disconnect between wine culture and the common man. They're also staunchly opposed to the art of the upsell that so frequently discolors the user end of the restaurant-based sommelier experience, so the idea of opening a bullshit-free wine bar in a basement on Northeast Alberta Street is pretty much a no-brainer when you think about it. At Les Caves you'll find underpriced pours of rare wines from regions Vejr and House believe are severely underhyped, with Georgia (the country), Africa, and Croatia being just a few that dotted their menu on a recent visit. Throw in some funky sherries and one of the only certified Iberico ham operations in town and you've got one hell of a way to spend a wild night out in a dimly lit hole in the ground.
Buckman
An egalitarian Scotch bar curated by a Multnomah Whiskey Library alum
Here's a somewhat common scenario in certain circles: a friend shows up in Portland for a brief visit and has their heart set on spending way too much money on at Multnomah Whiskey Library. They assume you can just walk in and do so, given that it's a bar and all, but you're thwarted by MWL's stringent reservation policy. You wander the streets in search of rare Scotch while scratching your head, then you say "fuck it" and hit a brewery instead. There's now a more accessible alternative on the eastside in Scotch Lodge, a buzzy whiskey spot in the former Biwa space courtesy of MWL curator Tommy Klus. Keep an eye on their Instagram for updates on the myriad ways you can blast through your paycheck with $40-and-up single-ounce pours of celebrated Scotch makers like Ardberg and Lagavulin, or peruse the cocktail menu for inventive uses of whiskey, like the Burnt Orange Sherry Cobbler (sherry, Japanese whiskey, burnt orange and demerara sugar) or the Queen of the Damned (rye, cognac, lime, hibiscus and amaro).
Kerns
A stylish cocktail bar that eschews cocktail menus for infinite adaptability
Two things at Angel Face are immediately striking: the painstaking detail of the hand-painted wallpaper that lines its walls, and the notable lack of suggestion the bar offers consumers as far as drinks are concerned. Patrons are encouraged to hint at what their dream beverage might be, and the eternally gracious bar staff will do their thing based on the flavors and impressions that are desired. It sounds obtuse, but in reality it's an absolute joy that's never the same experience twice. If you'd never think gin and Fernet Branca had any business sharing the same real estate on your glass, you're due for a visit to Angel Face for a little convincing. 
Old Town
A rooftop hotel bar specializing in fresh Mexican food and tequila galore
London-based hotel chain the Hoxton already rebooted their first floor restaurant operation once since opening barely over a year ago, but it's encouraging to see that their least practical option for Portland's dreary climate is alive and kicking. Tope feels like a lot of new bars -- white tiles, backlit liquor shelves and plants galore -- and in a lot of ways it is, but there's very little they do wrong in the process, and the end result is a delight for those who aren't too cynical to enjoy it. The small menu of tacos and shareables (try the sikil p'ak for a fresh alternative to hummus) does wonders in soaking up the stiff drinks, like a highly crushable carrot puree and mezcal drink called the Carrot On My Wayward Son, or a stately blend of bourbon, Coca Cola and Mexican Fernet called the Fist Bump. Don't worry if you can't wait for a sunny day to enjoy Tope -- there's also an indoor fire pit to warm up with while you enjoy the view with a cocktail in one hand and some guacamole-covered chips in the other.
Irvington
A veritable tiki theme park, complete with tropical drinks and scenery galore
Hale Pele quickly became one of the most iconic bars in Portland after opening in 2012, and it deserves every bit of praise it gets. Nothing here is half-assed, and even though it means the waits for both a table and the drinks you ordered can be substantial, it's well worth it (and there's plenty to occupy your mind in the meantime). If the attention to detail in the thatched roofs of each booth doesn't blow your mind, surely the fake volcanic eruptions that play over the stereo will get you the first few times. And then there's the explosive drinks themselves, each a multidimensional concoction that carefully balances booze, sugar, and fruity acidity in ways that would make Trader Vic and Don the Beachcomber quite proud. Classics like the Mai Tai and the Piña Colada are always solid choices, but you'd be a fool to shy away from ordering a second drink from off the beaten path, like a Navy Grog or a Corpse Reviver if they're on offer.
Concordia
A shabby-chic interpretation of the modern cocktail bar
Stepping into Expatriate feels like you're being transported directly into a sepia-toned fever dream of timeless luxury. It's a cocktail bar, and a damn good one at that considering its pedigree, but Naomi Pomeroy's side project to nearby Beast is moreso a confluence of vibes than a tangible sensation. Knock down just one of their impossibly stiff cocktails -- most of which have almost no ingredients that aren't liquor -- and you'll wish your apartment looked exactly like this, though you'll have no idea how to achieve this aside from scattering records, vintage doilies and dog-eared copies of Paradise Lost throughout the periphery. Expatriate is a peculiar place that's unlike anything else Portland has seen, and here's to hoping we're all decent enough to keep it that way.
West End
The platonic ideal of an upper-middle class cocktail restaurant
It's easy to forget Clyde Common is a hotel bar. Situated adjacent to the Ace Hotel -- now the progenitor of Portland's current boutique hotel boom by a few years -- the bar managed by celebrity cocktail artist Jeffrey Morganthaler could easily make ends meet by shaking down itinerant tourists for $20 cocktails before sending them on their way. Fortunately for locals, that is not the case. Clyde Common brokers in one splurge-able moment after another, and though chef Carlo Lamagna has since departed to start his own elevated Fillipino restaurant in Magna, there's still plenty of reason to journey to the edge of Downtown to sample Morganthaler's wares. The Barrel Aged Negroni is exactly what it sounds like, yet 100 times smoother and tastier than you can imagine, and the Daily Punch is a fun and inventive way for the bartenders to quickly dole out stiff drinks made with bottles of liquor that have outstayed their welcome.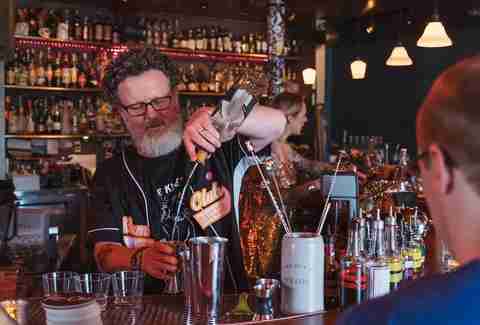 Buckman
A rum-centric cocktail joint that packs a mighty wallop for its size
The only thing more refreshing than the straightforward nature of Rum Club's name is the drinks themselves. The simplicity of their signature liquor of choice belies the thrilling variety of its uses, and Rum Club is without a doubt one of its most celebrated stewards. The house daiquiri may be the city's best, and the list only expands on the simple pleasures of overproof rum touched up with fruit, sugar, and a variety of other accoutrements. If Rum Club were any bigger it would run the risk of being a booze-soaked meat market on the weekends, but its diminutive size keeps things breezy and intimate, just as the rum gods intended.
West End
A cathedral-like cocktail bar that puts the service industry first
As its name connotes, Shift Drinks is a place for the legion of frazzled bar and restaurant employees of Downtown Portland to unwind and talk a little bit of shit in relative anonymity. The massive space keeps the claustrophobic flare-ups associated with maneuvering a busy service floor to a minimum, and their generous all-day "happy hour" system ensures that an off night plagued by shitty tips or slow business won't stop you from enjoying a fancy cocktail -- many of which cost less than $10 -- and a light bite to prevent yet another trip through the Taco Bell drive through on the way home.
The Pearl
A celebrated proving ground for ascendant cocktail wizards
Similar to Multnomah Whiskey Library, a stint at Teardrop is often a springboard to bigger and better things in the spirits industry. That's not to understate the relevance of what's happening at this teardrop-shaped bar itself, which has proven year after year to be one of the most exciting and consistent purveyors of the craft. Though Teardrop has an innovative menu it's quite proud of, the fact that it was ground zero of the burgeoning "mixology" movement when it opened in 2007 means whoever's behind the bar will be delighted to riff on personal preferences and accept the dare of taking disparate ingredients and making them potent and pleasurable in the process.
Buckman
A Spanish-inspired tapas spot complete with a wood-fired oven and an expansive wine list
Anyone can fry some squid, throw it on a cracker, and call it tapas. It's a shame things have gotten this way, and it's all the more inspiring to find a place like Bar Casa Vale that's fighting the good fight against bullshit tapas. Inspired by the brisk and breezy tapas scene native to Spanish towns like San Sebastian and Grenada, this Clyde Common offshoot cuts no corners when it comes to pintxos and the like. Pair its salty, crispy wood-fired delicacies with a world-beating list of amontillado, PX, and manzanilla and you'd almost think you've been transported to the streets of southern Spain… minus the interesting smells and choices in men's pants.
Sign up here for our daily PDX email and be the first to get all the food/drink/fun Portland has to offer.