Sure, Portland's got a few problems... at least 99 of 'em in fact... but the biggest one is that some of Oregon's best bars are outside the city. Seriously! That means you've actually got to leave the city if you want to hit Oregon's 10 best bars outside PDX. Have a nice drive...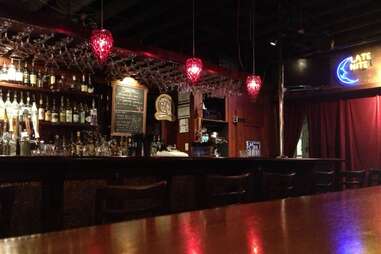 Eugene, OR
Known for its gracious happy hour, the Starlight Lounge adds a little neon-soaked Elmore Leonard-style to a night in Eugene, mostly thanks to a slew specialty cocktails, including the Inspector, a spritely combination of tequila, Caffé Pacori's cold water extract, Bailey's, Kahlua, sugar, and an orange cinnamon garnish, which is exactly the kind of thing you should order if you're trying to BE COOL.
Salem, OR
No need to hunt for Salem's sweetest bar, we'll just tell you: it's Brown's Town Lounge, where a tastefully curated list of the Willamette Valley's best beers go perfectly with their famous Wagyu Prime Rib Plus Pub Burger.
Hood River, OR
An outdoor enthusiasts paradise, HR is home to a multitude of great places to eat and drink, but if the tireless onslaught of sun-soaked men and women at the peak of health and the bars that cater too them is too overwhelming, then head to this seedy sort of spot where the drinks are stiff, the pretense is short, and the complexions, thankfully, aren't golden.
Pendleton, OR
Founded by some childhood friends, The PS was Pendleton's first craft brewery. It's still the best, thanks not just to it's solid brews (a dry-hopped Northwest IPA, a malt-heavy Porter, etc.), but also to it's solid pub fare that's made with mostly local ingredients and ranges from apps like the Pendleton Sunshine Wings w/ a spicy habanero-red chile sweet 'n sour sauce, to mains like the Good Morning burger topped w/ Hill Meat bacon, ham, fried egg & "hollandaise" mayo.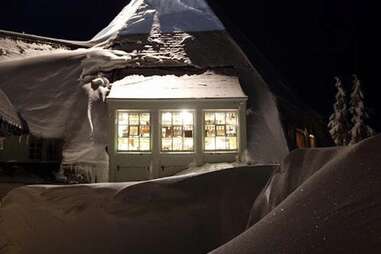 Government Camp, OR
Located on a second floor balcony overlooking the massive central stone fireplace in the historic Timberline Lodge, the Ram's Head is Mt. Hood's spiritual headquarters. The bartenders here have cut their teeth mixing and shaking cocktails for tired and thirsty alpinists and skiers, but even if you can't summit the mountain they'll still give you all the refreshment needed to elevate your attitude.
Medford, OR
Bringing bespoke cocktails and a little big(ger) city sophistication to Southern Oregon, JS is Medford's premier whisky destination. It boasts brown liquor-based 'tails like the Jefferson Shanty w/ whisky, beer, ginger beer & lemon, as well as a short list of food that includes simple apps (brie & jams served w/ crostinis) and sliders, like the J-Sate Classic w/ beef & bacon jam.
Corvallis, OR
If you are looking for a flexible selection of libations, loosen up at The Downward Dog... and don't bother eating before you get there because they've got a selection of "epic" sandwiches like the Corvilly Cheese Steak (w/ thinly sliced tri-tip) and the Hangover Helper (w/ Rainier natural beef, Canadian bacon, chipotle aioli & a fried egg).
Bend, OR
This landmark drinkery is famous for the same reasons as most dive bars -- low lighting, worn furniture, strong drinks, etc. -- and a couple of other reasons too, including a Salmon Benedict that actually replaces the typical muffin with fish and a spicy Bloody Mary that boasts a vodka made just for the D&D.
Manzanita, OR
This no frills Oregon coast staple is just blocks from the beach and boasts a big stone fireplace where you can warm up after a day in the surf. Sip on one of 17 beers on tap or nosh on bar eats including their signature Tuesday Night Special: baby back ribs w/ coleslaw & fries.
Astoria, OR
This sultry Southern gothic-style boozer stays away from the city's usual maritime themes and instead calls on potent spirits of Bourbon Street to create Astoria's best cocktails, which they pair with a decidedly un-Southern selection of eats ranging from pizza & calzones, to crab cakes, and pulled pork sliders.
Sign up here for our daily PDX email and be the first to get all the food/drink/fun Portland has to offer.