If there's one thing everyone can agree on, it's that Seattle sucks (obviously!)... and that Oregon brewers make some of America's most essential beers. Unfortunately, not everyone can agree on which of the state's beer makers are actually best, so we turned to an unexpected source for help: SCIENCE.
Yup, the Thrillist Beer Appreciation Team (TBAT for short) developed a top-secret, patent-pending formula for ranking breweries (actually it's not that secret, get the details below). Weighing factors such as performances on RateBeer and BeerAdvocate, beer competition medals, and other accolades, the formula declared these 10 suds slingers to be the finest in all of Oregon.
Recommended Video
This Brewery Is Hiring a Professional Beer Drinker
10. BridgePort Brewing Co., 16 pts
Founded: 1984, Portland
Founded by winemakers, BridgePort is Oregon's oldest craft brewery (full disclosure: this makes us feel old), and despite not taking gold at the World Beer Cup since 2006, it manages to make the top 10 by virtue of a solid beer line-up that still makes their Pearl brewpub a popular suds-ing destination.
Key Beers: IPA, Blue Heron Pale Ale
9. Hair of the Dog Brewery, 24 pts
Founded: 1993, Portland
The smallest brewery on the list, Hair of the Dog earns its spot not by turning out a high quantity of suds, but by making high-quality and extremely creative brews. These guys have been barrel aging beers since 1994, and they were one of the first breweries in America to specialize in high-alcohol (up to 12.5%), bottle-conditioned beers, almost all of which are named after the people who inspired them, like Bob, and Adam, and Lila. Seriously.
Key Beers: Fred, Dave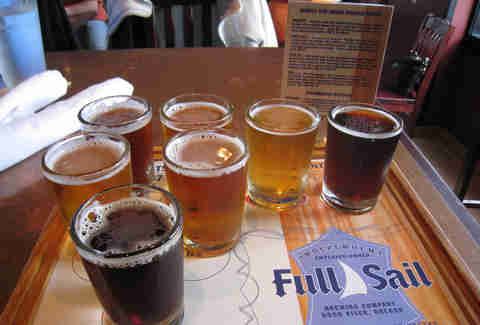 8. Full Sail Brewing Co., 28 pts
Founded: 1987, Hood River
Oregon's second largest craft brewery is probably best known for their line of stubbies, but session-style brews aren't the only thing they're making over in Hood River: Full Sail puts out quality seasonals (and until recently thousands of barrels of local favorite Henry Weinhard's) that you can score at their tasting room right on the Columbia River.
Key Beers: Session Black Lager, Wassail Winter Ale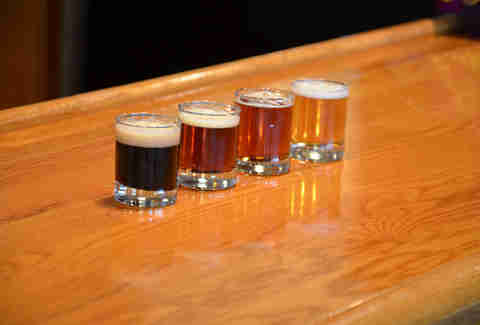 7. Barley Brown's Brew Pub, 33 pts
Founded: 1998, Baker City
A little-known brewery in a little-known town, Barley Brown's is a surprise addition to this list. But after tallying the scores (and tasting the beer) there's a reason every Oregonian should be planning a road trip to Baker City. These blue collar guys are making quality beer without pretense, something hard to find in the big city.
Key Beers: Palette Jack IPA, Shredder's Wheat
6. Bend Brewing Company, 33 pts
Founded: 1995, Bend
Overlooking Mirror Pond (a name you're sure to see again in this list…), this accolade-heavy brewpub is perfectly happy serving next-level nachos and bacon mac & cheese on their patio outside. Upstairs they're crafting a limited amount (less than 1,000 barrels a year) of award-winning, hand-labeled, and hand-bottled suds.
Key Beers: Ching Ching American Sour, Wicked Medicine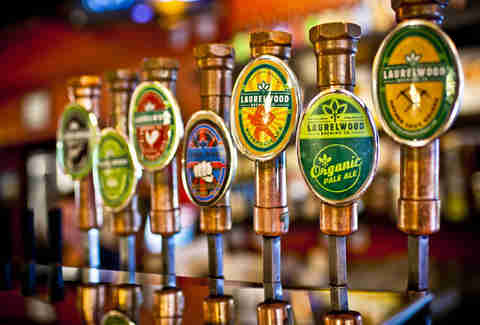 5. Laurelwood Public House & Brewery, 44 pts
Founded: 2001, Portland
Helmed by a pair of beer-and-each-other-lovers, this fast-growing brewery is turning out a wide range of signature and seasonal brews designed to please every palate, that is, when it's not opening new brewpub locations around Portland (and... sigh... even Washington). And the best part? Each location features small batches indigenous to that pub, giving you a great reason to visit them all.
Key Beers: Motherlode Golden Ale, Free Range Red Ale
4. Widmer Brothers Brewing Co., 66 pts
Founded: 1984, Portland
Often maligned because of its size (it was once the nation's largest draft-only brewery, and is now the ninth largest in the US), Widmer should at least be credited for introducing the Hefeweizen to the masses... and for pouring a selection of suds that is varied and approachable. And consistently good.  
Key Beers: Drop Top Amber, Hefeweizen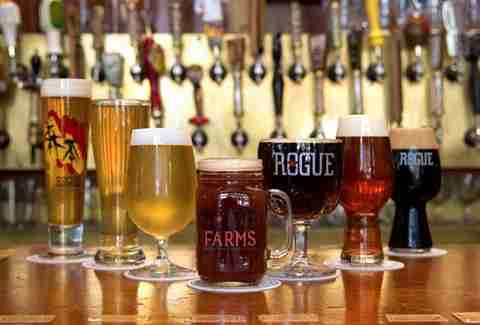 3. Rogue Ales Brewery, 83 pts
Founded: 1988, Ashland
Famous for their inventive, fun branding and often offbeat flavors, Rogue Ales are not only beers that stand out on their own, but are meant to be paired with food -- hence outlandish-sounding brews like the New Crustacean Barleywineish Imperial IPA Sorta, or the Voodoo Doughnut Chocolate, Peanut Butter & Banana Ale.
Key Beers: Hazelnut Brown Nectar, Smoke Ale
2. Pelican Pub & Brewery, 99 pts
Founded: 1996, Pacific City
Speaking of pairing food with beer, Pelican makes its name on the Oregon coast by offering some of the best food paired with some of the state's best beer. It is not as well known as many of the breweries you've seen here, and definitely not as large, but Pelican focuses on top-notch brews that recently took the World Beer Cup by storm after tidying up at the North American Beer Awards.
Key Beers: Kiwanda Cream Ale, Stormwatcher's Winterfest
1. Deschutes Brewery, 109 pts
Founded: 1988, Bend
Owned by its employees, and available in half of the states in the US (and two Canadian provinces), this relatively massive craft brew slinger got that way by focusing on sustainability and community... and by providing said community with badass beers made by using state-of-the-art tools in their brewery on the banks of the Deschutes River.
Key Beers: Obsidian Stout, Mirror Pond Pale Ale

APPENDIX
Here's how we awarded the points:
Awards for individual beers
Each beer in the BeerAdvocate 250 or RateBeer 100: 3pts
Medals in The Great American Beer Festival or World Beer Cup since 2004: 3pts Gold, 2pts Silver, 1pt Bronze
Recognition for breweries overall
Prominent outlets have published Best Breweries in America lists of different lengths, so we awarded 10 points for a top-10 finish, 9 points for an 11-20 finish, and so forth (no list is longer than 100) for appearances on recent best brewery lists from RateBeer, Paste, and The Daily Meal.
This list -- and all the rest -- look even sexier in our iPhone app. Get it now!