Probably because of our penchant for drinking, but maybe also because of our proximity to some of the world's best apples, Portland's quickly become the place to go for the country's fastest-growing (sales up 100% this year!) booze option: cider. We aren't quite at craft beer status (most brewpubs per capita, sucker!), but you're gonna want to check out Portland's six best cider bars: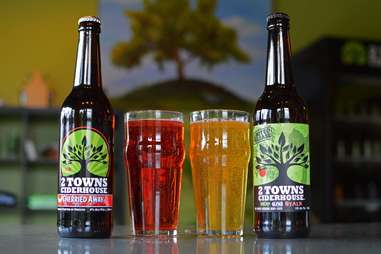 Bushwhacker Cider
Brooklyn
Opened in 2010, Bushwhacker is the United States' first cider pub. Not only do they produce their own small batches -- which rotate often so you're always getting something new -- they have over 280 bottles in house. These guys are serious about cider and their passion is infectious.
Reverend Nat's Hard Cider
Albina
Another producer of cider, the Reverend Nat's tasting room is only open Thursday through Saturday nights, and Sunday afternoon, but despite the limited hours, they're pushing the limits of Portland cider, so stop by for the five to six glass tasting tray, then take some bottles/a growler home with you.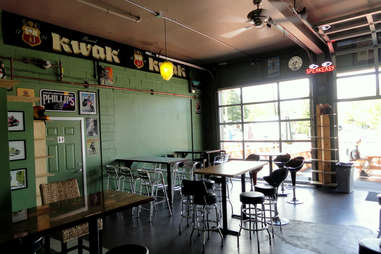 Apex
Division
Not only is it one of the best craft beer bars in town, Apex always boasts a number of ciders on tap, and bartenders who're more than eager to share their knowledge. Still aren't sure you want to go? Check their live-updating online menu before you decide.
Saraveza
Killingsworth
Much like the aforementioned Apex, Saraveza has a serious beer rep, but no self-respecting bottle shop, pub, and pastry counter would go without some sweet cider (they've got all of the local goodness as well as regional favorites), or, at least in this case, throwing a Mother's Day cider brunch.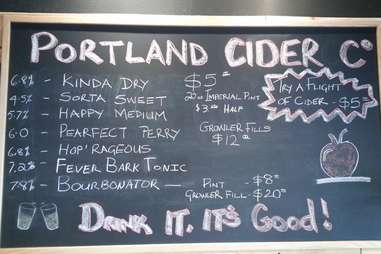 Portland Cider Co.
Oregon City
Okay, so it's not exactly in Portland, and yeah, you can score their bottles all over, but if there's any reason to leave town, it's for boozy apple juice: their tasting room is open weird hours and they don't serve food, but drinking not-available-in-bottles options straight from the source more than makes up for it.
Belmont Station
Belmont
You know the drill. This is a freaking good brewpub with an incredibly knowledgeable staff and, like, millions of fermented options. And like every other one of these on the list, these cats dig cider. They're always bringing in new options to make sure you never leave with the same thing.