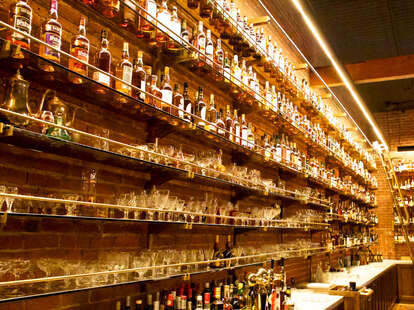 Drew Tyson
Drew Tyson
No night would be complete without some sweet cocktails, and to make sure you're only imbibing the best, we scoured the city for the seven best places to find chorizo tequila, super-rare rums, drinks that're literally big enough for six, and more.

Clyde Common
Downtown
The guy who's almost single-handedly responsible for putting the Portland cocktail scene on the map, Jeffrey Morgenthaler, is posted up at this uncommonly good resto/bar making a constantly rotating array of swillables, like vodka/ grapefruit/ Aperol/ quinine syrup Heavy Petting, or a Christmas-y Eggnog number w/ Anejo tequila, Amontillado Sherry, farm eggs, cream & nutmeg.
Multnomah Whiskey Libary
Downtown
About the time one of their roving bartenders (no waiters here, y'all!) rolls a seriously next-level cocktail made with traditional techniques/ preparations to your table in an elegant wheeled cart, you'll stop wondering why the wait at this old-school drinkery, with an "overwhelming" catalogue of spirits that's over 1500-strong, is even longer than the ones at a Seven of Nine kissing booth at Comicon.
Hale Pale
Irvington
Opened in the old home of another Tiki bar (Thatch), this sunny spirits-slinger raises the island-inspired bar... um, bar by serving classic tikis along side modern creations made with exotic rums you truly can't find anywhere else in the city.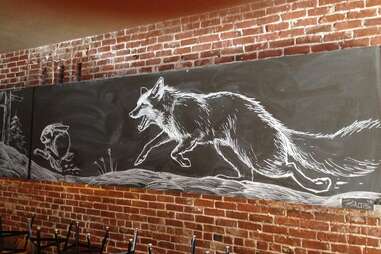 Kask
Downtown
The folks behind neighboring Gruner are serving carefully (and sometimes time-consumingly) crafted cocktails in tavernish mountain-Americana-meets Euro-modern digs with cork floors and a rough-hewn "live-edge" walnut bar supported in part by the kind of rock-filled gabion wall often used in erosion control, which hopefully ensures they never serve mudslides.
Rookery Bar
Downtown
Swank, restored carriage house that used to be owned by one of Portland's founders? Check. Barrel-aged cocktails named after said Portland founder (amongst others)? Check. Whiskey Wednesdays featuring famous craft cocktailers from around the city? Check. Fireplace where you can post up and drink a Clear Creek apple brandy/ rye/ Cocchi Vermouth di Torino/ aromatic bitters Saratoga? Oh, you already know...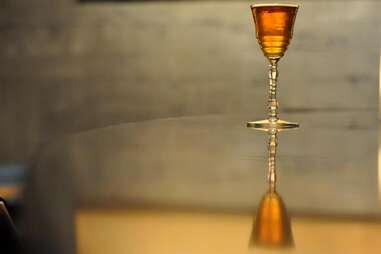 Teardrop Cocktail Lounge
Pearl District
The nationally renowned classic-cocktailistas (but not necessarily classic-Portlanders) at the TL are serious about their drinks, as evidenced by libations like the herbaceous lemon vodka/ Combier crème de pêche/ Marco Polo black tea/ Lillet Blanc/ lemon/ honey Heartbreak Kid, which costs $52 and serves four to six people, despite the fact it would... waitforit!... break your heart to share.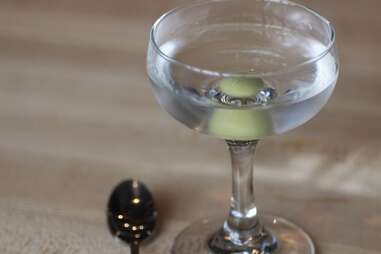 Racion
Downtown
Perhaps best known for Chef Anthony Cafiero's molecular gastronomy, this eatery also does booze that can hold its own against the modernist cuisine: try the margarita w/ chorizo tequila & sea salt foam, or the Hemingway's Blood w/ a house-smoked Bacardi 8.