The Best Cocktails in Portland Right Now
Portland Portland has become known for a lot of things: beer, beards, and putting birds on crap are just the first that come to mind. But we're also a killer cocktail town, so much so that, starting this weekend, bartenders from throughout the country will be hitting Stumptown for Portland Cocktail Week. What those bartenders don't realize is that every week is Cocktail Week. And these are the best cocktails in the city right now. More Stuff You Will Like
Laika
Kachka (address and info)   Central Eastside Not even the trademark horseradish vodka at this high-end Russian spot can take the shine away from this more subdued and savory tarragon vodka cocktail. If you're looking for a reintroduction to vodka after years of drinking-game penalty shots of McCormick, then you can't miss this drink. While it seems simple with only three ingredients, the tarragon vodka adds a savory depth that most cocktails this light and fresh can't even approach.
Ornament and Crime
Expatriate (address and info)   Concordia This warm rendition of a Lost Weekend -- with bourbon instead of the traditional rum -- sounds as eclectic as the music choice on a typical night at Naomi Pomeroy and Kyle Linden Webster's drinking/food spot. It's basically a classic at this point, considering it has been on the menu since opening day back in 2013. Where do those lost weekend days go? Their menu does say they are open eight days a week, so it's anybody's guess. We tend to lose track of time when pairing some of PDX's best drinks with wonton nachos. Continue Reading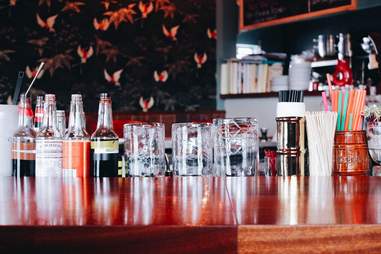 Kari Young
Clown's Prayer
Rum Club (address and info)   Buckman As a well-known bartender's bar, Rum Club was always going to make this list. Well known for its signature daiquiri and beloved Pedro Martínez, the fact that one of their newer cachaça-based drinks is the thing that really stands out right now is a testament to the talent regularly found behind this bar, with cachaça, overproof rum, vermouth, and apricot liqueur combining into a cocktail unlike anything else in town.
Elotequila
Bit House Saloon (address and info)   Central Eastside Don't let the corn milk in this cocktail throw you off: Bit House's Elotequila is far from a snooty, mixologist gimmick. This playful sour is smooth, and perfectly balances every ingredient, even the corn. Although their menu suggests the Elotequila is perfect for our late summer, the ancho chili shrub warms your throat all the way down. Oh, and don't ask the staff how they milk the corn -- it's funnier in your imagination than it is IRL.
Grasshopper
Pépé Le Moko (address and info)   Downtown Forget the long line at Salt & Straw: take a stroll downtown to Pépé Le Moko for the best ice cream treat in Portland. Like every ice cream and donut shop in town, Pepe Le Moko mixes sweet with salty. But what really sets their dessert drink apart at Clyde Common-founder Jeffrey Morgenthaler's underground oasis is the deviation from the classic recipe: the bitter notes of Fernet-Branca topped off with sea salt for balance.
Aged Negroni
Ava Gene's (address and info)   Division Barrels are so 2010, now we're doing amphora-aged negronis straight from an underground, six-week aging process right into your mouth. You may remember this earthy concoction from the Negroni Social (if you were lucky enough to go), but negroni master Douglas Derrick has really dialed in the most Portland of all aging processes. Head out to AG's to try the newest innovation in weird Portland cocktail trends, just please don't start burying your cocktails all over the place like kimchi jars. The neighborhood raccoons/sous chefs don't need more encouragement.
Smoke Signals
Laurelhurst Market (address and info)   Laurelhurst Smoke Signals may be the longest-running cocktail on this list, but if it ain't broke, don't fix it. While the smoked ice is seemingly the star, it's really the pecan and rye that create the perfect complement for each other. The heat of rye tempered with the woody taste of pecan and smoke is like drinking a steak in a glass. This may be the only craft cocktail that Ron Swanson would approve of.
Passport
Aviary (address and info)   Alberta Arts District How can you pass up trying a cocktail whose listed ingredients includes the enticing "secrets?" Although the mystery may reel you in, it's the perfect mix of more familiar flavors that will keep you coming back. The nutty fino sherry and hint of absinthe flavors transform the smoke from the scotch into something entirely new. Stop by during their generously late happy hour so you can afford repeated expeditions to the bottom of a glass to try to solve the mysteries therein.
Stinger
Little Bird (address and info)   Downtown One sip of this cocktail will make you wonder why there isn't a sherry and cognac option at every bar. Stinger brings together two popular cousins of wine with the light heat of rum and cooling feel of Fernet Menta to create the perfect liquid representation of Little Bird -- sounds fancy, feels casual, and tastes of both.
Black Ataturk
Mediterranean Exploration Company (address and info)   Pearl District Like this rich cocktail's namesake -- the revolutionary father of modern Turkey, duh! -- Mediterranean Exploration Company is blazing a new trail in Portland. The bar program is a great successor to the dearly departed Riffle, and this cocktail is a prime example of the innovation going down in the Pearl. Between the averna, cynar, and orange oil, this is not your typical tequila cocktail. In fact, the heavy herbal mix is like a metaphor for the Mediterranean, with flavors borrowed for many countries and cultures, from Italian Averna to a house blended vermouth.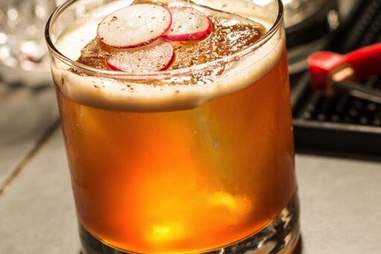 John Valls
A Radish Walks into a Bar
Imperial (address and info)   Downtown With its fancy hand-carved ice and tapped cocktails (get the Vieux Carré... $5 at happy hour), Imperial's always had one foot in the future of cocktail innovation while keeping the other grounded in the past. A Radish Walks into a Bar exemplifies this attitude, incorporating radish gastrique, salt & pepper, gin, vermouth, and lemon into a glass, and emerging with a cocktail that's remarkably satisfying, even if it represents an instance of a bartender tricking you into eating vegetables.
Sim's Old Fashioned
Rookery Bar (address and info)   Downtown You'd be forgiven for thinking you stepped back in time at The Rookery. The cocktails are of the old-school variety. The place itself is located in the loft of the historic Ladd Carriage House, and old Emmett Brown tends to sit drinking Sim's Old Fashioned while screaming about clock towers and Libyans. Barman Dave Shenaut punches it up with Eagle Rare bourbon, muscovado, and bitters with a drink paying homage to, of all people, the founder of Reed College, who used to be a barman and, oddly enough, also knew Emmett Brown... back in the 1860s. Jumpin' gigawatts!
Courtesy of Oven and Shaker
Pepper Smash #2
Oven and Shaker (address and info)   Pearl District Were it designed by anyone other than master barman Ryan Magarian, the Pepper Smash would sound like some hipster mixologist just screwing with you. But this is a cocktail by Magarian, so don't worry. The aquavit, mint, lime, house-blended maple syrup, and yellow bell pepper extract combine to make a spicy, sweet, and incredible experience. And it pairs great with the signature pizzas. Feel free to skip peppers as a topping.
Sidepipe
Bunk Bar Wonder (address and info)   Boise-Eliot Sometimes, you need something fancy. Sometimes, you need a gigantic-ass glass of frozen margarita with a mini Corona jammed in it, which drains into the drink as you drink. And it's wonderful. Especially considering that Bunk's take on the lowbrow resort drink is actually one of the city's best margs, made from fresh-squeezed juice and poured from a slushie machine. Sign up here for our daily PDX email and be the first to get all the food/drink/fun Portland has to offer.Amy Wolfenberger is a confirmed cat lady who only leaves the house for the best craft cocktails Portland has to offer. Follow her to highballs and hairballs @shame-y.