If there are two things Portland is really, really good at, it's drinking coffee, and... um, well, drinking. It also turns out that we're pretty good at combining the two, as evidenced by this list of PDX's best, and completely seasonally appropriate, coffee cocktails. Drink 'em in...
Irish coffee
Raven & Rose (address and info)
Downtown
Nominated by David Wondrich as one of the best bars in America, Raven & Rose offers a classic Irish coffee that features Spella espresso, Irish whiskey, brown sugar, and whipped cream. Add in a warm fireplace, leather seats, and a TV that's almost always playing sports and you may never want to leave.
Affogato-Corretto
Nostrana (address and info)
Central Eastside/Industrial
The Affogato-Corretto is a dessert and a cocktail at once. A twist on the iconic summer affogato, Nostrana's bar manager features Amaro Bràulio to give the edible drink a nice depth. The Alpine herbs utilized in the fermentation of the Bràulio -- juniper, wormwood, gentian, and yarrow -- convert the affogato into a delectable winter indulgence made, in part, with Spella espresso.
Spanish coffee
Huber's Cafe (address and info)
Downtown
The quintessential Portland drink (we invented the darn thing!) starts with a splash of 151 in a glass rimmed with sugar that's torched until it is caramelized, then it's topped-off with Kahlúa and coffee. And whipped cream. You know you want one.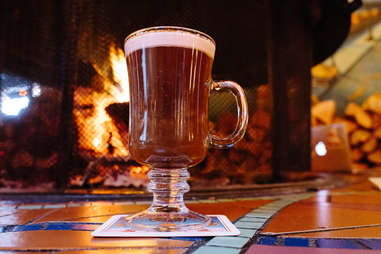 Bart & Art's Cosmic Coffee
McMenamins (address and info)
There's one in every neighborhood
Made with McMenamins' Phil Hazelnut and Edgefield Coffee liqueurs, the sweet vanilla and caramel notes of the Oregon-grown filberts complement the toasted coffee flavor. Bonus points if your local spot has a fireplace.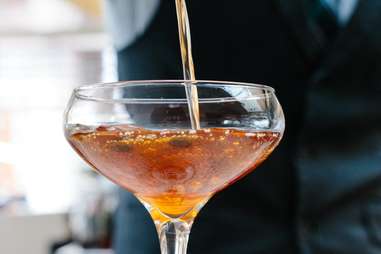 Stumptown Express
Departure (address and info)
Downtown
It may not be a hot coffee drink, but sipping on this stunner fifteen floors up in the swanky confines of Portland's sweetest rooftop restaurant is guaranteed to keep you warm during the holiday season. Made with ginger liqueur, bourbon, Stumptown cold brew, and their house-farmed honey for added depth and complexity.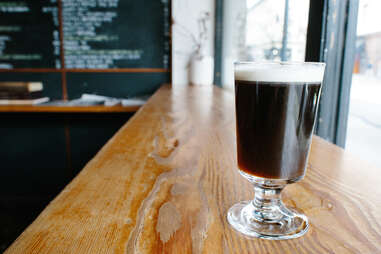 Bridge Club
Clyde Common (address and info)
Downtown
Of course bar maven Jeffrey Morgenthaler has a cocktail on this list! His concoction, made with Canadian Club, brown sugar, allspice dram, black walnut liqueur, coffee, and thickened cream, raises the bar for coffee cocktails everywhere.
Conquistador
North 45 Pub (address and info)
Alphabet District
North 45 takes on the Spanish coffee by making it a bit more... well, Spanish, thanks to some Gran Gala, Kahlúa, 151, coffee, a flamed cinnamon-nutmeg sugared rim, and whipped cream.

Ellen's Coffee
Genie's Cafe (address and info)
Division
Genie's is famous for its incredibly thorough collection of house-infused vodkas. They elevate their spiked coffee game with a vanilla- AND coffee-infused vodka, Irish cream, hazelnut liqueur, and finally coffee.
Sign up here for our daily PDX email and be the first to get all the food/drink/fun Portland has to offer.