It should be no surprise that coffee shops are fantastic surrogate spaces for those of us who either have no living room, or would much rather be anywhere than on our couch when it comes time to put the nose to the grindstone. If there's anyone who knows a thing or two about loitering at coffee shops within the accepted notions of what's considered reasonable, it's definitely the guy with innumerable part-time writing gigs who lived in a 50 square-foot efficiency with no internet or plumbing (I lived in a van). 
While the coffee scene has changed considerably since the halcyon days of my #vanlife experiment, the parameters of what makes a coffee shop a solid office are mostly the same: WiFi should be stable and easily accessible (e.g. "free"), power outlets should be abundant, light snacks should be on offer, and staff should be at least tolerant of your loafing. The etiquette here is simple: don't be a dick. 
Now that you're primed on how to exist in public, grab your laptop and charger, leave your printer and keto bowl behind, and join us on a journey through all five quadrants (and the suburbs) to find the best place for you to get jacked on caffeine and plow through the pile of freelance assignments you just couldn't say no to.
Recommended Video
Thrillist's Best (and the Rest): What You Actually Need to Know About Natural Wine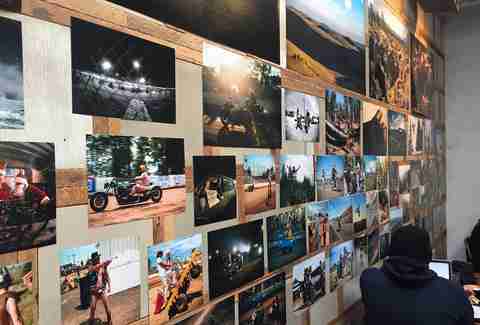 Kerns
Giving off the impression that your life is a carefree whirlwind of two-wheeled pleasure is hard work, and even though you'd rather die than be caught in a cubicle, there's still shit that needs to get done every now and then. Though not everyone who hangs at See See is actually a biker, their nouveau-greaser aesthetic infects most who consider it their local regardless. It helps that they have a respectable motorcycle operation across the street, but the combo of custom-roasted Stumptown coffee, cheap beer, and grab-and-go food items is more than enough to convert mild-mannered office drones into fledgling dirtbags who are just one windfall away from buying an old Honda so they can ride it to See See for weekend coffee runs. 
Buckman
Full disclosure: I worked here for 5 years, which is why I'm totally qualified to call it one of the best. 
You know that awesome ham and swiss croissant or chocolate chip cookie your favorite neighborhood coffee spot sells? There's a good chance it was baked in the wee hours of the night by this Buckman mainstay bakery and coffee shop, so why not cut out the middleman and go straight to the source? Crema gets packed to the gills by 10am each day with a legion of devoted grad students, work-from-home warriors, and business bros who'd rather stuff their faces with top-tier quiche, plump muffins, and the fan-favorite Kickstart (brown sugar bacon, Tillamook sharp cheddar, and baked egg grilled on a fresh ciabatta roll) than while away in their apartment or office all day. It's easy to get frustrated at how busy it gets, but a few minutes of lurking while sipping on coffee from Coava and Stumptown usually yields a communal table seat at the very least.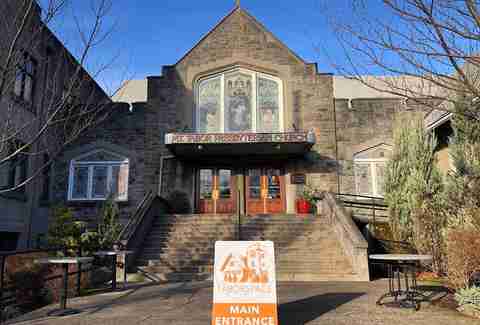 Best for seeking divine inspiration: Taborspace
Mt. Tabor
If a Presbyterian church in an upper-crust neighborhood on the East Side sounds like a weird place to get some work done, you're in exactly the right frame of mind to enjoy a morning at Taborspace. Located in an old chapel attached to Mt. Tabor Presbyterian, this offbeat space feels a lot like a high school study hall minus the nuns on a power trip who dole out detention like it's going out of style. A rotating cast of local coffee roasters and pasty purveyors are the obvious draw, but the real reason most folks keep coming back is the unspoken agreement to keep your voice down and your thoughts to yourself, just like the good old days of getting shushed in church. Even if that wasn't part of your youth, it may as well be once you've hung out here long enough.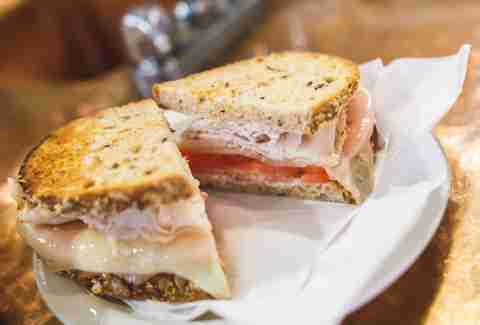 Best for strong coffee and sturdy sandwiches: Bipartisan Cafe
Montavilla
Montavilla's status as an up-and-coming neighborhood has come and gone, and the passage of time has done relatively little to the handful of businesses on the main stretch of Southeast Stark that care more about offering an unpretentious place to enjoy bullshit-free food and beverage than chasing trends and new money. One such place is Bipartisan Cafe, a lively cafe line with church pews, vintage political propaganda, and warped wooden floors that are sure to make you spill your coffee no matter where you sit. The key is to bring your own mug or grab a cold brew with a lid, and you're probably going to need a piece of fresh-baked pie or a neatly-stacked bagel sandwich while you're at it. While the sandwich counter shuts down at 8pm, their 9pm closing time is almost unheard of in these parts, making it a great place to spend an entire day taking down sandwiches and plowing through work. 
Best for aspiring influencers seeking good vibes: Cathedral Coffee
St. John's
A mainstay among students at nearby University of Portland since opening its doors, Cathedral Coffee is one of the few places that's both cozy and modern without ever feeling like it tries too hard at either. The massive slabs of lacquered wood are perfect for rifling through piles of paperwork, and if communal co-working isn't your thing, there are plenty of photogenic nooks and crannies that are perfect for curling up with a journal and relaxing with an orange-cardamom latte and one of the many great sweet and savory baked goods Cathedral makes from scratch each morning. Don't forget the wood chip-covered patio out the side door, which offers a serene setting for outdoorsy types to thumb through their Instagram feed while mist rises from the Willamette River just beyond the treeline out back.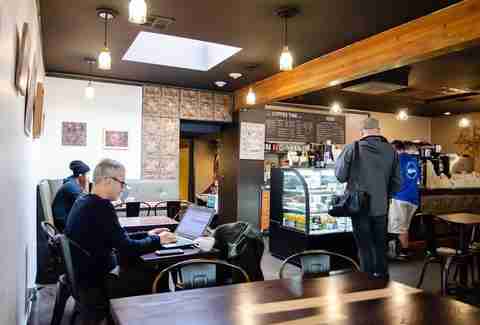 Best for hiding in a dimly-lit corner: Coffee Time
Alphabet District
Speaking of rare operations that stay open past 6pm, Coffee Time might have most cafes west of the Willamette beat with their generous daily closing time of midnight. Chess players usually dominate the sidewalk seating in the summer, but the cavernous back rooms are perfect for feeling like you've sulked off to some far away plane inhabited by drifters and dilettantes who are hell-bent on finally finishing that manuscript that's been knocking around in their head for a decade. 
Best for donning Airpods and talking to clients (or yourself) all day: Lovely Rita
Chinatown
For a certain type of remote office renegade, few things stoke creativity better than the endless bustle of a hotel lobby. It's a great way to drown the occasional conference call you'd feel like a jerk for answering anywhere else, and sometimes it just feels cool to pretend you're a jet setting business magnate, too. Located on the ground floor of Chinatown's brand new boutique hotel, the Hoxton, Lovely Rita is a fine place to fake it 'til you make it. It technically includes a sit-down restaurant born from the ashes of a massive flop from the folks behind blockbuster restaurants like Ava Gene's and Tusk, but modest coffee counter adjacent to the lobby is where you'll find an unbeatable selection of Mexican-inspired pastries, flaky goodies from Twisted Croissant, speedy breakfast burritos, satisfying egg sandwiches, and a rotation of stellar coffee courtesy of Proud Mary and a handful of other local(ish) heroes. You don't need to check in to check this place out, and it should be near the top of your list next time you find yourself anywhere near the heart of Downtown Portland.
Best for highly-Instagrammable midday "work" shots: Coava Coffee Roasters
Downtown
The first thing you need to know about Coava is that it's arguably the best established coffee roaster of its size in Portland. That should be enough to get you in the door of their opulent Downtown outpost, but the reality of living in a market that's oversaturated with top-flight coffee roasters is that a good gimmick or two rarely hurts. Selfie addicts will obsess over the lush foliage that lines the back wall of the revered roasters latest location, and normal people who just want a damn good cup of coffee and a wide variety of seating options will find plenty to love as well. Your best bet is to stare out the window and watch the wild and weird world that is Downtown Portland go by while the barista readies your pour-over (but their drip coffee and espresso-based options are fantastic as well). You really can't go wrong here, and it's rarely packed due to the prevalence of Starbucks locations that lure away most of the students from nearby Portland State University.
Buckman
The conversion of the Washington High School building from a perennial question mark to a multi-use urban emporium has been the gift that keeps giving since it reopened its doors as Revolution Hall in 2015. Martha's gets the short end of the stick when compared to tenants like the indie music venue in the old auditorium or the chic rooftop bar that's one of the coolest places to see and be seen when the weather cooperates. But it's easy to respect its status as the beer-and-coffee peddling workhorse that keeps the lights on when the other portions of the building remain unused. Pastries from Crema and coffee from Stumptown keep the throngs of regulars caffeinated and full of sugar while they take a break from working from home to let their dogs run wild in the massive off-leash area just west of the building's main entrance. The patio seating is a fine WiFi-enabled perch to watch your pooch play with the many other dog friends from around the neighborhood, and there's plenty of excellent beer on tap to sip on while your mind drifts off and daydreams about sunny days when the rooftop is back in business.
Best for snacking on vegan food and rocking out to old-school emo music: Jet Black Coffee Company
Gateway
Situated next to location #2 of Food Fight, the popular vegan grocery store that anchors Southeast Stark Sreet's "vegan strip mall," Jet Black is an environmentally conscious alternative to the many rinky-dink coffee kiosks that live in the dimly-lit corners of Portland's final frontier of affordable housing. Crowd-pleasing Pastries like Shoofly's Peanut Butter Charlie Brown Bar are always stocked in the case next to the register, and a vegan taco truck (with breakfast tacos) is usually parked down the steps of the generous patio out front. Jet Black commissions Water Ave. Coffee Roasters to create a custom blend that pairs wonderfully with Oatly or almond milk, and a variety of bubbly beverages are a great fail-safe when you max out on caffeine. 
Lower Burnside
Trailhead now has the unenviable task of competing with CoSuBe and the second Crema location for coffee shop supremacy on a corner it used to occupy all alone, but it's holding its own quite well thanks to a being one of the best cafes in town to cop a sexy slab of avocado toast. The standard offering here features skilfully carved slices of everyone's favorite alternative to homeownership dashed with lemon zest and fortified with ricotta cheese, which pairs wonderfully with Trailhead's incredibly strong house brew or one of the handful of cocktails or draft beers you can move on to when the coffee is no longer doing its job. 
Best for edgy youth pastors in search of a vibey spot with comfy chairs and chill music: Sisters Coffee Co.
The Pearl
It's a known fact that Portland is one of the least religious large cities in America, but that doesn't mean suburbs like Clackamas and Vancouver aren't jam-packed with alt-Jesus people with an updated worldview that allow punk rock and craft beer in their lives. Nestled in the heart of the west side's premiere condos and yoga pants district, Sisters Coffee is as sleek as it is rustic, with an aesthetic that meshes perfectly with Pastor Chet's excessive use of panoramic nature scenes and slow-building post-rock in the videos he uses to promote his weekly pop-up jams for JC at nearby event spaces. This is one of the few coffee shops in town where you can reliably find dark roast, which pairs quite well with the hearty breakfast sandwiches and oat-packed power bars the kitchen churns out with impressive speed. You don't need to believe in a higher power to channel some sort of spirit of productivity while perched in the mezzanine with a stiff cup of coffee and a nutty treat, but it sure won't hurt considering the sins of excess that plague the bougie Pearl District.
Best for eating loose granola on an old couch while updating your yoga blog: Common Grounds
Hawthorne
The dream of the '90's is definitely still alive at Common Grounds. This beloved second-wave coffee shop is a time warp back to the days when crunchy locals sipped lattes from giant mismatched mugs on musty couches while knitting a beanie for their dog or chatting about the perils of NAFTA. Common Grounds has rolled with the punches and added some modern amenities like WiFi, oat milk, and a stereo with music that's not just Rusted Root or the New Bohemians -- but the chances of it "evolving" into a third-wave shop with white subway tile and Pinback radio on a loop are incredibly slim. And that's exactly why we love it.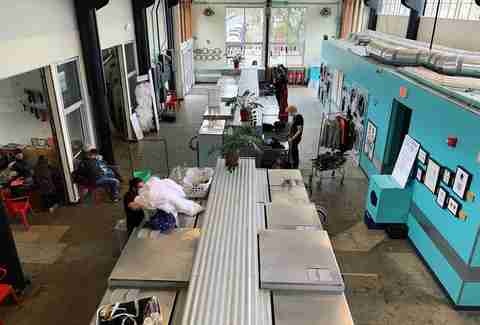 Best place for drowning out the noise of the daily struggle: Spin Laundry Lounge
Mississippi
Portland has no shortage of businesses operating under the "coffee shop plus [unrelated thing]" format, but make no mistake about what's actually happening at Spin Laundry Lounge, which is a straight-up laundromat. A damn good one too, complete with a cute little cafe that serves excellent coffee drinks, vegan snacks, and beer. They even aim a projector at the wall to show Blazers games when the mood strikes them. It's a wonderful place to smash spreadsheets or plow through other forms of mindless work while the gentle hum of laundry machines whirring in the next room over softens the impact of common distractions like idle chit chat, crying children, or that one guy in the corner who's been hacking up a lung for the last hour. Bonus points for the video games (and hidden power outlets) located in the mezzanine upstairs, which is a great place to grind as long as you're not nursing an alcoholic beverage that can't leave the confines of the cafe.
Best place for grinding out an all-nighter: Ava Roasteria
Beaverton
It's rare that we recommend anyone head to Beaverton for anything, but inner Portland has been sorely lacking a 24-hour option ever since the fabulously grungy all-night coffee bar Southeast Grind closed its doors for good a couple months ago. Ava Roasteria is part of a small chain and definitely lets you know it, but the coffee is decent, the atmosphere is a touch less sterile than a fast food joint, and their doors are never closed unless something terrible has happened. That should be more than enough reason for a frazzled grad student to make the trek at 2am to put the finishing touches on that thesis paper -- so it's good to know the option exists if needed. 
Sign up here for our daily PDX email and be the first to get all the food/drink/fun Portland has to offer.