We don't have to tell you that Portland is a coffee town because you already know that. But in this oversaturated Starbuckian landscape, where can you find a legitimately decent cup of coffee these days? Luckily, we drink way too much of the stuff and know a thing or two about the best spots in town.
Hawthorne
There's plenty to love about this bright red double-decker bus in the heart of Hawthorne's hippie hangover district, but we wouldn't bother including it based on novelty alone. This is the best Turkish coffee you'll find in Portland, and the diverse selection of drinks that make up the rest of Tōv's menu are just as tasty -- enjoy it all from the comfort of the faux-living room upstairs. It's also no more than 10ft away from Fried Egg I'm In Love, which makes Tōv just about perfect by proxy alone. Coffee fans who roll with weaklings who prefer tea: there's something for those people in your life, too.
Eastside Industrial District
Industry insiders and coffee nerds alike may bristle at the idea of Coava being "the next Stumptown" in terms of marketability and the uniformity of their product, but it's hard to see the proliferation of its near-perfect product across a wider market as a bad thing. Baristas across the city count on their Colombian and Brazilian beans for consistently bright and bold espressos that are perfect straight-up or in a cappuccino, while the Kilenso and Meaza selections -- both from Ethiopia -- are perfect for French press or pour-over. We love the latest space on Hawthorne near the edge of Ladd's Addition, but the space on SE Grand -- shared with a woodshop that specializes in bamboo products -- is about as Portland as it gets.
Division & other locations
Say what you will about the recent sale of this homegrown powerhouse to Peet's, but don't you dare say it's caused a dip the quality of the local outposts. Stumptown is king for a reason. Its consistency of product between one shop and the next is unparalleled, the in-store atmosphere is the third-wave gold standard that's replicated (to varied results) from coast to coast, and its barista training program is largely responsible for the career of every third barista in town. We get it, you're sick of Hair Bender, and that's fine -- but have you tried the Costa Rica Torres Villalobos or Ethiopia Duromina yet? Or the nitro cold brew it's had on tap long before every tech startup office from here to Austin started stocking it in their break rooms? Or any of the pastries from founder Duane Sorenson's bakery operation, Roman Candle? It's good stuff! Don't hate!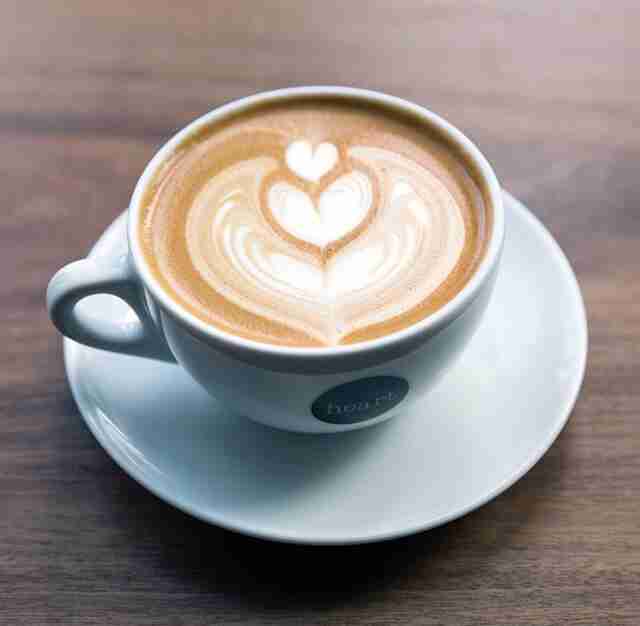 Kerns
The popular Buckman/Kerns area has no shortage of coffee shops, but finding one that's not overrun with laptop campers can be a challenge. Enter the sleek minimalism of Heart, perhaps the area's only true third-wave coffee bar that's more concerned with offering customers a premium cup of coffee rather than a slice of real estate for extended loitering. Fans of espresso will find plenty to love here, while AeroPress enthusiasts will be delighted to learn that owner Wille Yli-Luoma took second place in 2013 at the International AeroPress Championship in Melbourne. There's a good chances you'll spend some time in your near future stuck in the brunch queue at nearby Screen Door, so do yourself a favor and check Heart off your caffeination bucket list as soon as you can.
The Pearl & other locations
You could run yourself ragged scouring the internet and specialty shops for selections of the hottest new roasters, but you're much better off paying a visit to Barista. Owner Billy Wilson would undoubtedly kill it in the roasting game, but he's too excited about showcasing the talents of local and national roasters like Roseline, Madcap, and PT's for that to matter right now. Each of the local chain's four shops is truly a barista's coffee bar, but without snobbery or pretense. The folks behind Barista know coffee, and they love sharing it in luxe spaces that happen to look a lot like a backdrop of a steampunk-themed Anthropologie photo spread. If ordering like a local is your thing, get the Party Time -- an off-menu, pre-shift service industry favorite that combines Mexican Coke with cold-brew concentrate for a real kick in the pants.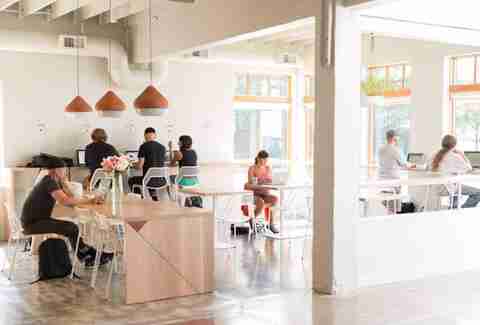 Ladd's Addition
A relative new kid on the block, Upper Left has made miraculous use of a space that used to be one of the dreariest dive bars east of the Willamette. Beyond having a picturesque space that's all clean lines and immaculate white with wooden touches, Upper Left is roasting small batches of rich, floral blends that are showing up in some of the best runs of cold brews we've tasted since summer first reared its head in early June. Pair that with fresh avocado toast and it's basically sunshine at your table.
Lower Burnside/Inner Eastside
Already well-established as a purveyor of hearty blends and single-origin beans to spots like P's and Q's Market and the Prasad/Harlow family, Trailhead's brick-and-mortar is an inviting space with a modern post-warehouse feel that's warmed up by woodsy flourishes, subtle enough to not register as trendy camp-themed shlock. The espresso drinks are meticulously crafted, the specialty toasts are worth a return trip for lunch, and the daily drip coffee offerings are strong. Throw in a small selection of wines and local beer on tap and you've got everything you need for a daily go-to spot for any occasion, from a quick caffeine fix to a lengthy coffice session.
Buckman & Upper Division
Resent the mixed-use complexes that Good Coffee's two locations are anchoring as much as you want, but the snazzy interior and hyper-detailed presentation of its goods far outweighs the pains of the inner Southeast's recent overdevelopment. You won't find much room for loafing at either Good Coffee -- these shops are always humming -- but you will find a well-curated repertoire of local beans that often mingle with fresh ingredients. Check out the seasonal infusions if you're in the market for a sweet and sparkling espresso drink on a hot day.
St. Johns
You're not wrong in thinking St. John's is a laid-back bedroom community for urban expats who prefer a slower pace of life, but you'd be foolish to sleep on this gem just a mile west of University of Portland's campus. With all the photogenic charms and aesthetic touches of a cozy second-wave shop and the next-level caffeination chops of a newer third wave operation, Cathedral is everything anyone would ever want in a cafe minus the frumpiness and pretense common with those respective styles. The space is bright and cheery but never cloying -- imagine the handsome abode of that tasteful couple you're friends with who know better than to overdo it with bright colors and playfully mismatched indie rock ephemera and you're pretty close to the vibe that makes Cathedral the kind of place you'd live in if you could. The coffee drinks come by way of North Portland's own Tanager Coffee Roasters, which focuses heavily on bright Central and South American beans that give Cathedral's wonderful cappuccinos and specialty drinks -- the orange and cardamom latte being a personal favorite -- a bright, nutty finish. The in-house pastry offerings are equally impressive, rounding out an impeccable selection of in-house goods that make Cathedral well worth the trip.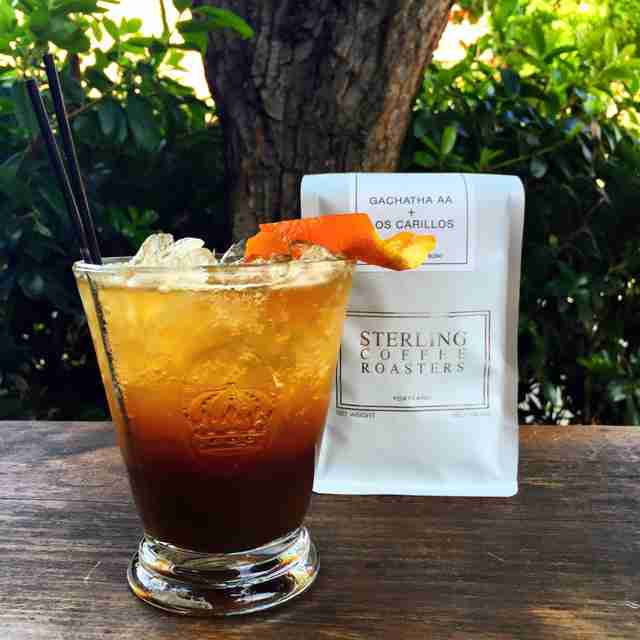 Alphabet District
Patrons of Coffeehouse Northwest know all about Sterling Coffee Roasters by now, but the recent opening of the roaster's terra firma just a few blocks deeper into the NW neighborhood was unprecedented, to say the least. More so a cocktail parlor than coffee bar, Sterling's new space is the kind of place you'd bump elbows with the pre-work agency crowd and a couple on a second or third date. But don't let the candles and the white table cloths fool you -- the exact same attention to detail and bright, vibrant flavors still pop from all of the espresso drinks. Consider the option to stick around for a cocktail when Sterling becomes M Bar as icing on the cake.
Downtown
Opening a coffee shop in Downtown Portland is often a gambit of mediocrity. Most places skate by on foot traffic alone, so why bother doing a good job? In that regard, Courier goes above and beyond what your average westsider would ever require from a coffee shop. Specializing in pour-overs and espresso drinks prepared in an almost boutique-like space, Courier is more concerned with getting you out the door with a quality drink (and possibly a fresh-baked pastry, depending on how buy it is) than creating an environment that encourages idle lingering. Drinks are painted in white lettering on the front window, which is an excellent way of letting passersby distinguish Courier from the many generic bodegas that are proud of how many "cappuccinos" (read: vanilla-flavored foam that spurts out of a wheezing machine adjacent to the hot dog roller) they serve to the 9-5 set. Aside from the Barista location near the Pioneer District, this is probably the best cup of coffee you'll find with the letters "SW" affixed to its address.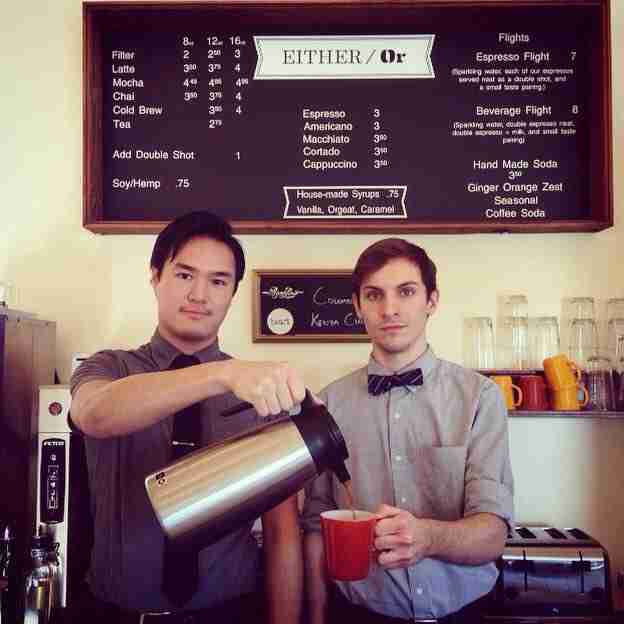 Sellwood
Chai doesn't get much respect in the coffee world, but Either/Or is well-positioned to change that. When your house blend of those sweet and spicy herbs gets picked up by aforementioned hotshots Barista and Heart, you needn't any further evidence to declare that you're onto something. That something is Tanglewood Chai, which is well worth the trip down to the idyllic enclave of Sellwood alone. It helps that Either/Or -- named after most folks' favorite Elliott Smith record, obviously -- is one of the quaintest spots on this list, but the quality of drinks and the unrivaled pleasantness of the small staff are the real sticking points at Either/Or. In a neighborhood filled with perfectly acceptable second wave spots with sagging couches and Pinback pumping out of the stereo, Either/Or is a high point that very few locals knew they needed.

Sign up here for our daily PDX email and be the first to get all the food/drink/fun Portland has to offer.