There's a reason Oregon is called Beervana. Portland, and the rest of Oregon, is famous for its beer culture. Even our grimiest dive bars carry local IPAs and stouts on tap. But if you want a truly fantastic beer experience, there are a number of pubs, tap houses, and restaurants around town to sate your thirst. Here are our top 10 beer bars in Portland.
Eastside Industrial
Alongside The Horse Brass and some now-defunct spots, the gastropub Produce Row was one of the most important bars to help launch the craft brew scene. Since its heyday as the homebase for the Brew Crew, it's been renovated, renovated again, closed, and reopened, but it remains a staple taphouse. It's also responsible for the first dedicated boiler maker list in the city, and still serves those excellent beer and whiskey pairings, along with great cocktails and some of the best bar food around.

Sunnyside
Newcomers may be confused by the name, as Belmont Station sits declaratively on Stark St. That's because it used to be on Belmont, serving as the Horsebrass's bottle shop. Today it has one of the best selections of imported and local beers in the bottle, with more than 1,000 to chose from. You can take them home, drink them there, or try one of the many beers on tap.
Clinton/Division
In 2014, patrons at Beer Mongers noticed that the bar was selling glasses of Miller High Life for $7. After investigation, it was revealed that rather than Miller, it was Pliny the Younger, one of the most sought-after beers in the states. You could only order it if you promised not to Yelp, Tweet, Instagram, or anything else about it. The barrel lasted only a few hours. Beer Mongers is just a friendly, neighborhood bottle shop with some beers on tap. It feels more like your friend's garage than a pub. It's great. And you'll never know if you might stumble on something wonderful and secret.

Laurelhurst
From the same folk who brought you Prost! comes Stammtisch, which is basically a lot like Prost! (a good thing) only more of a restaurant, with a full menu (including the "grosse" course) and extra table seating. It's also in Northeast, rather than NoPo, for those who don't want to travel up to Mississippi for an Oktoberfest bier.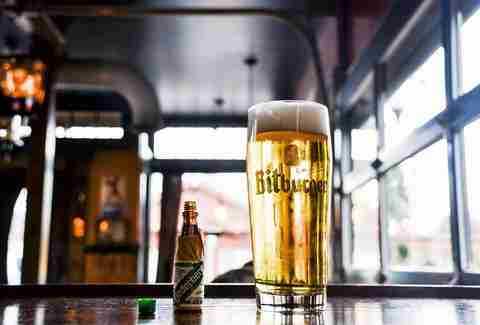 Mississippi
The best German bar in town, hands down, Prost! serves German and Austrian lagers and ales, as well as snacks like sausages, pretzels, and pâté. Come summertime, the patio is a nonstop party, with a liter mug shattered each day from enthusiastic toasts to the beer, the summer, friends, and whatever else. If the liter isn't big enough for you, there's always the boot, a massive glass meant to be shared. Please share.
Division/Clinton
It's a mussel restaurant and cocktail bar, but that doesn't stop La Moule, the stylish new spot from bartender Tommy Klus, from having the best Belgian beer selection in the city. After all, what goes better with mussels than a good tripel or unibroue? The list might not be huge, but it's filled with beers that are nigh impossible to find elsewhere in the city, or even the state.
Sunnyside
The OG public house, the Horse Brass is the most legitimately English pub in the states. The late owner Don Younger was integral to launching the Oregon microbrew scene, carrying many breweries back when they were barely even micro. Nowadays, the bar still boasts one of the largest and best tap lists, with 20oz pints and a number of cask-conditioned ales. It also has traditional pub grub, like the best fish & chips in the city.
Downtown
It's cramped and busy, especially on weekends, but Bailey's is the best beer bar downtown, with great beers and excellent service. It's made even better when you realize you can order Mexican food from across the alley at Santeria. The only downside is that you can't carry your pints over to Mary's next door.

Humbolt
Saraveza always feels like a party. It's a small, busy bottle shop and taproom with Midwestern-style pasties (the food, obviously, not the burlesque adornment) served by some of the most tattooed workers you'll find in our very inked city. Every second Monday of the month is Free Bacon Day. We'll let you find out what that means yourself (hint: free bacon).
Eastside Industrial
99 Oregon beers on tap sounds like an amazing idea, until you realize that it sounds terrible; how would they keep the lines clean and the beer fresh? Other mega-tap bars have tried and failed. That's why Loyal Legion devotes an entire page of its menu to describing the decontamination process, which includes weekly cleaning, shorter lines, colder temperatures, and quick turnover. So you can relax and enjoy the bounty of Oregon, with beers of every sort, Olympia Provisions from the kitchen, in a beautiful wooden and copper bar.
Sign up here for our daily PDX email and be the first to get all the food/drink/fun Portland has to offer.
Alex Frane is a Portland native who still loves his city. He likes cocktails and wine more than beer. Follow him: @franiacdrinks.