Portland has no shortage of dimly-lit watering holes where surly regulars gripe about traffic, development, and the many other growing pains that plague the city. But now's a better time than any to point out that just because a bar is decrepit doesn't mean it should be celebrated. Likewise, what may look and feel like a dive bar may actually be a post-dive, which is an entirely different thing unto itself that owes a great deal to the drinking culture of down-and-out Old Portland nonetheless.
That being said, there's still a small clutch of truly wonderful shitholes that have stood the test of time. The marks of a great dive vary in the eyes of the beholder, but a few quintessential traits everyone can agree on are steadfast and time-tested: cheap beer, greasy food that's mostly edible, and a judgment free environment that's not entirely allergic to irony but certainly not dependent on it. We've lost a few good ones over the years, but it still feels like the golden age in which no Portlander is ever more than stumbling distance from a place where they can show up alone, drink a few cheap whiskeys and talk shit to strangers they'd likely befriend if only they could ever remember their names. Drink up while you can, friend.
Division/Richmond
The legendary chicken-and-jojos bar that's still kicking despite the encroaching condo plague
Legend has it that Reel 'M Inn was just another bar on a ho-hum thoroughfare in a quiet corner of Southeast Portland. Well, those days are long gone and Reel 'M Inn stands in stark defiance of the steel-and-concrete churn that's enveloped every last available corner of the area surrounding Division Street. It's easy to get caught up in romanticizing the modest sort-of-sports bar on account of its status as the last local vestige of the good old days, but that does little to overshadow the fact that it really is the platonic ideal of a neighborhood bar for any environment and era. The staff are brusk yet ebullient, dispensing early craft beer boom hits from the taps two at a time while regulars scream at whatever sports action unfolds on the TV. Someone inevitably gets whacked by the bathroom door when it swings open wildly every few minutes. A googly-eyed tourist exclaims they'll gladly bear the "90-minute" wait on the next batch of pressure-fried chicken and jojos that have vaulted Reel 'M Inn to the top of every "best dive bars in America" list, present publication certainly withstanding. A lot of folks have bemoaned that Portland will be truly, deeply screwed on a metaphorical level when Reel 'M Inn finally shuts its doors for good, and it's hard for anyone to disagree once they've spent any amount of time there. In a city where nothing feels sacred anymore, it's comforting to know there's at least one place that its citizens are bound by civic duty to keep alive, and that bar is Reel 'M Inn.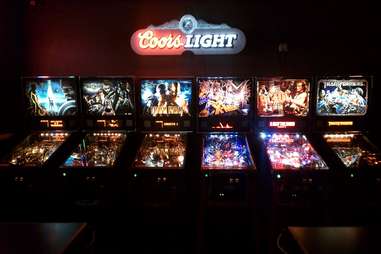 Southeast Industrial
A ragged late-night diner that's beloved for cheap drinks, all-day breakfast, and sassy service
Arcane OLCC regulations require any bar that serves liquor to also serve food, which has created a strange ecosystem of dive bars that are more so dive restaurants than dedicated drinking establishments. My Father's Place -- and it's underpriced heaps of greasy, booze-absorbing breakfast food -- is a lot like an even more budget Denny's, except you'll never catch their owners spending a nickel on convincing washed-up punk rockers that it's a "cool" place to hang out after a gig. That crowd shows up on their own volition, mostly for cheap-o PBR, pinball machines, and the bars magical ability to ward off the itinerant Chads who wander the streets of Inner Southeast whenever the lines at Dig-A-Pony and White Owl Social Club are too long.
Eliot
The perfect pre- and post-game spot for shows at the nearby Wonder Ballroom
Like kissing the Blarney Stone in Ireland, every clique in Portland has a story about that one time their jackass friend tried to order food at Billy Ray's. They'll make it for you -- they have to -- but do you really trust the toaster oven that's heating up your Swanson's Hungry Man to room temp enough to create the scene that will inevitably follow? Aside from this well-known skirting of OLCC mandate, Billy Ray's is also infamous for being a cash-only hang with cheap bottles of High Life, a killer smoking patio, and a janky arcade room that has just enough digital distractions to keep your mind off whatever feelings you're doing your best to steamroll with cigarettes and cheap booze.
Foster-Powell
A fun-loving karaoke and breakfast bar in FoPo that's still a dive in spite of recent renovations
Unlike the Sandy Hut and the Vern -- which are still 100% awesome and about 35% cleaner since being revamped by an enterprising pair of dive bar whisperers -- the Trap has managed to maintain all of its quirks in the face of renovation. The karaoke is still raucous, breakfast is still cheap, and the video lottery machines are as popular as ever. A reorientation of the entrance has turned what used to be a bizarre room we've definitely seen derelicts using as a nap station into a communal party room of sorts, and the whole place is now somehow a friendlier, rowdier version of its old self. On a street loaded with weird old bars, where you can throw em' back with divorced dads and haggard third-shift lifers, the Trap is still the best.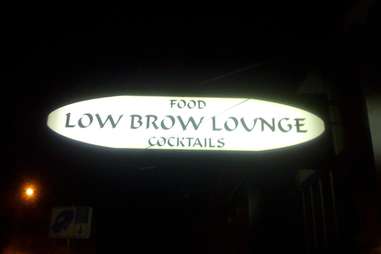 The Pearl
A lowkey neighborhood hang in a notoriously garrish neck of the woods
In a neighborhood known for high-rise condos, yoga pants emporiums, and a Starbucks that houses a wine bar, just about any bar that doesn't call itself a "cocktail concept" qualifies as a dive. With cheap-ish craft beer, dark, winding hallways, and above-average bites that rarely break the $10 mark, Low Brow Lounge succeeds at being the only comfortable place for a vast swath of Portland to grab a drink or two when forces beyond their control require them to spend some time in the Pearl District.
Alberta
A grungy hesher bar that's perfect for patio hangs, chain-smoking, and shouting along to punk music
The closure of venerable punk venue the Know was a massive blow to the Portland music scene, but it was also a killer place to listen to loud punk rock on the jukebox on off nights as well. The Alleyway has been there the whole time, and it's safe to say that the majority of the crusty clout has migrated a few blocks east to this bizarre bunker-patio hybrid that teeters nicely at the edge of the bougie lookie-loo attractions and the vast expanse of Northeast Portland that a lot of New Portland now calls home.
Downtown
A timeless institution of Downtown day-drinking that's both out of place and essential at the same time
Whatever form "the Big One" takes when it finally hits Portland -- whether it's an earthquake, a wildefire, or a hiccup in the economy similar to the Great Recession of 2008 -- the Yamhill Pub is already over it. This dank, dusty old cave of a bar has seen plenty of shit in its days, and it's rather unlikely that anything short of apocalypse can effectively rattle its constitution. The modern day bustle of construction and commerce swirls all around it, yet there it remains, obstinate and open-doored, breathing cold, musty air that's equal parts stale beer and cigarette smoke into the atmosphere right outside Pioneer Place, the Apple Store, and beyond. Legend has it the Yamhill Pub single-handedly saved PRB from ruin in its pre-irony salad days, and there's no reason not to believe it after spending just a few minutes inside. When we say a few minutes we really mean a few hours, because time is of little significance here. Despite all of this, it's a surprisingly friendly place if you're inclined to equate tepid tolerance with niceness, so long as you promise not to order food, fuck with the jukebox, or invite twenty tourists who are enamored with the idea of visiting the bar version of a scrappy cockroach that survived nuclear holocaust without flinching.
Sign up here for our daily PDX email and be the first to get all the food/drink/fun Portland has to offer.
Pete Cottell considers the presence of a spinning reusable towel machine in the bathroom to be the true measure of a real dive bar, but he'll dry his hands with cocktail napkins in a pinch. Follow his journey to the deepest dives in Portland at @Vanifest Destiny.