We already gave you 30 spots with fireplaces, and that was pretty cool, but now that it's, like, cold again, we figured it was time to bring you a list of the 11 best places in Portland to eat/drink by the fire -- from white tablecloth'd spots to outdoor fire pit-equipped boozers -- plus what to eat/drink when you get there...
Northwest
What you're getting: The cucumber-jalapeño margarita with a chipotle salted rim
This long-time favorite Tex-Mex spot may remind you of an old gothic Spanish train station, but this stop has a killer $5 late-night menu (10pm-1am, every night), with spicy fried calamari and ancho-chili wings that'll go with your doubly spicy cocktail.
Buckman
What you're getting: Dark 'N Stormy with the Kraken rum and ginger beer
This music-centric lounge and bar attached to the Jupiter Hotel is all done up with neon, antlers, leather, and repurposed wood -- it's a little Twin Peaks, a little bit Tron -- and it's serving things like Wagyu beef burgers, fish & chips, and seasonal slices of pie, but you should start with this 'tail that's like the weather outside. For the next 6 months.
Downtown
What you're getting: The Smokey Martini (half scotch, half vodka)
This old-school steakhouse has been carving dry-aged slabs of beef in PDX for more than seven decades, it'll make you miss your Grandpa, and wish he was picking up the tab.
Northwest
What you're getting: The Jolly Old Elf -- hot chocolate with tequila, chili liquor & a house-made marshmallow
It would be a cruel joke if this casual eatery didn't have a fireplace, but, of course, they have more than one to choose from, plus a local ingredient-heavy menu that boasts house churned butter, charcuterie, and crispy duck legs, as well as this appropriately hot chocolate-and-chili-based beverage.
 
Downtown
What you're getting: Irish Coffee
Under all the garland and poinsettias this time of year you'll find the Palm Court bar in the lobby, it's the classic holiday spot for a warm drink by the fire. You'll feel like you're on an episode of Mad Men, so order a classic cocktail at the bar, grab a couch or a lounge chair, and be cool, like Draper. But, you know, warm 'cause there's a fire.
Boise
What you're getting: StormBreaker Winter Coat
This newish brewpub took over the old home of Amnesia Brewing, and they're serving some dark and tasty seasonal suds, including this one named for what you should be wearing this time of year, also, there's a full menu of "Stormburgers" sandwiches and shared plates to be enjoyed out by the fit pit.
Southeast
What you're getting: Build your own s'mores
This bar might seem all tough with its loud metal music and industrial exterior, but it's mostly for show 'cause they love their frozen drinks named after Tom Cruise during the summer and the camaraderie of making your own s'mores table-side in the winter. That said, the fire pit in back is big enough for your entire band to sit around.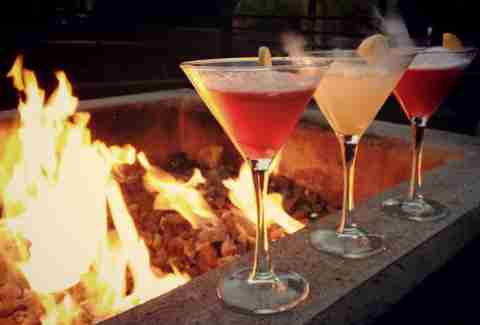 Alberta
What you're getting: Rosemary's Toddy with apple-cinnamon-rosemary bourbon
This cafe-by-day, lounge-by-night spot, is open 365 days a year and has two large fire pits, plus a heated loft-style patio that gives you a place to drink and eat brunch outside on even the coldest days.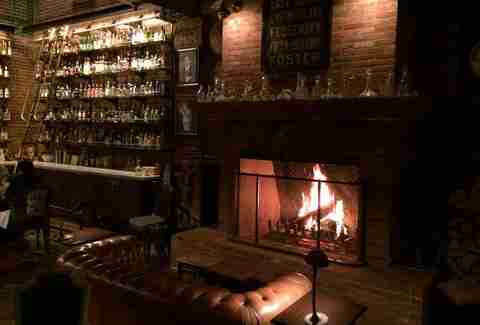 Downtown
What you're getting: Tom and Jerry with bourbon, rum, warm milk, and meringue
This booze athenaeum may bring back memories of studying until all hours of the night in college (that is, if you went to an Ivy league school), but it's way better because instead of textbooks, there are thousands of bottles of hooch.
Kerns
What you're getting: Pear Toddy with Clear Creek Brandy
At this restaurant you can choose to sit in a swing instead of a boring old chair. And a few of the outdoor tables have fire pits in the center, which just makes their "recess" way more fun. That's what they call happy hour (Monday through Friday 3-6pm).
Richmond
What you're getting: The "Boss" burger with egg, ham, and bacon
This long-time, like almost 60 years long, sports pub and poker spot has "let's go watch football and have several drinks" written all over it. If you can't score a table by the fire, have said several drinks in the big blue captain chairs that line the bar facing the TVs.