Where do you go for happy hour on the best night ever?
December 21st is going to be the longest night of the year, and it's also going to be the Best Night of Your Life. Obviously, a night this epic (or any night, really) has to start with a sweet happy hour, so we've picked seven of the best places to score deals on everything from skewered chicken livers to the West Coast's best onion rings.
Check out the picks below, and make sure to fully map out a perfect evening with our itinerary builder.
Gilt Club
Chinatown
Do: Order the handmade sea salt and vinegar chips; the 1/3lb Gilt burger; or any of the other solid happy hour options priced between $2-$6. Don't: Ask where this not-quite-as-seen-on-Portlandia-spot gets its chicken.
PaaDee 
Southeast
Home to daily happy hours, the vibrant, airy digs are meant to mimic SE Asian outdoor dining (long communal tables and benches made of reclaimed teak, low stools illuminated by lights fashioned from birdcages... presumably because Nathan Lane simply shines in that film), and so is the food, as evidenced by street food-style stuff like skewered chicken livers seasoned w/ cilantro root.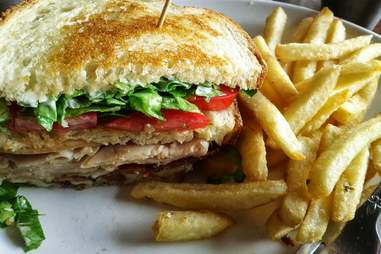 The Observatory
The Observatory 
Montavilla
The elegant, east of Tabor eatery will ply you with ginger sake mussels; garlic, parmesan & rosemary fries; and a sixer of PBR tall boys, all for under $20.
Luc Lac
Downtown
This dope downtown spot is a destination among industry types for two reasons: it's open late, and it serves cheap drinks. Get in on the latter during their  4-7p happy hour, during which, the purchase of a $4 beer or a $6 cocktail gets you access to a wide selection of $2 small plates and $3... ugh, salads.
Ringside Steakhouse 
Nob Hill
Not just a dark, candlelit steakhouse, Ringside has a place in every hipster's heart thanks to its incredibly affordable late night happy hour, which boasts things like onion rings (quite possibly the best on the West Coast) and real tenderloin steak bites, all available for a pittance. 
3 Doors Down Cafe
Hawthorne
Pretty much every hour at this oft-overlooked bootfoodery is happy hour, so there's plenty of time to load up on stuffed cherry peppers w/ prosciutto & provolone; baked macaroni & cheese; and fettuccine in truffle oil & parmesan -- too much of which will make it hard to (Duck and) Run. Or exercise at all, really.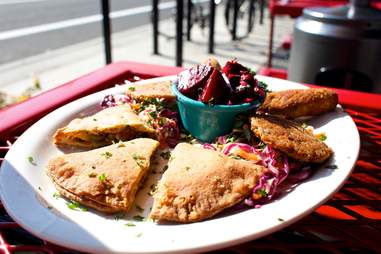 Drew Tyson
Pambiche
Kerns
Set in the brightest building in Portland, this multicolored Cuban restaurant is hard to miss, and the 2p happy hour is can't miss thanks to authentic empanadas, croquetas and frituras, and drink deals on sangria and a Cuban beer called Cerveza Cristal that you should definitely pop a few bottles of.