Because Japan and America go together like... um, Tom Selleck and that movie where he moves to Japan, it should be no surprise that a slew of that country's sweetest kind of drinking establishment, izakaya, are showing up stateside, especially in booze happy Portland. Half tavern, half tapas joint, these bars serve mostly beer and sake, along with small plates of what passes for pub food over there, aka noodles, skewered meats, and other delicious reasons to check out the eight best izakayas in PDX...
Southeast
Chef Gabe Rosen, previously of L'Auberge and San Francisco's Aqua, opened Biwa in 2007, and by now you should have stopped trying to figure out the Japanese words on the menu and just order the omakase (chefs tasting menu), six courses that might include crispy bok choy salad with sesame dressing and skewered, miso-bomb tofu. If you do go a la carte, pork gyoza and greasy pork belly skewers go great with Jim Pianki's clean cocktails, especially the Manhattan with ginseng-infused bourbon.
Southeast
Chef Chris Whaley, previously chef de cuisine at of San Francisco's incomparable Zero Zero pizzeria, opened The American Local on Division in 2013 with Americanized izakaya and local SakeOne on tap. Snackables include Crispy Grit Cakes with salmon tartar and crème fraîche, pork belly skewers with maple and Sriracha, and vegetable dishes up there with Ava Gene's, including cumin-roasted carrots with avocado, yogurt, cilantro, and sunflower seeds. From time to time, you'll also find the most outrageous poutine topped with shaved foie gras.

Beaverton
Located in a strip mall in Beaverton -- don't even look for a sign, the only marking is "Yuzu" on the glass door -- this boozer's a surprisingly comfortable drink spot helmed by Japanese-born chef and owner, Yoshi Gemma, who serves very traditional fare, such as light gyoza (dumplings), juicy tori no karaage (fried chicken), and melty buta no kakuni (sake-braised pork belly).
Hawthorne
When Nodoguro rolls out its prix-fix, 10-course izakaya menu at its pop-up location inside Pastaworks, it not only offers a new surrealist décor, but also Japanese snacks backed by foraging and modern cooking techniques. Take the Young Bamboo salad, a riff on wakatakeni (a traditional dish of simmered bamboo and seaweed), at Nodoguro, Chef Ryan Roadhouse tosses poached bamboo with saikyo miso, dusts it with frozen speck and fresh seaweed, and finishes it with seasoned dashi.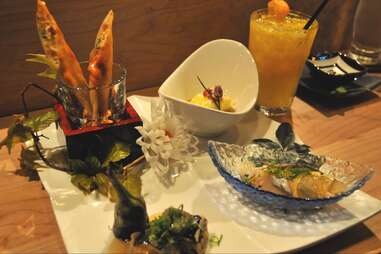 Southeast
Sister restaurant to the original in Old Town, Yama opened on SE Clinton in March 2015 with a huge izakaya menu. Chef and owner Scott Chae --who was born in Korea, making him the only non-Japanese-born chef on site --offers both traditional and Americanized izakaya, ranging from Kobe beef skewers with truffle salt to tender, flash-seared razor clam with wasabi-yuzu dressing. Drinks include chuhai -- shōchū cocktails with fruit puree and soda water -- and the saké menu is loaded with by-the-glass options, including the excellent "Flower Daiginjo" Chokaisan Saké.
Downtown
This Northwest outpost of a Japan-based franchise is all about hidden recesses, from washitsu (matt-covered rooms where you don slippers and sit on the floor) to booths with curtains. Try the Seared Tuna Carpaccio with ponzu dressing and spicy mayo, or anything from the robata grill, especially the saba (seared mackerel).
Southeast
The menu reads "No sushi. No Kids," and (open late Fridays, Saturdays, and the occasional Thursday) it's a favorite among chefs, Japanese horror-film enthusiasts, and the rare-saké obsessive. Chef and owner Janis Martin offers just a single omakase menu with no substitutions, but the dishes, ranging from squid jerky to kimchi mac & cheese, somehow always taste like home.
Mississippi
Opened on Mississippi in 2009 by Hawaiian-born chef Michael Miho, Miho Izakaya sits in a tiny bungalow with a traditional red izakaya lantern hanging outside, and a casual, neighborhood vibe inside that, along with cheap dishes/specials ($7 roasted game hen and $2 tallboys), make it a great introduction to izakaya. When available, the wasabi watermelon and the Firecracker Mussels are mandatory.
Sign up here for our daily PDX email and be the first to get all the food/drink/fun Portland has to offer.