The Willamette Valley: the heart of Oregon wines, stretching more than 100 miles north to south and, at its widest, 60 miles east to west. Its claim to fame is pinot noir, the varietal that made our state one of the most famous wine regions in the world. There are other grapes to be had, of course, but pinot is inexorably linked to Oregon, and makes up 73% of all wine grapes grown in the Willamette Valley.
With over 500 wineries from over 700 vineyards and almost 20,000 acres planted, it's nearly impossible to pick "the best," but here are 13 of the most exemplary, exciting, historical, and alluring wineries from the Willamette Valley.
Let's get it out of the way: no Oregon wine list is complete without The Eyrie Vineyards. It's no overstatement to claim that Eyrie changed the face of the wine industry in Oregon -- even the world. In 1965, viticulturist David Lett planted the country's first pinot gris, and the Willamette Valley's first pinot noir and chardonnay. A year later, he and his wife, Diana, founded Eyrie Vineyards. In 1979 and again in 1980 they competed in France, proving to the wine world that Oregon pinot could go up against Burgundy, losing first place to Drouhin's pinot noir by just two tenths of a point.
None of this would matter, of course, if the winery were not still one of the best, but it is. David's son Jason has taken over and maintained the "lighter touch" method of winemaking, which means allowing for a clear expression of terroir in the pinot noir and delicate pinot gris, along with others. Most of the wines are available at a remarkably reasonable price, with the flagship wines hovering around $18 to $20.
Another winery whose import to Oregon cannot be understated is Domaine Drouhin. Robert Drouhin, the heir to the century-and-a-half old Drouhin in Burgundy, was so impressed by Eyrie's showing in 1979 and 1980 that he realized that it was Oregon, not California, that was the new-world spot for Burgundian wines such as pinot noir and chardonnay. In 1988, he purchased land in Dundee, and Domaine Drouhin was born.
"French soul, Oregon soil" is the motto at Domaine Drouhin, which means a darker, earthier style of pinot noir than the characteristically bright ones you'll typically find in Oregon. It's the closest you can get to French wine in the state, and comes with a matching price point. This is wine for impressing, not for a casual dinner at home.
A light-touch, hands-off approach is the dominant style of winemaking in the Willamette Valley, and Evesham wood, founded by Russ and Mary Raney in 1986, is a leading proponent of this ethos. The winery helped launch a movement of non-irrigation and natural fermentation. It, like others, focuses on drier, cooler climate wine styles, in particular the usual Oregon pinot noir, as well as pinot blanc, chardonnay, and pinot gris. Today, Evesham Wood is still considered one of the best Willamette Valley wineries by many.
The best wineries have history, and Brooks has an especially moving one. Jimi Brooks, who had travelled through Beaujolais studying winemaking before returning to Oregon, founded Brooks in 1998. Sadly, he passed away unexpectedly, and his winery was passed on to his 8-year-old son, Pascal. For years, Jimi's sister Janie has managed the winery and has overseen its impressive growth. Jimi's friend and winemaking accomplice, Chris Williams, has made wine at Brooks since Jimi's passing. Pascal, now 20, goes to college in California, but spends his summers at Brooks.
The primary varietals at Brooks are pinot noir and riesling, though there's also an assortment of white blends. Brooks produces numerous rieslings of varying levels of sweetness, all perfectly balanced with acidity. Similarly, you can find a variety of pinot noirs at different price points. The Janus, its flagship pinot noir, is just a classic, exemplary Oregon pinot.
There's a reason bicycles are used so often on the labels of Grochau wines: John Grochau was introduced to wine while racing for a French cycling team through the wine countries, spending years pedaling through Loire, Champagne, and Burgundy. Afterwards, he returned to Portland and sold wine at restaurants, including 14 years at the famous Higgins restaurant. Grochau eventually moved to the winemaking side, and finally opened his own winery in 2002.
Given Grochau's history with wine at restaurants, it's no wonder his are so food friendly. His melon de bourgogne is delightful. His gamay a rare treat in Oregon, inspired by the Loire but bright and clean like a Beaujolais. And his Commuter Cuvée pinot noir is meant to be sipped during midweek dinners, a perfect table wine at only $18 -- it's tough to find a good Oregon pinot noir at that price point.
Yet another pioneer of Oregon wine, the Sokol Blosser vines were planted in 1971 by Susan Sokol and Bill Blosser. And, like the others, their goal was to make some of the best pinot noir in the world, competing in 1979 in London, winning several gold medals. Over the years, the couple's son, Alex Sokol Blosser, took over as head winemaker, while their daughter Alison Sokol Blosser took on the position of CEO.
Along with making great wine, Sokol Blosser has been an environmental advocate; the winery was the first to be classified as "salmon safe" -- an important quality in a state that values sustainability and its salmon.
It's difficult to describe Teutonic without using "punk rock" or "metal." Barnaby and Olga Tuttle started their Germanic winery in the backyard of their home before finding land in Alsea and expanding from there, eventually buying a winery in SE Portland. Since then, Teutonic has made a name for itself with its radical style. Currently, it's producing a Spinal Tap-themed series, with names such as Foiled Cucumber and Jazz Odyssey, the latter of which is a lovely expression of riesling at a killer price of $17. With a touch of sugar and plenty of acid, it'll convert even your most staunch anti-riesling friends. Other exciting varietals, such as the bright and vivid pinot meunier, typically used in Champagne, stand out from the traditional Oregon grapes, but the winemakers still maintain the pioneer spirit of the state and recognition of Old-World ideals and Germanic aesthetic. Teutonic is, after all, the chronic.
Like Teutonic, Division Wines is a newer, more urban winery, working out of the SE Wine Collective on Division St. The team here is inspired by the wines of the Rhone, Burgundy, Loire, and Beaujolais, and produces a sizable collection of always excellent wines. Appreciably, Division produces a variety of lines, including the cutely named Division-Villages which serves as a sort of introduction to the vineyard at lower prices with more "approachable" wines. Division Wine is community oriented, often working with other winemakers (such as Barnaby Tuttle from Teutonic), and holding tastings at the Wine Collective in busy residential Portland.
If Eyrie, Evesham, and Drouhin brought Burgundy to Oregon, Argyle brought Champagne. Sure, it produces still chardonnays and pinot noirs, and even rieslings, but when wine drinkers think of Argyle, they think bubbles. The style is méthode champenoise, which means it's basically as close to Champagne as you can get without going to the region itself. The flagship sparkling wine is $28, and is an admirable sparkler, but if you really have something to celebrate you'll want the sparkling pinot meunier rosé ($50). A sip of that and you'll swear you've been transported to France.
The winemaking business has long been a male dominated one (though in Oregon, it seems to be led entirely by married couples), but that's slowly, assuredly changing. Penner~Ash is a model for this, as Lynn Penner-Ash was the first female winemaker hired in the state of Oregon almost 30 years ago.
Penner~Ash, unsurprisingly, makes a lot of pinot noir -- nine single-vineyard options, the most of any winemaker in the state. While many winemakers draw from a variety of vineyards and blend the grapes, Penner~Ash focuses on single vineyard bottles, as Lynn finds each vineyard unique and deserving of its own expression. You might find a particular vineyard to your liking, and stick with that one over the years, of find a different one each vintage that best matches your taste.
Beyond pinot noir, Penner~Ash produces others, including a wonderful viognier, a rarer varietal in Oregon; bright acidity and fall fruits abound in this bottle, and it's worth the $33 price tag.
Hazelfern, like Teutonic, started in a home in residential Portland by a married couple passionate about Oregon wine. Bryan and Laura Laing named the vineyard for the former farm where their home now stands. Producing only five gallons at a time, their goal is to create a portfolio of delicious wines that work together to create a cohesive journey -- like a multi-course meal -- but that also have the complexity and balance to stand on their own. As of 2014, the couple has land out on Chehalem Mountain, a beautiful space originally intended for a horse stable.
Hazelfern currently produces two pinot noirs -- one a lovely and light rosé ($24), it's a wonderful expression of how Oregon pinot noir rosé is starting to really shine. The winery is a baby compared to historical icons like Eyrie or Evesham, but speaks optimistically, honoring the past and the terroir of Oregon, while looking to a bright future. Though nascent, it shows great promise.
We're not going to tell you that Union Wine is the best in the state. They make some lovely wines, to be sure, but the best part about Union Wine is the Underwood label, a series of four different wines: pinot noir, pinot gris, rosé, and sparkling. What makes it unique and fun is that they're all served in cans, at only $6 for 375ml, half the size of a wine bottle. You can find them at about every Portland industry party, and they're perfect for camping, rafting, parties, or if you just want to drink some wine by yourself and don't feel like opening a whole bottle. Currently, the "gold can" (sparkling) is sold out, and we're eagerly awaiting the next batch.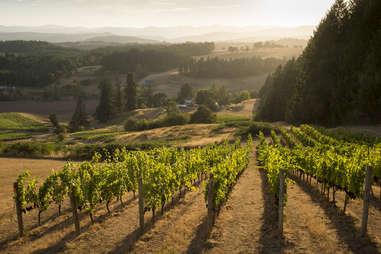 Pinot noir is a fairly popular grape here in Oregon. One might even say very popular. That's what Nicolas-Jay does: Pinot noir, as exemplary as you can find. The wine is the product of a decades long friendship: Jean-Nicolas Méo, a legendary French winemaker who worked with vineyards such as Richebourg and Clos de Vougeot; and Jay Boberg, a music producer who launched or fostered musical acts such as R.E.M., Mary J. Blige, Blink-182, B.B. King, and more, before turning to wine making. Together with associate winemaker Tracy Kendall, they produce a wine that encapsulates Oregon pinot. They launched with the 2014 Willamette Valley Pinot Noir, with only 1,691 cases made. The bottle comes in at $65, which is a deal, considering the work and quality.
Sign up here for our daily PDX email and be the first to get all the food/drink/fun Portland has to offer.
Alex Frane loves Oregon pinot noir, but hopes to not have to write those words again for a while. Tell him what wineries he missed at @FraniacDrinks