There's never been a better time to be a beer drinker in Portland. Sure, the market is near saturation and the spectre of InBev buyouts looms large over most conversations pertaining to industry growth, but "Beervana" continues to grow plenty of local talent and attract even more from outside the city.
Truth be told, there are too many damn breweries in town (over 70!), so we did the hard work of drinking our way through most of them to give you an up-to-date assessment of which are well worth your time. Some are new, some are old, and some are a compelling hybrid of both. Regardless of how you slice it, the craft beer scene in Portland is an embarrassment of riches that may seem intimidating to dive into at first, so here's a list of the 12 most essential breweries to get started on in Portland.
Inner Southeast Industrial
Hoppy and refreshing experimental ales served on a massive patio that's an essential summer sipping spot
IPA obsessives take note: no matter how much you crave that bitter hop explosion on your palate, few things in this life are as satisfying as a classic German beer on a bright and sunny patio. At Wayfinder, you'll find former Chuckanut brewer Kevin Davey experimenting with classic German styles and arriving on beers like Hell -- a helles/lager mashup with a bright, floral finish -- or a coffee pilsner that forgoes the common stout format in favor of a brew that emphasizes drinkability over saccharine overtones. Sizzle Pie co-owner Matt Jacobson is also on board, which explains the happy-go-lucky vibes of the sprawling wood patio that bears an uncanny resemblance to his popular party porch, nearby nightlife spot White Owl Social Club. It's a happy medium between for beer nuts and bar crawlers in need of an outdoor locale where they can pound nachos and a beer or two, which is something of a rarity in a town where craft beer culture and populism are often at odds.
Argay
Delightfully diverse and refreshing beers you can sip in an old greenhouse
Located in a former produce market in a section of farout Northeast Portland you've likely never heard of, Level Beer has quickly become an essential last-minute pitstop on any waterfall trip or airport run. The video game theme is manifested in beers like the Ready Player One -- a soft and refreshing dry hopped saison -- or the bright and piney Game On! IPA, but the glorious sun-drenched feel of the greenhouse-turned-patio quickly quashes whatever basement-dwelling nerdism you'd expect from such an operation. It's no surprise to find free-range children running around on account of "The Numbers" being the hot new real estate market for young families, but there's more than enough room for crowds of both dads and scenesters lured by the clout of its brewers -- specifically Jason Barbee of Ex Novo and Shane Watterson of Laurelwood -- to enjoy Level's bounty of beers in such a quaintly pastoral environment.
Hosford-Abernethy
Spartan beer hall serving super smooth IPAs and experimental brews made with oats
Baerlic is a simple wooden rectangle with little else than chairs, tables, filament bulbs, and a nice long bar. There's not much happening here besides beer, but it's good enough that you won't need anything else. Though you'll always find a mighty good IPA on tap in New Noise, Baerlic is far more interested in selling you a pint of their wickedly good experiments with oats. Try Eastside -- a delicate and refreshing pilsner made with Bob's Red Mill oats and Best Pilsen hops -- to get the gist of what makes this bright and woody beer hall tick, or cruise down the menu into the Seasonal & Experimental section for more out-there and on-trend varieties like Nice & Easy, a salted oat gose, or Read Between the Lines, a Brett pale with a dry and fruity finish.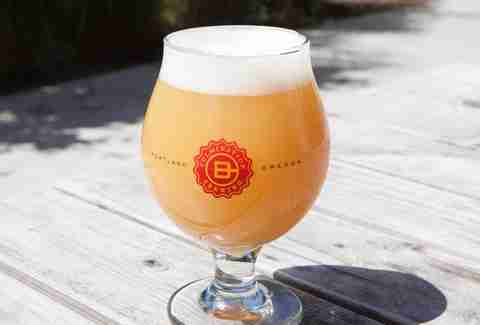 Kerns
Minimal warehouse space offering reliably excellent small batch stouts and collaborations
Prior to last years departure of Devin Benware and Shaun Kalis to start their own venture, Ruse Brewing, Culmination drew from the chops of five top-notch brewers to crank out an unusually wide variety of small-batch beers with mind-boggling frequency. Despite the shake-up, brewmaster Tomas Sluiter still commands a powerhouse operation in a spartan warehouse space that attracts beer geeks on the reg, as well as droves of commoners who excitedly line up for Culminations many events like vegan kitchen takeovers, release parties for collaborations with celebrated Oregon breweries like Ale Apothecary, and their wildly popular Coffee, Beer, and Donuts festival. Their rotating selection of IPAs is always a safe bet, but the real attraction at Culmination is a smattering of adventurous beers lesser operations would screw up royally, with a ginger and lemon tea radler and a chocolate milk stout on nitro being two offbeat standouts available upon a recent visit.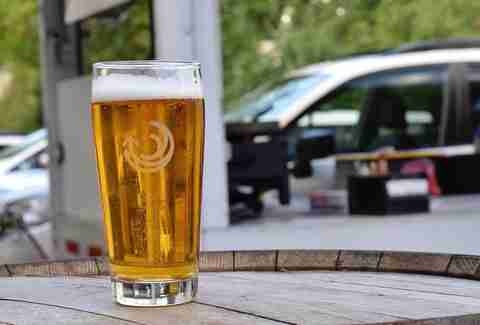 Slabtown, Dekum Triangle, Milwaukie
The newly minted legend in the Portland beer scene, with the medals and beers to prove it
A pile of medals from World Beer Cup and Great American Beer Festival? Check. A prodigious brewmaster with a degree from Yale? Check. A brand new two-story brewpub in Slabtown that matches its ambition and opulence with a rotation of in-house brews that are consistently among the best in Portland? Check. Breakside does it all -- from hazy IPAs like Somethin' Wicked or What Rough Beast to boozy takes on La Croix like the Limon Pepino -- and they do it better than most. No beer-related journey to Portland is complete without a beer from Breakside, even if it's just a six-pack of Stay West IPA from Plaid Pantry or a pint of Breakside IPA, the latter of which won gold in 2014 for the hotly contested best American-Style IPA category at GABF. Even if an IPA isn't your thing, you're seriously guaranteed to enjoy whatever beer you land on at Breakside. If you don't, well, you may not actually like beer.
Buckman
Portland's original go-to for rare barrel aged fruit sours
Cascade began experimenting with fruit, bacteria, and barrels well over a decade before every other brewery decided to buy a foeder and mess with bourbon barrel-aged banana-nut porters, and that experience shows in their impressive portfolio of world-class sours. Sidle up to one of said barrels and crack a bottle of their world-famous Kriek, or plow through their menu of fruity concoctions with tasters of sours that run the gamut from dry and tangy to outright decadent. With a sizeable covered patio and a consistent inventory of refreshing mainstays like Honey Ginger Lime or Kentucky Peach, a trip to Cascade is a great way to beat the heat and check off a trip to one of Portland's unimpeachable pioneers.
Boise
The flagship of a former Deschutes and Full Sail brewer, offering macro-brew consistency with the adventurousness of a microbrew
Much like the moon, John Harris' work at Ecliptic is a little bit out there but reliably centered. With stints at big name breweries like Deschutes and Full Sail, Harris is well-versed in the art of consistent crowd-pleasers. His more diverse offerings like the Orbiter IPA and Capella Porter are all wonderfully drinkable yet nuanced enough to be picked out blind from a lineup if the challenge presented itself. Both have netted Harris a handful of medals since 2013 when he went solo and opened the massive warehouse off Mississippi Street. The Carina Peach Sour has become a go-to concession to the sour craze, so much so that even trend-adverse neighborhood dives feel comfortable offering it alongside Rainier and Widmer Hefe. What the building's brutalist aesthetic whittles away in character is quickly reclaimed by uniformly quality beer and a burger that's one of the beer scene's best. Do yourself a favor and look past Ecliptics lack of twee sensibilities when settling on a venue for your next beer tasting. You won't be disappointed.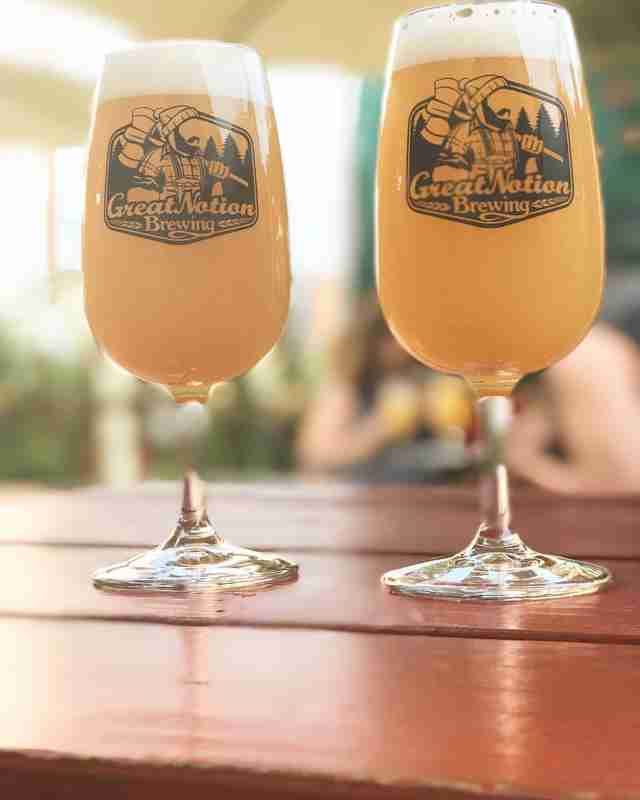 Alberta Arts District
The hot new brewery that brought the New England Hazy IPA trend to Portland
Perturbed by the lack of New England-style hazy IPAs like The Alchemist's Heady Topper or Trillium's Vicinity available in Portland, neighbors and homebrew homies James Dugan and Andy Miller decided to move out of their respective garages and into the failing Mash Tun Brewpub to right this perceived wrong. Local beer geeks lost their minds over the cloudy, orange juice-like look of the first batches of Juice Jr., but Miller and Dugan have since proved the haters wrong by winning over the hearts of beer enthusiasts across the country. Two years later, breweries of all sizes in Oregon have taken a crack at the style, and although some, like Breakside, have succeeded, few make the tangy hop explosion that is Juice Jr. and the rest of its family seem so effortless. Great Notion is also adept at turning what seems like sugar-infused science projects into disturbingly drinkable pleasures, with brews like the Mango & Coconut Mochi hazy imperial IPA or their now-classic Blueberry Muffin fruit sour. The vibe is predictably hectic considering the hype surrounding their beers, but an outdoor patio and a wall of retractable windows open things up nicely when the place fills up, which is most days that end in "-day" at this point.
Rose Quarter
Award-winning pilsners served in a hard-to-find basement space across from the Moda Center
Despite a stack of accolades (including two Beer of the Year nods from local alt-weekly Willamette Week), drinking a pint of beer in Upright's industrial basement digs still feels like a well-kept secret. If that keeps the lines at bay then it's fine by us, but that's not to say brewmaster Alex Ganum's mastery of French and Belgian styles with a Northwest twist isn't an art worthy of widespread celebration. Cooling off with a glass of Engelberg Pilsner while jazz music seeps out from the turntable and bounces off the stray barrels and concrete is an essential Portland brewpub experience, and although the taproom hours are limited, it's worth noting that Ganum also co-owns the Sabin gastropub Grain & Gristle, which means you're always able to find Engelberg or one of his fantastic saisons on a night when the basement is off limits.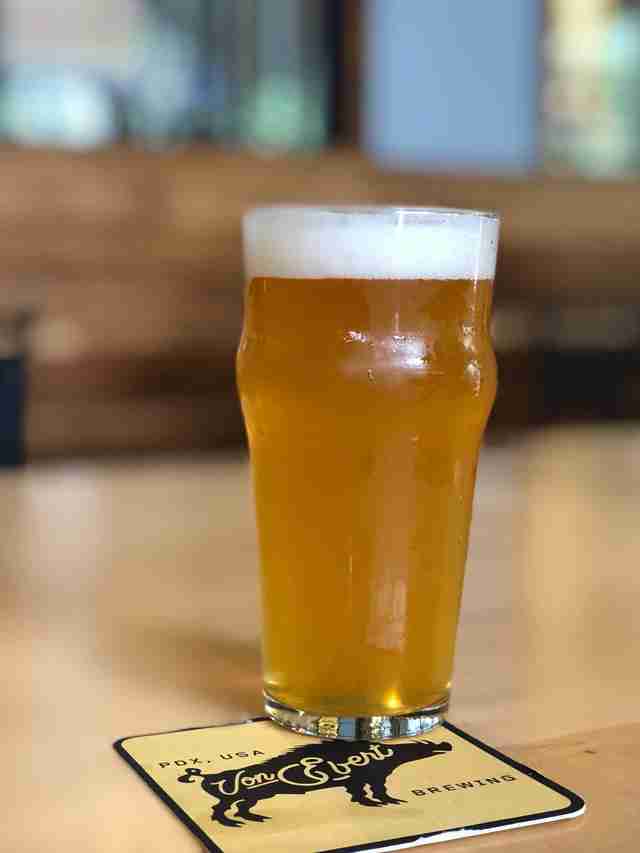 The Pearl
Former Commons brewmaster installs understated branding and coiffable pilsners and ales in the former Fatheads space
When The Commons announced it was closing last year, beer geeks and gastronomes alike were shocked that Sean Burke's beloved farmhouse ales would no longer grace their tables. It wasn't long until Burke signed on to a new venture in Von Ebert, which replaced the lovably doofy Ohio-based brewpub, Fatheads, in March. The strip mall sports bar aesthetic is still apparent, but in place of the fat dude in overalls branding is that of a boar, and in place of the former tenants' cloying oddities like Bumbleberry and Pumpkin Chucker is a well-rounded mix of clean-finishing beers like a dry, unfiltered pilsner, a belgian pale brewed with Elderflower, and a belgian strong ale aged in High West Manhattan barrels. Those looking for a more local alternative to nearby 10 Barrel will rejoice upon finding Von Ebert, and although it's slight on character due to its hulking size, the sheer volume of foot traffic it receives certainly justifies the choice in real estate.
Richmond
Authentic German beers brewed by a German microbiologist for an impossibly clean finish and unprecedented refreshment
Rosenstadt co-founder Tobias Hahn hails from Germany and holds a PhD in microbiology, so the deftness with which he and partner Nick Greiner brew some of the cleanest, smoothest, and most authentic German beers in Portland should be surprising to no one. The two have kept things slow and steady since starting with a fantastic Kölsch in 2015, and though they've focused more on honing their craft than securing a proper brewpub, they're relatively easy to locate in the wild (now that most knowledgeable buyers rely on their Helles Lager or German Pale as a go-to for filling the German portion of their taplists). They've also launched a quasi-tap takeover at Olympia Provisions Public House, which means you can reliably find a handful of greatest hits like the Helles or a rich and malty Altbier to wash down a bratwurst while playing a game of cornhole on the Division Street sausage haus' massive patio.
Sign up here for our daily PDX email and be the first to get all the food/drink/fun Portland has to offer.