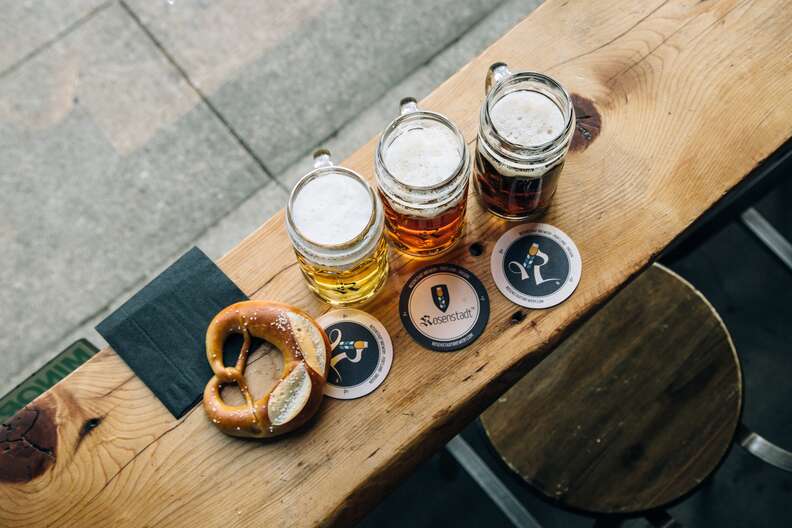 Rosenstadt
Rosenstadt
Depending on who you talk to, the craft beer scene in Portland this past year was either a black hole of despair or a glistening ray of hope. The stodgy Old Portland types are likely to fall into the former camp on account of legendary breweries like Bridgeport, Widmer (which shuttered its taproom), and Lompoc falling to the wayside. But if the tragic Eagle Creek Fire of 2017 can teach us one thing, it's that new life will arise from the ashes.
Dramatic yet effective comparisons aside, a lot of amazing breweries are wriggling free of their growing pains and hitting their strides as of late. And yes, signs of "peak craft beer" are everywhere, but the incredible diversity of choices presented to beer drinkers in the area is still nothing to scoff at. Read on for a quick-and-easy guide to the best of the best.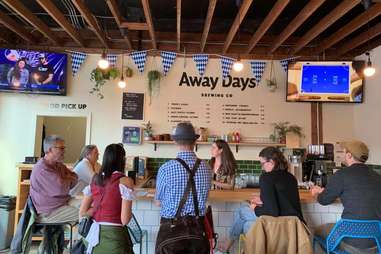 Inner Southeast/Hawthorne
A modern spin on the English alehouse, attached to a lively European soccer bar
The addition of an anglocentric brewpub to the space vacated by Scout Beer makes perfect sense. Especially when you consider the similar sensibilities of Toffee Club, the "pasties 'n footie" pub that shares a wall with Away Days. Its trio of owners enlisted ex-Alameda brewer Marshall Kunz to churn out crisp and bubbly brews like the Krooscontrol Altbier and Italian-inspired Post-Match Pilsner, both of which are reliable and refreshing flagships any respectable brewery would love to hang their hat on. Any garage space decked out in white subway tile and clever murals is legally required to offer a solid IPA as well, and Dutch Mates Hazy is one of the better attempts at making the infamously thick style a tad more sessionable for those odd-hour match times that make day drinking a foregone conclusion.
Montavilla
An ascendant newcomer in the wild world of barrel-aged sours and stouts
Similar to nearby Montavilla Brew Works, Threshold is destined to be perennially underrated on account of its out-there location. The truth is, the buzzy stretch of Southeast Stark just before 82nd has more than enough wonderful places to grab a ber or two, and the addition of this madcap laboratory of funky, earthy delights is pretty much the cherry on top at this point. Housed in a former auto shop, Threshold enticed IPA zealots right off the rip with their rotating "Runner" series of IPAs, which brings in beers from all over semi-regularly. More advanced tastes will find plenty to love from the barrels, like an imperial stout and barleywine that are both aged in whiskey barrels, a sassy grisette ale aged in wine barrels and dry-hopped IPA loaded with sweet and tangy melon and blood orange flavors.
The Pearl
The spiritual heir to the Commons and Fathead, complete with a location on a golf course and another in the heart of the Pearl
Despite its doofy-dad branding and outsider status, Cleveland-based brewery Fatheads was a hit when it landed in the Pearl District in 2014. It then packed up abruptly in 2017, but franchise owner Tom Cook knew the location was still ripe for sustained success in the beer world. Enter Von Ebert and its wildly diverse portfolio of top-flight beer. Few breweries ascended to world-beating status as quickly as Von Ebert, but the proof is in the potion, as they say, which in this case are progressive takes on Euro-centric ales like a smoked Vienna lager, a toasty baltic porter and a tart ale that's bursting with local berries. Be sure to pay a visit to their new location out in "the Numbers" at Glendoveer Golf & Tennis, which is where you'll find ex-Commons brewer Sean Burke running wild with foeder-conditioned blended ales, smooth lagers and pilsners, and plenty of updates of the classic farmhouse ales that originally put the Commons on the map before they shuttered in 2017.
Rose Quarter
An understated basement brewery beloved by industry types for its aversion to trends and devotion to European classics
Few scenes in the Portland beer world are as inspiring as the sight of an ironclad Haze Bro stepping into Upright Brewing for the first time. To be clear, brewmaster Alex Ganum does offer an IPA, and an awesome one at that, but that's not why you're here, and it's definitely not why you'll stay. You're here because your buddy who homebrews says this is the only brewery he'll actually spend any time in, and the general consensus around town is that this may be one of the only breweries worth saving if a mass culling is in the works. At the heart of this sentiment is Ganum's dedication to life-changing French, Belgian, and English ales that bloom gently with a soft gradient of flavors across the palate. It's hard to imagine a beer as simple as Engelberg Pilsner offering such a dynamic spread of hop flavors, yet even the most diehard IPA stan will have a tough time ordering just one. Then there's Four Play, a cask-aged saison with just enough cherry flavor to shake off the usual doldrums of putting down a whole pint of wheat beer. Beyond that the menu shifts as abruptly as the yeast in each brew, but you're bound to find at least a couple eye-opening masterpieces of funk, fruit, and spice on the tap list.
Richmond/Division
A cozy one-stop shop for funky sours, dank IPAs, and delicate saisons
While Old Portland reels from the loss of local heroes like Lompoc and Burnside Brewing, New Portland dances in their wake at the repurposed spaces formerly occupied by the departed. Little Beast quietly seized control of the old Lompoc Hedge House in the chichi, tourist-centric heart of the Southeast Division neighborhood, but the gradual expansion of co-brewmasters Chuck Porter and Brenda Crow's 16-tap menu has the duo poised to break out as an all-star jack-of-all-trades at any moment. Their mastery of crowd-pleasing IPAs is on display in Holidaze and Maiden West -- a soft, fruity, hazy, and classically piney NW-style IPA, respectively -- but the real show-stoppers are the rotation of aged and fruited ales like Golden Stone -- an oak-aged ale packed with tart stone fruit flavors -- or the Pomme Sour, which balances a mix of European malts with a tart finish of lemon, pear and quince. On a sunny day it's the ultimate space zone out under a tree in the front yard with a cold beer in one hand and a book in the other, which is an increasingly rare thing in the modern brewery scene.
Woodlawn, Slabtown, Milwaukie
An acclaimed multi-purpose brewery that proves "big" doesn't always equal "bad"
Scaling up can be a herculean task in the brewery world: the risks of losing your soul and/or biting off more than you can chew with clandestine hopes of an InBev buyout are very real, and it's very rare that an earnest brewpub can stick the landing. And yet Breakside has managed to do so flawlessly, evolving quickly from an unflattering industrial space in Milwaukie to a multi-location behemoth that's received support and acclaim at every step of the way. Brewmaster Ben Edmunds cranks out far too many amazing beers to even begin to pin down exactly what makes Breakside arguably the best brewery in Portland, but the wall of medals in their aforementioned Milwaukie space points to years of sustained success as a master of all things hoppy, with their namesake IPA taking home gold at GABF in 2014 (and a deluge of similar prizes steadily rolling in ever since). Their first satellite location on Northeast Dekum has the feel of a buzzy neighborhood brewpub minus the try-hard sheen of a more hyper-modern location, while their newish two-story facility in the burgeoning Slabtown neighborhood of Northwest Portland is about as shiny and new as it gets. Both offer a dazzling array of clean and crushable lagers, pilsners, IPAs and assorted other styles, but your best bet is to plan a weekend afternoon around drinking your way through the tap list at the Slabtown spot, as the bulk of their more experimental beers are brewed fresh at that location. We've said this before about Breakside, and we will say it again: if you can't find a beer you like at Breakside, you probably don't like beer.
Alberta, NW Industrial, Beaverton (coming soon!)
A much-hyped destination for pastry stouts, milkshake IPAs, and all things hazy
Speaking of Haze Bros, Great Notion is Portland's undisputed go-to for beer nerds whose primary focus is to do it for Untappd and the 'Gram. Dudes with tricked-out Subarus and mobile dab rigs queue up outside their new Industrial Northwest location at 4am almost every Saturday in anticipation of their latest can release, which is now an event similar in scale to Supreme drops. The transactional nature of this geeky questing can be a buzzkill to casuals who just want to drink a goddamn beer, but it's important to remember the beer at Great Notion is very, very good. What started as a garage project amongst homebrewer friends to bring the cloudy joy of legendary New England-style hazies like Heady Topper and Julius has evolved rapidly into a two-location powerhouse of all things thicc and juicy. And remarkably, few of their wacky experiments with ingredients like milk sugar, rare fruit and kids cereal are outright flops. Newbies should start with a classic from the Juice series, which initially cast Great Notion front and center in the early arguments regarding the validity of the style. Adjunct-laden hop bombs are perfected and pervasive at Great Notion, and you can't leave without trying at least one dessert beer like Double Stack -- an imperial stout that releases a cloud of maple syrup and coffee flavor when it arrives at your table -- or one of the many fruit-and-lactose infusions we won't name here because they'll probably be sold out by the time this article goes live. Most serious drinkers have already made up their mind about Great Notion and its ilk, so the days of attracting converts are likely behind them. Judging by the crowds at their brewpubs and the flurry of "ISO" comments in their can release posts on Instagram, preaching to the choir is paying off quite handsomely.
Brooklyn
An emerging go-to for deceptively smooth IPAs and flawless lagers
Selling someone on a new brewery you love for its simple, consistent, and clean approach to beer is a little like extolling the virtues of your brand new Honda Accord to a car geek: they won't disagree with you, but they probably won't be all that impressed. That's been the issue with Ruse since its modest industrial space opened in early 2018, and it's our duty to let you know that a lack of out-of-town hype and "whiz bang" factor are not at all equivalent to a lack of talent. On the contrary, former Culmination brewers Shaun Kalis and Devin Benware are the most exciting duo to emerge in the past few years, and their use of custom yeast strains helps them add unique flavor profiles to stalwart IPA styles no new brewpub should be without. Interpreter is a wonderfully smooth and silky double New England-style hazy, while Dial "M" For Mosaic is a masterful take on the double dry-hopped IPA trend that's elevated East Coast breweries like Other Half and Trillium to a tier of their own. Their stouts are incredible as well, and their to-go fridge is constantly stocked with barrel-aged sours and saisons beer geeks from all over the West Coast would be lining up for if they only knew they existed. Hopefully this article does the trick, because Ruse has been on the path to greatness since before it even opened its doors.
Richmond/Division
Classic German ales brewed by a German transpland with a PhD in microbiology
Regardless of where you stand on the resurgence of craft lager, it's impossible not to respect the devotion of brewers who think correcting the stigma Bud Light cast on the style is a worthwhile pursuit. Lager never went out of style in Germany, the home country of Rosenstadt co-brewmaster, Tobias Hahn, and his scientific approach to Bavarian staples he'd like to see more of in the states is doing wonders to encourage beer drinkers in the Pacific Northwest to give yellow beer another chance. Their Helles is a great point of entry to the lighter side, with its subtle hop aroma and sweet finish that pairs quite well with German comfort foods like schnitzel and bratwurst. You're in luck if that combo has your mouth watering -- while Rosenstadt is still without a proper brewpub, at least six handles at Olympia Provisions Public House on Southeast Division are devoted to a rotating selection of Rosenstadt beers like the aforementioned Helles; a bready, caramel-hued Altbier; and a gentle and cloudy Weissbier that's guaranteed to reprogram the part of your brain that still associates Shock Top and Blue Moon with the oft-misunderstood style.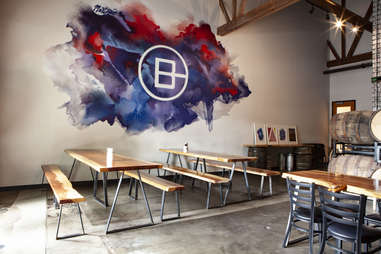 Kerns
A low-key warehouse brewery that's great at everything
Similar to Ruse, Culmination is the kind of understated wonderland that few descriptions do much justice. It makes sense that Ruse got its start as a side project operating out of this mellow warehouse space tucked a few blocks away from the hustle and bustle of East Burnside, but the loss of brewers Shaun Kalis and Devin Benware has not slowed down Culmination one bit. It's hands down the best brewery in town for plump and juicy hazy IPAs (Obscured By Clouds is a must-try) outside Great Notion and Ruse, but you'd be a fool for skipping the many oddball experiments that dot their menu on most days. Recent lists have included an imperial black IPA, a dark czech lager brewed with coffee, and a Belgian IPA that blends the chewy hop profile of a Northwest IPA with the sweet, malty finish of a Belgian beer through some kind of strange magic that seems possible only at Culmination. Be sure to keep an eye on their taphouse schedule, as fun events like vegan food pop-ups and coffee, beer, and doughnut festivals are often on the docket.
Inner Southeast Industrial
A sprawling industrial-chic beer hall with a massive patio, metalhead vibes, and killer German beer
Regardless of your level of interest in craft beer, there are few better places to spend a sunny afternoon than on the patio at Wayfinder. It certainly helps that most of the beer is fantastic, but you're bound to have a lovely time even if crispy hefeweizens and malty doppelbocks with names that sound more like titles of Mastodon songs than proper German brews are not your thing. Speaking of Mastodon, you're bound to notice the subtle allusions to a metal-as-fuck lifestyle appreciated by the owners of the space, one of whom is Relapse Records co-founder Matt Jacobson. The veteran hesher hit paydirt with Sizzle Pie, and his good business sense continues with the idea to team up with founders of Podnah's Pit and Double Mountain, then enlist former Chuckanut brewer Kevin Davey, to assemble a brick- and wood-lined shrine to all things heavy and Germanic. Try Flower in the Kettle -- a juicy, grapefruit-heavy hazy -- if black lagers and bohemian pilsners don't hit hard enough for you. And be sure to take a look at the hearty food menu that houses all kinds of mind-bending experiments with pretzel rolls, schnitzel and curry.
Buckman, Raleigh Hills
The old guard for sour beer that's still as relevant as ever
Craft breweries are everywhere now, but there's a good reason most cities still don't have a place quite like Cascade. The cynical (and wrong) answer to this is that sour beer just isn't that popular, but the truth is that it's hard to do it as well as Cascade has been for so long, so why even bother? Each visit to either of their locations yields familiar presentations of incredibly unique brews, most of which are the result of fruit, wild yeast, and relentless experimentation. If available, the Kriek is one of the best in the country, and you can rarely do any wrong with any of the fruit blends that broker in huge amounts of berry and stone fruit flavors. Even occasional oddities that attempt to recreate cocktails like a Manhattan or a Gin Fizz in beer form are surprisingly good (and the best news is that many of their best blends are available in to-go form). For beer that thrives on chaos, it's safe to say Cascade is a shining example of what happens when you do just about everything right.
Sign up here for our daily PDX email and be the first to get all the food/drink/fun Portland has to offer.
Although Pete Cottell has never met an IPA he didn't like, he's far more likely to be sipping on a stout–like the Salted Caramel Stout that Breakside teamed up with Salt & Straw to brew-despite the fact that it's 100 degrees outside. He's secretly a beer nerd, but is too afraid of wearing Crocs and cargo shorts in public to fully commit to the lifestyle. Follow him @VanifestDestiny.