Football season is upon us. The World Series is nigh. The Blazers will soon embark on an unexpected tear of a season, and the Timbers just might sneak into the MLS playoffs. The question is: where will you watch the dramas of organized athleticism unfold? Whether you're looking for old-school dives with fellow rowdy fans or fresh spots with solid food, these TV palaces represent Portland's premier spots for drinking and yelling at athletes on a screen.
Recommended Video
Buffalo Chicken Beer Cheese Fondue Fries Are Like an Edible Sports Bar
Pushing 60 years old, Claudia's is an old Portland haunt that, with its all-encompassing DirecTV package and rabid hockey and college fans, creates a multi-sport viewing experience from any seat in the bar. This place is classic -- it's dim, it's lively, and it's got just the right tinge of stale cigarette smoke from pre-health-conscious America. And after you've lost 100 bucks on the World Series to your annoying Yankees fanatic of a friend, there's always cash poker in the back room to redeem yourself, or sink deeper into the black hole of despair. Luckily, that black hole has extremely cozy captain's chairs at the bar.
It seems to be an unwritten law that sports bars shall only serve greasy, over-fried, previously frozen foods to soak up the shots and pitchers you've been forcing down in celebration of your precious team's touchdowns -- and there's nothing wrong with that. But if you want to up your food game, The Fields flips the bird to that law and serves up quality eats like poutine, bulgogi tacos, and beef tenderloin Gorgonzola. Oh, it has big TVs and stuff, too. Because this is a list of sports bars.
Located right by the rose garden, this temple of basketball fandom is a celebration of a greater era, where Bill Walton's beard was the equivalent of Robin Lopez's fro, and when the Blazers were champions. This is the perfect place for a Blazers game or March Madness, serving up a nice beer selection in an environment that kind of replicates what it's like to actually be in the stadium. Plus, there's free Pop-A-Shot. And skee-ball, though it has yet to actually broadcast the International Collegiate Skee-Ball Tournament. Which is a shame.
Are you enraged that the US cares little about football (the term "soccer" is a bastardization of the true name, right?) two seconds after the World Cup ends? Simmer down, my footy friend, because you can watch all of the BPL games at 4-4-2 alongside fellow diehards while enjoying the rare offering of cevapi, a Bosnian-style lamb and beef sandwich on house-made bread. Here, you can tell your American heritage to piss off and pretend you belong to a people that devote the proper attention to the sport you love.
Equally known as a great sports dive and a fried chicken joint (one of Portland's best, in fact!), George's Corner Sports Bar has everything you need: cheap beer, plenty of TVs, and regulars that may or may not have spent the night on a stool drinking yesterday's spilled liquor from the bar mats. Pro tip: you can't rush a good bucket of fried chicken, so call in your order an hour before you arrive. You'll thank us later.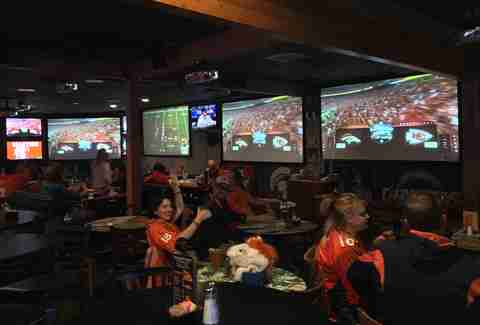 A family-run mainstay of North Portland, Tom's Pizza is as earnest as it gets. Football is the focus here, where Cougars and Hawkeyes fans have earned their own game-day menus, and fans expound on their deepest NFL frustrations to the stranger sitting next to them. Sit back, relax, and order a 128oz beer tower to share with your new friends. Or yourself.
Bazi is never lacking in fellow fiery fans draped in soccer scarves. This is a bar that takes reservations and -- for all events from a Timbers match to the World Cup -- will often hit capacity. So call ahead or arrive early for ample time to get settled and peruse the extensive list of Belgian beers. Unless you're adept in the language of the monk's libation, you won't know the difference between a saison and a lambic, so our advice is to just pick a damn beer already before you miss the only goal in this 90-minute contest.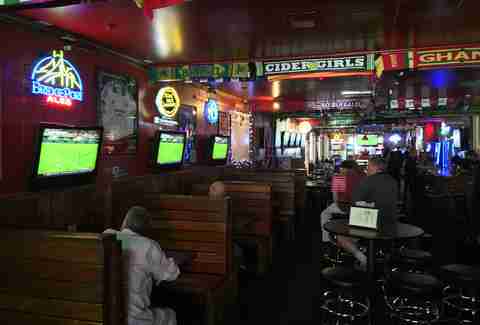 Across the street from Providence Park sits The Cheerful Bullpen, a Buffalo Bills bar that boasts a TVs in each booth. When there's a Timbers or Thorns match at the stadium, sit on the back patio to hear the cheers and gasps of fans much more devoted than you. But be warned, the television broadcast is about five seconds behind reality, and those rowdy fans and their loud, communal ohs and ahs will either spoil every exciting play or make you fume with anticipation.
Despite the fact that there aren't any sports-intensive major universities nearby, one might mistake Silver Dollar for a college bar. On the weekends, this spot is overrun with guys aching to find Solo cups so that they can challenge the table-tennis players to a man's game of beer pong. While they daydream of sudsy competition, turn your attention to the game you came to watch or, perhaps, hit on their girlfriends -- and suddenly realize that you're exactly like those dudes.
The first thing you need to know about this mellow sports tavern is that Mondays are a day of free bacon. Yes, that's a strip of thick bacon, free with every beer. I'm quite certain that a few of the patrons subsist solely on this combination, all night long, while they dream of the weekend, when Yorgo's offers its Eye-Opener breakfast, a reasonably priced traditional American plate that includes a Bloody Mary. The place makes ordering simple so you can concentrate on the game. Or the bacon.
Yes, it's fancy. Yes, it's Pearly. But On Deck offers up a great selection of drinks, high-end viewing set-ups, and, most importantly, an actual rooftop deck, where you can go let off some steam when your team eventually biffs it. And while the new SW Broadway outpost offers up much of the same -- there's not a seat in the house that doesn't have full view of the game -- that fresh air and potential alone time can go a long way. Especially if you're a Lions fan.
TVs galore, couches, billiards, video games (Buck Hunter, anyone?), a sizable tap list, and totchos: Blitz Ladd has all of the lazy Sunday recreation covered. In this sunlit, warehouse-like space, you can spend all day gorging in more ways than one without losing track of the daylight (or lack thereof).
Sign up here for our daily PDX email and be the first to get all the food/drink/fun Portland has to offer.
After completing the creative writing program at Portland State University, Dan Schlegel emptied his brain of all imagination to work in politics in Washington, DC, where he inevitably concluded that wearing a suit in a bar should be outlawed. He's now back in Portland, where people are skeptical of formal attire. He can be spotted lurking in various parks, underpasses, and alleyways. Follow him on Twitter: @ddschleg.
Stuff You'll Like