Home to only two professional athletic teams (and one of them is soccer), Portland isn't exactly a major sports town. What it does have plenty of, however, is bars and transplants from cities where sports fandom is a way of life. This means Rip City still punches well above its class in terms of sports bars. For our purposes, a sports bar is any place with enough screens for multi-angle viewing and a high tolerance for people in jerseys egregiously high-fiving one another.
These are our picks for the places where crazed fans can feel comfortable catching up on the big game in a communal setting, and we think you'll be pleasantly surprised with the diverse environments at which you can do such a thing here in Portland. And hey, don't hesitate to yell at us in the comments for excluding that neighborhood watering hole with a TV atop the cigarette machine that's always turned to the Golf Channel no matter what's happening in the sports world at large.
Recommended Video
Thrillist's Best (and the Rest): What You Actually Need to Know About Natural Wine
Alphabet District
An infamous Old Portland dive complete with pool tables, weird raffles, and dirt-cheap breakfast
It's unlikely the cult of regulars who flock to Marathon Taverna every morning for the breakfast special probably would refer to this classic West Burnside dive as a sports bar, but the respectable selection of TV viewing and cheap beer on tap -- plus its proximity to Providence Park -- is more than enough to attract Timber fans and cableless neighborhood folks every time there's a big game on. Be sure to hang out on Friday nights if you're hoping to get your butt in the seat at an actual sports event as they often host raffles that go late into the evening and escalate from cheap beer brand tchotchkes to 100-level tickets for Blazers or Thorns games, depending on the season.
Overlook
A mellow neighborhood sports bar with awesome burgers and a zero-tolerance policy for jackassery
Since ownership of this beloved neighborhood sports bar turned over recently, management has taken a hardline stance on being a dick in the name of sports. What this means for mild-mannered Portland sports fans is that their pacifism in the face of deranged Patriots fans looking for a fight will be rewarded with relative peace and quiet when said Masshole gets tossed into the street for good. Trust us when we say this is a good thing. An even better thing is the Out n' In Burger, which is THE food order here.
Buckman
A high-style take on modern sports bars, complete with a rooftop patio, bleacher seating, and a vegan-friendly food menu
Leave it to Lightning Bar Collective -- the hospitality group famous for slick and stylish operations like Sweet Hereafter and Victoria -- to offer a hipster-friendly alternative to an otherwise boorish concept in bar-going. The main attraction here is the center room, which features back-to-back projection screens and a miniature array of shiny bleacher seating, offering impeccable lines of sight and an energy unmatched by any other bar its size. Though it's not totally vegan like Sweet Hereafter, the menu still has something for everyone no matter their dietary hangups, and the rooftop deck may be one of the best views of the sun setting over Downtown in inner Southeast. Be warned, however, that Century quickly morphs into a line-out-the-door bro haven on weekends, so be sure to plan your escape (and your wardrobe) accordingly.
The Pearl District
A high-class answer to lowbrow sports bars that fits in perfectly with its surroundings
Fancy a place to enjoy a plate of kalbi steak nachos and a glass of merlot while your favorite clubs square off on the pitch? Then The Fields is the perfect place for you! Sure, it's a tad pretentious, but this is The Pearl after all, and sometimes you'd rather enjoy watching the game with silver-haired condo dwellers than over-served dingbats in head-to-toe Raiders gear.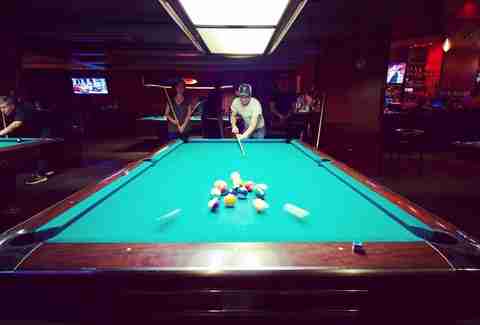 Downtown
A century-old den of vice that's as fun as it is creepy
Known best for middle-aged guys in leather jackets who linger in the off-track betting parlor when they're not busy scalping tickets or forgetting their kids' birthdays, Rialto is actually a pretty great place to snack on wings and share the cheap thrills of sports with total strangers. It's not uncommon to find gaggles or Oregon State fans clumped together, but Rialto holds no official allegiance to anything other than offering a much less annoying alternative to the Buffalo Wild Wings that's a block away. If you're Downtown and in need of a TV, this is the spot.
Hawthorne
An unassuming sports bar known for poker tournaments, hearty sandwiches, and a laid-back attitude
Claudia's is first and foremost a low-key neighborhood spot that's a favorite amongst aspiring hold 'em pros, but the owner's obsession with sports of all varieties makes it one of the most amenable venues on Hawthorne for rowdy displays of sports-related excitement. Their turkey melt is halftime food at its finest, and their pizzas are a perfect options for larger groups who need to get down on some grub so the day-drinking can continue.
Lloyd District
A classic pre- and post-game party spot just blocks from the Moda Center
The name, which references when the 7-year-old Portland Trail Blazers franchise last won the NBA Finals, pretty much says it all. This is the premier place to tie one on and play a few rounds of Pop-A-Shot before and after Blazers games. And although it's filled to the brim during most home games, it's a great surrogate to the electric energy one can usually only experience within the confines of an actual sports arena.
Alphabet District
A timeless, blue-collar bar with cheap craft beer, delicious breakfast, and an impressive spread of sports viewing
Like Marathon Taverna, this darkened basement at the edge of Northwest Portland's two most bougie neighborhoods is moreso a dive bar with a bunch of TVs than a proper sports bar. The fantastic breakfast options and complete lack of outside light make Yur's the perfect place to day-drink with abandon while games that are three hours ahead play across the many TVs. The free popcorn and $4 craft beer specials are easy on the wallet as well. They also have an MLB League Pass and are damn proud of it, so don't let some jabronis in football gear ruin your vibe when you're trying to doze off to a nice quiet baseball game… just as the lord intended.
Ladd's Addition
A massive sports bar stocked with the biggest and best tap selection (and array of TVs) in town
The Blitz sports bar empire is a thing of the past, but its last remaining location soldiers on under a new name with an even greater focus on craft beer that only spoiled Portlanders so sorely take for granted. Though the menu still has its requisite share of the macrobrew swill that's only acceptable to drink while wearing a football jersey, what remains is a truly impressive spread of greatest hits and oddities alike, putting most neighborhood growler fill stations to shame in both scope and price. It's arguably Portland's most accommodating sports bar in terms of TV-adjacent real estate, though the dark corner near the southeast side of the bar isn't the hottest seat in town. Unless you're a Patriots fan, of course. No one will judge you for spouting off conspiracy theories and bragging about how fast you can hotwire a car over there.
East Portland
A huge yet homely sports bar with an impressive craft beer selection and a small town feel
The eastern migration of Portland's aging hipster population has had many unseemly effects on the area we colloquially refer to as "The Numbers," but Bridge City Taproom managed to capture the working-class vibe of its environment quite well without sacrificing good taste and stellar customer service. If there's one thing that can unite folks from disparate socioeconomic backgrounds, it's sports. Actually, two things: sports and beer. And food. OK, that's three things, but you get the drift. If you want huge wings, TVs in every direction, reasonably priced craft beer, and nary a smug asshat who thinks yelling "sportsball!" each time a team scores is still funny, a journey past the 405 may be just what the doctor ordered.
Sign up here for our daily PDX email and be the first to get all the food/drink/fun Portland has to offer.