Sure, Portland has a few problems (the constant drizzle, brunch lines... Lake Oswego), but a dearth of sweet food carts has never been one of them, and now a dearth of sweet food cart pods selling beer (and in some cases booze!) isn't one either. Don't believe us? Check out the eight best boozy food cart pods in PDX, below.
Recommended Video
Breakfast Bread Boats Are Here to Replace Your Bowls
SE 28th & Ankeny
Between Burrasca, Wolf and Bear, and Güero -- which serve Italian, Mediterranean, and Mexican respectively -- Pod 28 may have the most well-rounded eats options of any PDX food cart, and they've got an equally sweet range of suds on a dozen taps.
What to eat and drink: Grab the seasonal amber, Emma, and a pork torta with all the fixins.
N Lombard & Burr
What this spot lacks in food diversity it more than makes up for in fresh produce. Consistently stocked by the Sauvie Island Farm, this pod is picking up steam in the sleepy St. Johns neighborhood. Both the Chowdah cart and Mexican spot Velas are quality, but the best parts have to be the fire pit and live music.
What to eat and drink: Pick up the Invasive Species IPA and get a cheesesteak (with Whiz!) from Chowdah.
SE 28th Pl & Division
Located at the newest Portland pod -- Tidbit -- Scout Beer Garden has the most beer of any cart pod. It will soon be joined by other carts, most notably Brazilian House, Namu, and Fishbox, plus they're adding a nursery so you can not only eat and drink, but also pick up a new air plant for your living room.
What to eat and drink: Just ask Joe or Rachel for a beer and a sandwich. Seriously, it's that good. And when they insist you take a cookie, do it.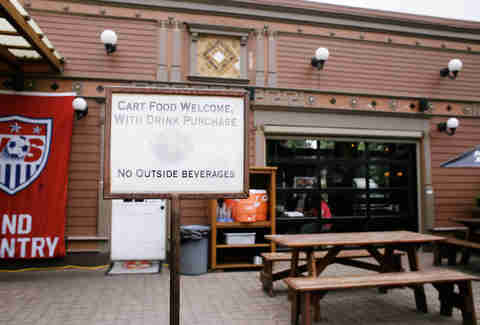 N Skidmore & Mississippi
Okay so the pod itself doesn't technically offer beer, but Prost! lets you bring stuff from the carts into the bar or onto their patio, provided you buy one of their beers. Since Prost! is a very German spot, MM is offering gut-busters like Big-Ass Sandwiches, Miss Kate's Southern Kitchen, and one of the better BBQ joints in town, Meet.
What to eat and drink: Get the brisket from Meet and saddle up to the outdoor bar for a pint of the lager.
NE 52nd & Sandy
Perhaps the most family-friendly food cart pod in the PDX, Rose City has 13 vendors, including the newly opened Thirsty Barn beer garden. Much like the pod in St. Johns, this one features a Kruger's Farm Market so you can grab a bite and brew and get your grocery shopping done in one trip. Plus, they're always throwing fun events (provided you're into dog shows and pet celebrations) and the vibe is laid-back and fun.
What to eat and drink: Get a pint of the Occidental Hefeweizen and a Rockin' Robyn's Sassy Burger.
SE 52nd & Foster
Perhaps the best deal in town, Pod Bar offers daily specials ($2.50 pints on Thirsty Thursdays!) that are more than worth the drive to the Southeast. Combine cheap day drinking with sweet BBQ from Roadrunner's and you've got yourself a nice little afternoon. Other carts of note? Television's favorite, the Egg Carton, and Thrillist fave, The Angry Unicorn, whose fried balls of mac 'n cheese might be the best beer accompaniment ever.
What to eat and drink: The city's best brisket, washed down with 10 Barrel's Swill.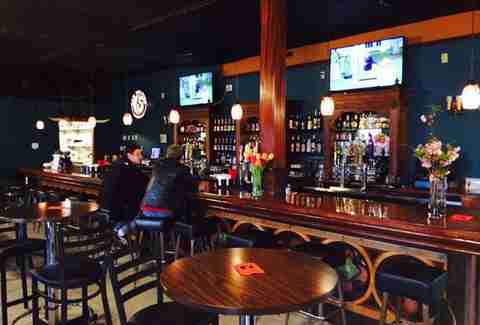 SE 82nd & Springwater Bike Trail
30 carts adorn this mega pod that has an outdoor beer garden AND indoor bar. Expect karaoke every Monday night in the bar, Geek Trivia on Tuesdays, and just about any other kind of event you can think of throughout the week.
What to eat and drink: A lobster roll from Maine Street Lobster and the Oregon Coast Beachcomber inside at Blue Room Bar.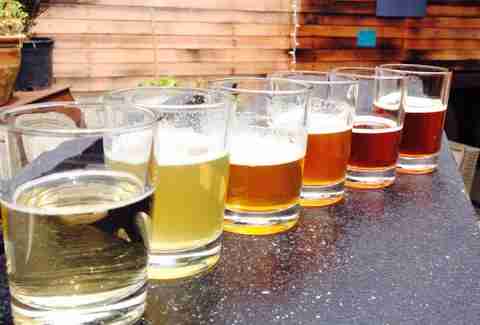 NE 23rd & Alberta
Someone needed to fill the void when Captured by Porches moved shop: enter The Hoppy Camper. It is serving a selection of five $4 pints to the hungry visitors of popular Alberta carts like the Cheese Plate PDX and Garden Monsters, and doing the neighborhood a very sudsy service.
What to eat and drink: Laurelwood's Free Range Red and Garden Monsters' Colossal Cobb.