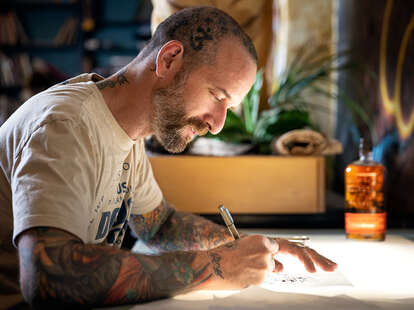 Jeff Berting courtesy of Bulleit
Tattoo artist Jason Kundell may hail from the Pacific Northwest, but his design style is inspired by a place halfway around the world -- the Far East.
Though Kundell, owner of Art Work Rebels tattoo shop in Portland, Oregon, grew up in the LA suburbs, since getting hooked on ink as a skateboarding teenager, he's been obsessed with Japanese-style tattooing.
"I've done judo, even before I started tattooing… [so] I've always had a little bit of a martial arts background and there's just something that jumped out at me about the Japanese stuff," says Kundell, who's worked as a tattoo artist for 23 years. "In my 20s, I used to go to Japan and work out there quite a bit, soak up the culture. There was just something about the Japanese style -- the layout, design quality, the roots in history."
He's lived in Portland since 2009, and like most Portlandians, spends much of his free time out in nature. So when Bulleit approached Kundell to create a design to represent his city for a new limited collection of tattooed Bulleit Bourbon bottles, he again turned to the great outdoors for inspiration.
"I wanted to do something nature-esque that epitomized Portland and was taking a couple of my favorite Japanese subject motifs that would fit Portland," says Kundell, who is one of four top tattoo artists that the whiskey brand partnered with for the city-inspired collection.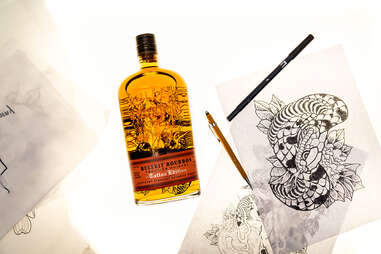 His resulting Bulleit bottle design is modeled after Japanese woodblock prints of the mid- to late-1800s. It features a fox (in Japan known as a kitsune, and a common subject of Japanese folklore) with a snake wrapped around it, and peonies (spring flowers that are prevalent in both Oregon and Japan), all framed by clouds and a silhouette of Oregon's Mount Hood -- reminiscent of Japan's Mount Fuji in the background of so much Japanese artwork.
The collectible tattoo bottles, including Kundell's fox and snake design, are available for purchase in each artist's respective state -- Oregon, California, Texas, and New York -- and select bottles will be available nationwide. Though the Tattoo Edition marks the first time that Bulleit's iconic bottle has been altered, it actually proved less stressful to Kundell than inking a person.
"Especially at the beginning stages, there's really, in some ways, no pressure," he says. "It's not going on someone's body for the rest of their life, so not every single part needs to be thought out [in advance]."
Creating his personalized bottle also meant a rare act of working with digital tools. While Kundell sees tattooing blending more with graphic arts as the next frontier of the industry -- "There are a lot more tattooers using iPads and things like that" -- that's not his style. As is fitting with Portland's quirky vibe, DIY mentality, and love of organic living, Kundell likes to describe his tattooing as "authentically artisanal" (only slightly tongue-in-cheek).
"Not that I have a problem with [iPads].... I'm [just] more keeping with my traditional roots in terms of drawings," says Kundell, who still sketches all of his preliminary thumbnails and layouts by hand. "I'm keeping it artisanal, which is very much embraced here."

Please Drink Responsibly. BULLEIT Kentucky Straight Bourbon Whiskey. 45% Alc/Vol. The Bulleit Distilling Co., Louisville, KY.