Named not for legendary rapper Biz but for the glowing signs that dominate the theater district, downtown's Bistro Marquee has translated its seasonally-based lunch and dinner menu into a seasonally-based happy hour menu, where, from 4-7p on Monday-Friday, you can grab ultra-discounted Southern bites and cocktails... Yeah, baby, they got what you need!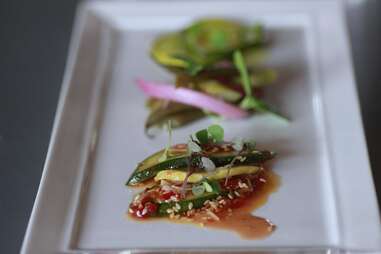 For starters, the place offers up a salty/vinegar-y build-your-own charcuterie, cheese, and pickled veggies plate, where you can score these fancy pickles (unless you're the sort of weirdo who hates pickles), chicken liver mousse, and roasted beets... which're also what Snoop makes in the studio at 4:20.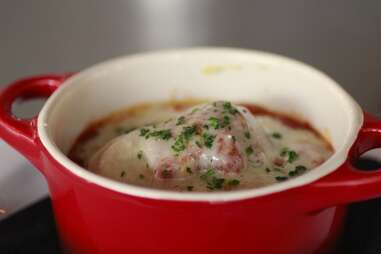 These lamb meatballs are served up in their own mini Dutch oven, layered w/ polenta and tomato gravy, and then covered in a gooey sheep's milk cheese... so, basically, it's covered in what the lamb ate before it became a meatball.
With a chef who did time at Screen Door, you bet they're gonna have an amazing fried chicken. This bone-in beauty's brined in sweet tea before getting breaded and fried, then served up in a mini skillet w/ cornbread baked into the bottom. If you want beer instead, you can also score steak bites w/ peppercorn gravy. Or just get both and create your own mythological beast of deliciousness.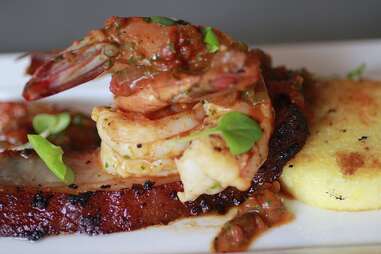 If you feel the sea calling you, get hooked up w/ a massive oyster po' boy, or get all Southern w/ this gigantic hunk of gulf shrimp served atop a seared slab of pork belly w/ a side of fried grits.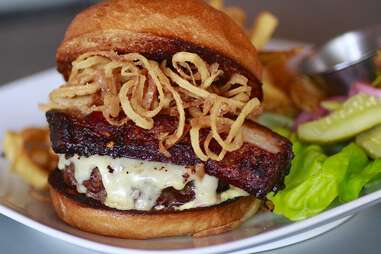 There's even a happy hour within the happy hour known as the burger power hour (that's a lot of hours!), where from 4-5p, all burgers are half off. You can customize your own, or just defer to the master and get this chef's choice: a half-pounder w/ caper aioli, fried onion straws, and a gigantic slab of pork belly that actually looks more like brontosaurus belly.
Oh, and there're cocktails, because duh. The selection includes the Stay-Cation, w/ vodka, passion fruit & cranberry, and the Kentucky Road Trip, w/ bourbon, pear & ginger, all priced at $5. That means you can splurge on yourself and your guest, who says she's just a friend... until she's had three rounds and realizes you got what she neeeeeeeeeds.