Like a souped-up Chuck E. Cheese's where you don't get thrown out for drinking several cocktails and yelling, Punch Bowl Social has taken over an entire floor of Pioneer Place and transformed it into a 32,000sqft big-kids' playground full of booze, bowling, and other awesomeness that thankfully includes zero performances by Mr. Munch. Here are nine reasons you need to be here right now.
Recommended Video
4 Inventions You Need to Up Your Camping Game
1. If you get bored at this joint, you're doing something really, really wrong. The entire place is centered around games, and it includes multiple bowling alleys, shuffleboard (the cruise ship kind and the tabletop/sawdust kind), foosball, ping-pong, darts, and pretty much every other game that is designed to be played while holding a beer.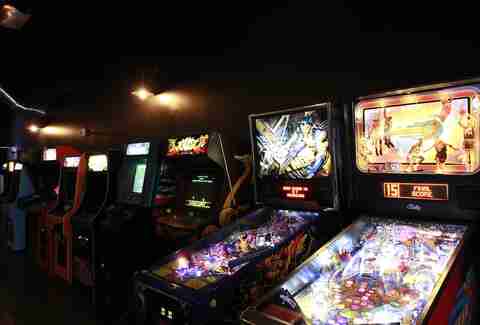 2. For those who don't want to exert the physicality required to lift an eight-pound ball and calmly roll it down a lane, there's a classic arcade w/ games like X-Men Pinball, Joust, and Donkey Kong, and the crazy-big, four-man Pac-Man.
3. Shoes, darts, and other excitement are stored in this trippy stand that may or may not be manned by Saddam.
4. The place has three different bars, including one smack-dab in the middle of a retro diner that has views of the four-story mall, so you can relax while totes scoping out sales at Forever 21.
5. There's also this crazy-cozy area set up like a mod lodge, complete w/ plush couches and a chandelier made of deer antlers.
6. Those antlers definitely didn't come from this gigantic deer head, mainly because it isn't real. But it does overlook a a cabin-y area where you can chill out and watch football.
7. This circular bar's located right in the center of the action, making it super-easy to order up a beer in between songs at the place's two private karaoke rooms that no doubt have "What Condition My Condition Is In" on a permanent loop.
8. All three bars are manned by craft cocktail masters who mix up fresh juice/ booze combos like the Wrong Island Iced Tea, and the Green Russian w/ absinthe, coffee liqueur, and a high probability of sending you to the danger zone.
9. Rocking perhaps the most glorious mall food since you accidentally spilled an Orange Julius onto your Panda Express orange chicken (which was amazing), the kitchen does upscale gastropub goodness like this gravy-smothered plate of chicken & waffles, huge burgers, eggplant enchiladas, and other food you can munch without having to listen to songs by that terrifying animatronic monster known as Mr. Munch.