In honor of football, drinking, America, and YOU, we proclaim the Monday after the Super Bowl shall henceforth be known as National Hangover Day. It's a day for hangovers to be celebrated, embraced, and combated in the most enjoyable of ways -- namely, eating delicious food, and possibly drinking more. The ultimate goal? Getting the entire country a day off work, a beautiful dream you can help make happen by signing this petition to our sports-loving President right here and tweeting it.
The immediate goal though? Fixing that hangover, which is why we've got Portland's best Bloody Marys, right here...
Meatiest
Olympic Provisions, Northwest
Once they figured out that adding cured meat to a Bloody Mary is the best idea since, like, our crawl of sweet sausage dishes, OP embraced it so completely that they... um, probably should have been included in our crawl of sweet sausage dishes.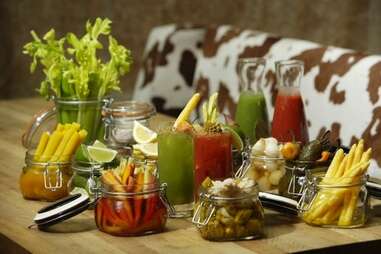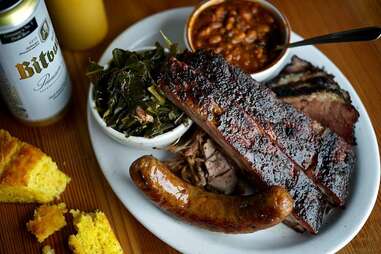 Smokiest
Podnah's Pit, Killingsworth
This untraditional Mary is packed with all sorts of made-in-house goodness in the form of meat & veggies cooked over their pit with a healthy dollop of BBQ sauce.
Most Refreshing
Irving Street Kitchen, The Pearl
This refreshingly citrusy/tangy Bloody is made with entirely housemade and/or organic ingredients, most notably lemon juice and fresh grated horseradish.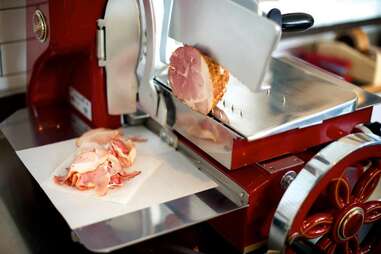 Barrel Aged-iest
Woodsman Tavern, Division
Could also be called the most Portland: it's a solid, salty 'tail with some serious added depth, thanks to its time spent in the barrel.
Classic / Blue Collar
Sckavone's, Division
It's exactly what you'd think it'd be from a seriously overlooked breakfast spot that's too often passed over in favor of flashier, and presumably more-easy-to-pronounce, spots.
Overall Best
Broder, Clinton
Its only got 12 tables, and handful of bar seats, but this Swedish spot could easily fill 'em all on the strength of a Bloody Mary that gets its spicy sophistication from a splash of Aquavit.