4 thirst-quenching new spots to stock up on growlers, bombers, and mead
According to a recent, groundbreaking study, people in Portland are extremely fond of alcoholic beverages. In the wake of this staggering revelation that has rocked the community its core, four very different bottle shops have opened their doors, serving up everything from rare 22oz-ers to mead, and getting extremely futuristic in the art of growler-filling... because when something this earth-shattering comes to light, we must lean back on science for answers. Here are your new favorite stock-up spots.
Imperial Bottle Shop
Imperial Bottle Shop & Taproom
Plopped in the new D-Street Village complex, this place is named for the type of pints it serves, but that doesn't mean it's not poised to take over its neighborhood as the only bottle shop on its particular stretch of foodie-heaven Division. There're 300+ bottles that you can drink there or at home, plus 16 rotating taps that fill pints, bottles, and growlers with favorites like Laurelwood and Gilgamesh. Also look for lesser-known beers like a fresh-hopped number from Boring Brewing that's actually really interesting, but will nonetheless put you to sleep.
Andy Kryza
The Green Door
You may have a hard time finding it since there's no signage (hint: the door is a dead giveaway), but this warehouse-like shop -- part of Rogue's domination of the industrial street that also houses their Green Dragon and corporate offices -- is your best bet to get weird Rogue beers without going to Newport, so next time they up the ante on beard beer, this is your jam. There's a huge bottle selection and a big board offering the best meat/cheese pairings for every kind of beer, plus a small growler-fill station that pours non-Rogue beers that sadly weren't made from yeast stuck to a dude's face.
Andy Kryza
Tin Bucket
There are more than a hundred bottles on offer at this bar/to-go joint, but the real draw is the 40-tap gallery of beer that utilizes perhaps the coolest growler-filling science ever. The little pods around the station look like they could turn Jeff Goldblum into a fly-monster but actually use a counter-pressure system to fill growlers in the same manner as a bottling plant. That means that, unlike many growler purchases, you don't need to drink your growler super fast so it doesn't go flat... it'll stay fresher than Goldblum in Earth Girls Are Easy until you pop the top.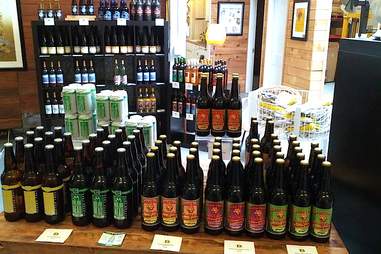 Mead Market
Mead Market
Expressing more love for bees than you did when you rocked a Wu Tang Trapper-Keeper, this place is fully dedicated to the honey-based booze and nothing else. There are dozens of options to bring to your next "Leif Ericson" theme party, including the canned Blue Dog and nine different bottles from Hidden Legend, or, since it's attached to an all-bee-product store, you can get kits to make your own mead, including fresh honey that you should buy anyway because you know you like it raaaaaaaaw. WU TANG!