It's September, which means it's time to don the lederhosen, crank up the polka, and prepare for the plumpening of the liver, because September means Oktoberfest... for some reason. Regardless of whether it's a deranged German plot to confuse calendar users the world over, it's a reason to celebrate... basically by drinking gigantic steins served by the St. Pauli Girl. Here's where you can do just that, all month long.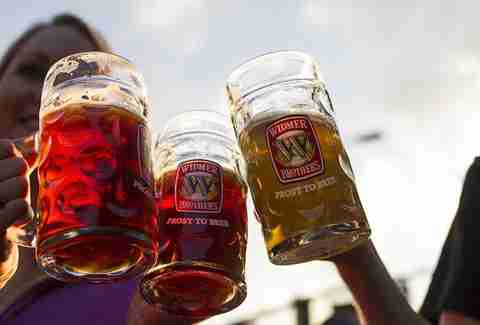 Widmer Brothers Oktoberfest (September 7th)
It's fitting that the dudes whose flagship beer -- the infamous cloudy Hefeweizen -- was instrumental in the founding of Brewvana kick off Oktoberfest season, and the brothers Widmer are doing so by going into full-on festival mode, complete with tokens, steins, live music, German food from the Gasthaus, and the very high likelihood that you will be slapped for saying something crude to a fraulein in knee-highs.
Lompoktoberfest (September 14th)
For the ceremonial tapping of its first Oktoberfest keg of the season, Lompoc's Fifth Quadrant transforms its parking lot into a tailgate party, w/ cornhole and mini-golf tourneys in addition to more brats than a daycare in the Hamptons.
Side Yard Urban Farm's Oktoberfest/Sausagefest (September 14th)
You're probably not gonna get authentic German traditions like lederhosen and the chicken dance here, but you will get sausage. In fact, you'll get all you can eat, loaded up on pretzel buns and served w/ beer by the Commons, fried pickles, and pie. Oh, and bluegrass by Whiskey Puppy, steeped in the tradition of Berlin bluegrass that doesn't exist.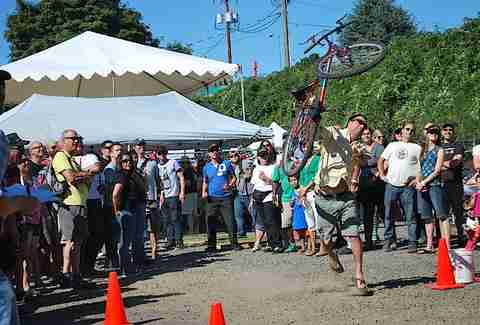 Biketoberfest (September 21st)
Really embracing the whole "let's get super-rowdy and throw stuff around for a while" tradition of Oktoberfest, Hopworks' bike-in day of chaos includes the "world famous Huffy Huck", which's exactly what it sounds like. In addition, the brewery's seasonal Oktoberfest brew drops, as do stunt bikers trying to do handstands on their handlebars while four live bands play.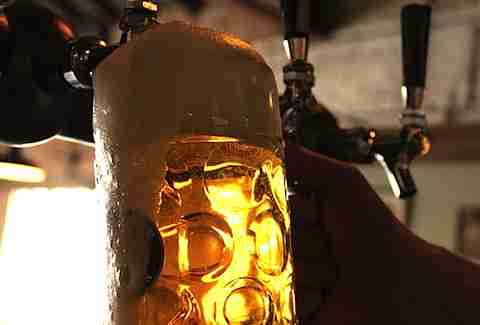 Oaks Park Oktoberfest (September 20th-22nd)
There are huge benefits to hosting the city's biggest celebration of beer and schnitzel at Oaks Park, including the veritable sea of food vendors and gigantic beer gardens. Even better, though? The fact that you also get access to the ferris wheel, the go-karts, and the roller skating rink… which really, really won't end horribly at all.