Portlanders take their patios as seriously as mailmen take their routes: rain, snow, sleet, hail, or hipsters be damned, we're outside all year long. And as the sun comes out for its annual visitation, we're counting down our seven favorite places the city has to offer.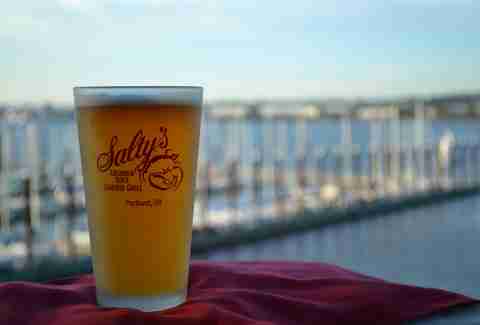 7. Salty's on the Columbia
3839 NE Marine; NE Portland; 503.288.4444
A two-tiered patio hovering over the mighty Columbia, Salty's outdoor seating area is the only spot in PDX that's directly overlooking Lewis & Clark's favorite river. Unfortunately, said river is waaaay the hell North, meaning you might run out of ox meat or get dysentery en route. But the view's worth the risk.
6. Noble Rot
1111 E Burnside; Lower Burnside; 503.233.1999
The Eastside's best -- and possibly only -- rooftop bar has become a perfect place to watch the sun set over the West hills and, more importantly, walk among the Rot's indigenous species: super-hot, well-dressed wine chicks, who come out to graze on pork belly and cheese.
5. Vendetta
4306 N Williams; Williams/Vancouver; 503.288.1085
The inconspicuous NoPo chill spot's drab front hides a gigantic patio that feels a lot like somewhere David Carradine might hang out: a shady closet in Thailand Zen-like garden populated w/ picnic tables and hanging lights. Just be sure to bring your hipster repellent during the Summer.
4. Prost
4237 N Mississippi; Mississippi Ave; 503.954.2674
Zee most popular German bierhall in NoPo has all the essentials: chicks drinking out of boots, schnitzel that's the shizzle, and a commitment to German beer so strong, they insist on serving beers only in each brand's signature stein. Even better, they've got a bar right on the massive patio, so you can order your Spaten without losing your seat in the sun.
3. Rose & Thistle
2314 NE Broadway; NE Portland; 503.287.8582
An authentically dark and dingy Scots pub on the inside, the RAT's hiding a patio out back that's bigger than William Wallace: a two-tiered monument to day-drinking that proves that haggis always tastes better with a little extra sun.
2. Roadside Attraction
1000 SE 12th; SE Portland; 503.233.0743
In case a beer-intensive bar that looks like an old opium den and has a thrift store attached to it isn't Portland enough, Roadside's also got the lumberjack thing down pat with a front yard stacked w/ load-em-yourself fire pits and handmade wood shanties. All that's missing is live music... oh, wait -- they have that too.
1. Departure
525 SW Morrison; Downtown; 503.802.5370
Located smack in the middle of downtown on the 15th floor of the Nines, Departures' rooftop patio has a panoramic view of downtown, a steady flow of good-looking people chilling on outdoor couches, a killer happy hour special, a futuristic Miami Vice vibe, and hybridized Asian food by one of PDX's hottest chefs that'll totally have people calling you Tubbs.
Other Stuff You'll Like In Power Rank