People in Portland love drinking (of course they do... Stumptown's one of the 11 best imbibing cities in America), but you know what's even better than drinking? Doing it outdoors, obviously. So, inspired by our sudden bout of sunshine, we took on the oh-so-odious task of picking PDX's 11 best outdoor drinking destinations. Drink 'em all in...
Lower Burnside
Of course one of the city's busiest bars has a cavernous back patio with dozens of picnic tables, a fire pit, and ping pong. It doesn't matter what the weather's like, Rontoms is sure to be packed every night of the week. But isn't that why you go there?
Alphabet District
When you first get to Paymaster around happy hour and see that the line of people at the bar easily dwarfs the number of available tables and bar stools it's easy to become apprehensive. But the line moves quickly and you'll notice most patrons slip around a dark corner. After getting your beer go around the dark corner and emerge in one of the city's best covered patios. There's even a pool table!
Irvington
This Scottish-style pub tucked away on the rapidly developing NE Broadway not only has some of the best Scotch eggs, but it also has a hidden back deck that somehow manages to catch every angle of the sun. It's one of Portland's best places to day drink because you get all of the outdoor fun without anyone seeing how much you've consumed before 1pm.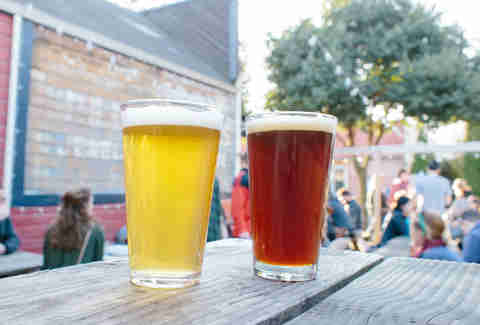 Boise
This little blue collar brewery on Mississippi quietly took over for Amnesia and quickly set itself apart by embracing the laid-back neighborhood vibe. It's one of our favorite taprooms not only because it also has a generous whiskey selection, but also because of the way its turned the patio into a multifaceted drinking destination with some covered tables and an enclosed projector room.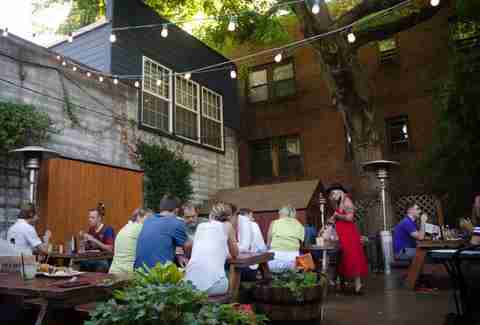 Alphabet District
This popular bar on NW 21st is known for its cocktails, mussels & fries, and the best outdoor patio in Northwest. It's a great place to watch a game, thanks to a large television and functional bar outside. It can get crowded in the summer so be ready to make friends.
Boise
Not only is Prost! one of our favorite German biergartens, but it also doubles as the alcohol provider for one of our favorite food carts. This means you can drink out of a boot, catch the game, AND pick from a variety of food options that run the gamut from vegan barbecue to Detroit deep-dish.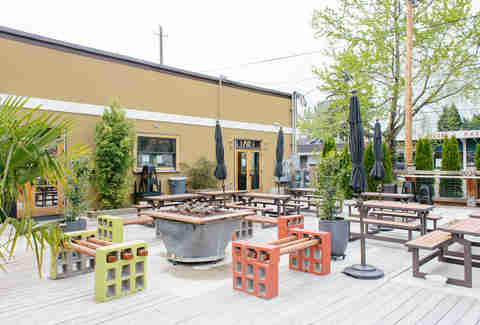 Dekum Triangle
If you've already got a lock on some of the city's best tacos (and tamales, duh) what else are you going to do? Build a restaurant with a kickass kid and dog friendly patio! And with umbrellas that're large enough to work double duty, there's never not a good time to have a margarita outside.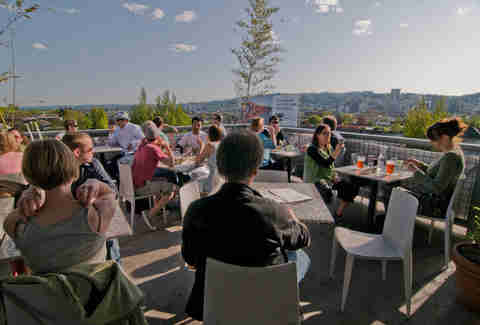 Lower Burnside
Until the rumored rooftops of other projects open, Noble Rot remains the Eastside's only rooftop bar. And it does it in style with a killer view of Downtown and the West Hills, a nice garden that the restaurant utilizes, and pretty girls who know a helluva lot more about wine than you do.
Buckman
Depending on how you look at it, the best or worst part about A Roadside Attraction is that you have to tend to the fire pit. This seemingly innocuous task turns grown men into Portland lumberjacks as they passive aggressively stoke the flames. Good thing there's plenty of local suds to enjoy as you vie for the title of Firemaster.
Downtown
What can we say about Departure that we haven't already said? The food's great, the chef's on fire, and that panoramic view of downtown is unrivaled. Sure it gets a little busy on these gorgeous days, but you couldn't ask for a more beautiful group of people to ignore you while pretending no one notices you staring from behind those sunglasses.
Ladd's Addition
Unseating the previous champion by combining buttery corn cakes, slow-cooked meats, and cheap micheladas with a surprisingly large outdoor bar and patio; stepping out from the second story of a house on the edge of Ladd's Addition into this little gem is like going on vacation in Venezuela. Probably.
Sign up here for our daily PDX email and be the first to get all the food/drink/fun Portland has to offer.
Other Stuff You'll Like In Power Rank