High-class wine, low-octane cocktails, and raw pork in a parkside oasis
Set up in an ancient park-side building that once housed an old-school pharmaceutical company, Remedy makes up for its lack of snake oil and prescription cocaine vials w/ a swank open-air bar that rocks a carefully curated wine list, local taps, aromatic cocktails, and meaty goodness like this pork carpaccio, because you know you're into raw porking.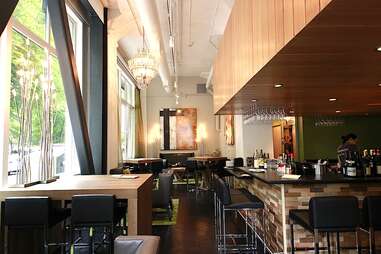 The brainchild of the folks behind Bowery Bagels and Kitchen Cru, the place's interior's set up to take full advantage of the glorious 5mins of annual sunshine, w/ windows that fully open to reveal the park blocks and walls that double as a gallery.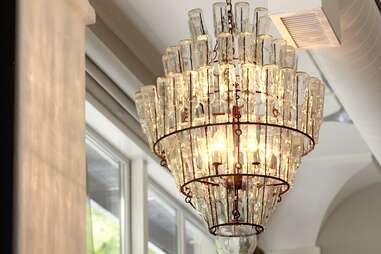 Non-solar light's provided by this custom chandelier, which is made of recycled beer bottles from India that aren't IPAs... those are made by hippies in breweries, not actual Indians.
The drinks menu's intense on rare wines from small-batch family vinters, which're paired with awesome bar snacks like roasted almonds, marinated olives, and house-made cheese crackers that make even luxurious white cheddar Cheez-Its seem like stale Cheese Nips (ick... Cheese Nips).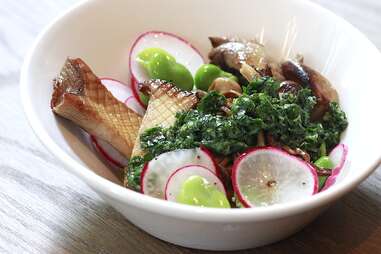 Sizable shared plates focus on locally sourced goods like this salad made with fresh, foraged mushrooms that'll totally one-up the other fungi. You can also score charcuterie boards featuring cured meats (including that carpaccio) courtesy of Tails & Trotters.
If wine isn't your thing, there's a selection of beer, plus "low-tails" (basically lower-ABV cocktails emphasizing wines & aromatics) like this French Gardener w/ Pineau des Charentes & Bonal Gentiane and the Pyrenean w/ Byrrh & Cremant de Limoux... just don't ask them for a spritz of Coke in your cocktail, because that stuff's totally illegal now.