16 Reasons Why Portland Is America's Best Beer Town
When other cities try to stake a claim as the best spot for craft beer, it's hard for Portlanders not to laugh. Then probably eat something organic and jump on a fixie, because guess what? Preconceived notions about Stumptown are true… including the notion that it's the best damn beer city in America.
We started this craft-beer movement stuff, folks. And we've been running it for more than three decades. Here're 16 reasons why everybody else is just catching up:
We've got a ridiculous amount of breweries
Portland has more than earned its ridiculous moniker as Beervana. Throw a rock and you'll hit a brewery. Hell, throw a rock from a brewery and you'll hit a brewery. That's because there are currently 58 of them within the Portland city limits, with 83 total in the metro area (there are 221 throughout Oregon). For a town of 610,000, that's a staggering number. Oh, and it also means we have more breweries than any other city in the world.

Beer is philanthropic
Last year, Portland once again got a handful of new breweries, including a hub of Ohio favorite Fat Head's, plus Royale Brewing and StormBreaker. But it also got its first nonprofit brewery in the form of Ex Novo, which distributes its net profits evenly among its partner organizations. It's an idea first practiced by the Oregon Public House, which also specializes in craft beer and philanthropy. That's right. You absolutely should order another beer. Karma will take care of your hangover.

We're SNOBs, but not snobs
Somebody long ago came up with SNOB as an acronym for Supporter of Native Oregon Beer. But that doesn't mean Portland's above getting fizzy and yellow. Our number-one selling beer? Pabst. The brewery credits PDX's penny-pinching hipsters with revitalizing the brand and rewarded Portland with the Project Pabst Music Fest last year, where everyone from the Violent Femmes to the GZA got down on some tallboys.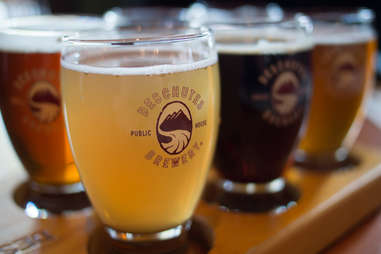 We've got craft beer OGs
Maybe you've heard of Widmer and BridgePort , which in the past 30 years have grown into national favorites. Bend's Deschutes is also brewing here, while Rogue has a gigantic pub, a beer hall, and a bottle shop hidden among the warehouses of SE Portland.

Our brewers work together
Collaborations are a big thing in Portland, and it's not uncommon to see brewers putting their brains together to make one-off batches. It's so rampant that Base Camp even has a Collabofest where 10 different breweries come together and offer a wide array of styles.

We have festivals basically every other weekend
The Oregon Brewers Fest might be the big-dog of the beer-fest scene, but it's hardly the only one out there. Cheers to Belgian Beers, The Portland Fruit Beer Fest, the Holiday Ale Fest, the Fresh Hops Fest, Zwickelmania, the Portland International Beerfest, and Oktoberfest are just a few of the opportunities to brave long lines for small tastes of pretty much everything Oregon has to offer.
Our beer bars are the best
Brit-style Horse Brass consistently makes best beer bar lists for good reason: its 60+ taps change daily and feature some of the area's hardest-to-find beers. In the summer, Apex is awash in bicyclists kicking it on the patio and downing an impressive array of local and international pours. Saraveza serves a carefully curated lineup with Midwest comfort foods. Downtown's Bailey's Taproom -- and its hidden upstairs bar -- is the stuff of legend, while Bazi Bierbrasserie is one of the best Belgian bars outside Brussels. We take this really, really seriously.

Our bottle shops are world class
Belmont Station is one of the world's best bottle shops, period. With 1,200 different bottles from around the world available to take home or drink on-site, it's the gold standard by which all bottle shops should be judged. But it's not alone. Places like Imperial, Tin Bucket, Hop & Vine, and 1856 bring their A-game in bottles and growlers. Basically, if a beer is available in the Pacific Northwest, you shouldn't have any trouble finding it here.

We kind of own the IPA game
Portland was one of the first towns to go nuts for IPA. Maybe it's all the hops growing in the Valley, or maybe we just like being contrarians, but Stumptown's mastery of the IPA has netted local brewers countless awards and paved the way for every other beer city to go nuts over the stuff.
Beer food isn't just pretzels
Okay, yeah, sometimes it's pretzels. But they're artisan pretzels at places like Hopworks. Our brewers take food very seriously, from the spectacular burger at Ecliptic to the Chinese food of BTU. Fire on the Mountain pairs its legendary chicken wings with in-house beers. Hell, 13 Virtues is set up in a cheesesteak joint… and a damn fine one.

Our dive bars are better than most beer bars
It's not uncommon to cruise into a seedy Portland dive bar and see 13 all-local taps. Hell, most of our strip clubs have gigantic beer selections. Mary's even has its own brew. It's called Topless Blonde Ale, naturally.

Our brewers like to experiment
Portland brewers really like to mess around with styles. During the Cheers to Belgian Beers event, ale architects from throughout the city create beers using the same yeast strain. But that's nothing. The dudes at Breakside -- which won gold for its IPA at last year's GABF -- have made beer with everything from beef hearts to sea urchin, and their head brewer spent 2013 making 100 different kinds of beers, from a Braggot aged in aquavit barrels to a coconut pumpkin stout.
We even have beer carts
Portland's known for its hundreds of food carts. Beer has followed suit. Captured by Porches has long been a fixture of the cart scene, but now most cart clusters (aka pods) have bars, or at least beer trucks. That's just how we roll. Literally. Ugh.

We have beer for everybody
Can't bear to be away from your dog? Go drinking together at Lucky Lab. Got celiac disease (or still think that gluten-free means healthier for some reason)? Hit up the gluten-free Ground Breaker. Hate the calorie count of a stout? BikeBar has an exercise bike outside. Love cats? There's Purringtons Cat Lounge, where you can grab a pint and pet kitties with other weirdos. There's truly something for everybody.

Beer begat public water fountains
Those bubblers all over town? Turns out that they were installed because workers way back in the day kept showing up to work half-cocked, claiming that there was nothing to drink Downtown except beer from the Henry Weinhard brewery. The boss installed the public fountains all over, and thus his namesake Benson Bubblers became Stumptown icons.

We're cheap
If you're paying more than $5 for a beer, it's a safe bet that either A) it's 14%, B) it comes with a sandwich or something, or C) the bar was just opened by Californians and will lower its prices very, very soon.
Sign up here for our daily PDX email and be the first to get all the food/drink/fun Portland has to offer.