If you're even thinking of being in Portland, check out the rest of our DestiNATION Portland travel guide. It's stacked with expert advice from locals on what to eat, where to drink, and what to do in the City of Roses.
With over 80 renowned breweries in the area and nearly twice as many bars, Portland is nirvana for beer drinkers. The sheer volume of options can be overwhelming, especially if you're just swinging through town for a few days. But to be honest, it's hard to go wrong -- even our most dilapidated dives have better offerings than most fancy beer bars in other cities. Still, you've got to start somewhere, right?
Lucky for you we've been fairly active participants in Portland's craft beer scene for many years now, which makes it hard for us to get to work on time but easy for us to point you toward the greatest drinking spots in the city. This list is by no means exhaustive, but here are some truly fantastic establishments to build your Portland beer drinking itinerary around.
It's not raining. And much like Sheryl Crow, you wanna soak up the sun and tell everyone. Here are the best patios and beer gardens in Portland for when the weather's fine and you've got hops on your mind.
Hosford-Abernethy
Apex offers a staggering array of beer styles in an unpretentious environment that's bolstered by a huge, packed patio open year-round. Whether it's obscure German or Belgian brews, barrel-aged imperial stouts, or delicate saisons that you crave, this cash-only porch is a perennial crowd-pleaser that's amenable to people bringing in outside food. And this is excellent news as it sits in one of Portland's best neighborhoods for dining out.
Boise
Prost is a world-class German beer-lovers bar, and they've got the glassware, accoutrements, and beer selection to prove it. Lagers steeped in old-world tradition are the go-to for a sunny day on the back deck, but don't sleep on some of the Bavarian oddities that never hit it big with macro brewers. We humbly suggest a smoky rauchbier, a clean and crisp helles, or the subtly sweet tinge of a bananaweizen.
Argay
With a pedigree that includes former brewers from Ex Novo and Laurelwood, Level Beer churns out extremely sessionable ales and lagers that are perfect for sipping under the cover of what used to be the greenhouse of a produce market. You'll find solid burgers and Mexican food at a pair of food trucks outside, and just about everything on the food menu pairs well with Ready Player One, a dry-hopped saison that's as smooth as it is bright.
Pretty much every bar in town will be serving fantastic beer, but if you're really looking to impress the pants off your Beer Advocate-obsessed friend, here are some of Portland's best beer bars with truly standout selections and staff. Or kick it up a notch and visit a taproom, where you can try local beers you've never heard of without all the big to-do of a brewery tour.
Sunnyside
This English-style pub predates the craft beer boom by decades, but don't let the worn-in feel and inescapable scent of fish & chips fool you into thinking their taplist isn't up to snuff. It's still one of just a few spots in town to tap rare kegs like Russian River's elusive Pliny the Younger, Samuel Smith's Oatmeal Stout, or barrel-aged sours from Tillamook's de Garde Brewing. It's an essential stop at the top of any seasoned beer tourist's list when pedestrian choices are long in the rearview.
Overlook
Is Up North a surf shop with a drinking problem or a craft beer bar that sells surfboards? However you classify it, you won't find a more chill environment to enjoy a carefully curated lineup of new-school classics from Terminal Gravity and Rosenstadt alongside authentic German brews that trace back to owner Martin Schoeneborn's Wisconsin roots. If you want a place to relax that's playing Khruangbin on the stereo and surf films on the TV while you enjoy a pint of pilsner, this is your spot.

Montavilla
The most telling detail of this mellow and quasi-divey beer bar in Montavilla is its "digital" tap list, which is nothing more than a webcam aimed at a barely legible chalkboard list of what's on tap. Still, Roscoe's is pointedly old-guard in its esteem and access to kegs from lauded brewers like Jolly Pumpkin, Russian River, and Terminal Gravity, as well as nanobreweries too small and weird to be on your average beer bro's radar just yet.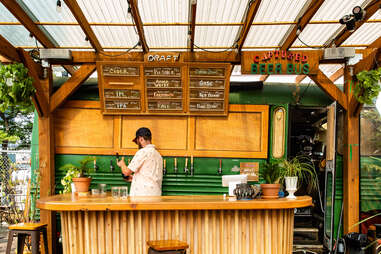 Buckman
Only in Portland does one of the city's most on-point taplists pour out the side of an old school bus parked in a food cart pod behind a coffee shop. With 12 handles that serve up everything from imperial coffee stouts and wine to three different varieties of hazy IPA, owner Brian White has an impeccable palate that helps him put together an all-star selection of beers. And since the taps update frequently, you'll want to check the website… often.
Downtown
If you find yourself bopping around the Westside in search of beer, be sure to stop at Bailey's before crossing places like Deschutes, 10 Barrel, or Rogue off your list. The staff here is adept at doling out recommendations, and you simply won't find a bigger or better list of beers that are guaranteed to surprise even the most hardened beer snob. Throw in the fact that it's within stumbling distance to whatever hotel your job put you up in, and even closer to Mary's -- the infamous old-school strip club -- and there's really no good reason not to stop in for a few 4-ounce pours after that power lunch with the folks from marketing.
Richmond
As its name denotes, this cozy little Division Street taproom is the place for beers that won't get you snookered quite as fast as that hardcore bourbon barrel-aged stout. It's a great place to meet that friend who's ready to transition from light beers, or perhaps a former acquaintance who refuses to drink anything but PBR, which Sessionable humbly offers amongst its many sub-5% ABV beers that somehow include far more stouts and pale ales than one would expect from such an establishment.
So you're fascinated by the science of brewing and want to visit the breweries that put Portland on the map. Here are the essentials for your itinerary -- but honestly, narrowing this down to three picks was pretty harrowing, so please see your way over to our full list of Portland's best breweries.
Woodlawn, Slabtown
Their seemingly endless rotation of award-winning IPAs should be more than enough to lure hopheads from all over the world, but the hits don't stop there. Yale-educated brewmaster Ben Edmunds mastered the art of the hazy almost as quickly as the trend hit fever pitch in Portland. Their lagers and pilsners are impossibly smooth given their ABV, and the food at both locations -- especially the expansive new two-story facility in Slabtown -- is amongst the best of the brewpub circuit. No beer-related sojourn in Portland is complete without a trip to Breakside. But be warned: You may never want to leave.
Sabin
What began in earnest as a garage experiment in which two neighbors set out to recreate a Northeast-style IPA -- like Heady Topper or Julius -- is now the hot new sensation that's taken Portland by storm. Great Notion has since branched out to all manner of milkshake-style beers with flavor profiles anywhere from pancakes and muffins to chocolate-covered strawberries, but anything from their original Juice series is the reason you're here. The patio and food situations add a nice touch to the place, but there's a good chance people would still be lining up to drink Great Notion's beer if it was served in a malodorous concrete bunker behind the airport. It is that good.
Buckman
If you've dove head first into the world of sour beer, it's a forgone conclusion that a trip to Cascade is at the top of your list. A happy accident involving some barrels filled with cherries led to their now world-famous Kriek. From there, it's been only uphill for this trailblazing brewery in Portland's beer-friendly Southeast side. Thanks to a liberal (and cheap) taster policy and staff that's as patient as they are knowledgeable, it's certainly possible to start a session on their shaded patio that starts at the top of the menu and ends at the bottom without getting too much of a buzz. Be sure to save room for a bottle or two, however, because the good stuff -- like the aforementioned Kriek -- is often at its best when it's had time to get even funkier while being stored in the cellar.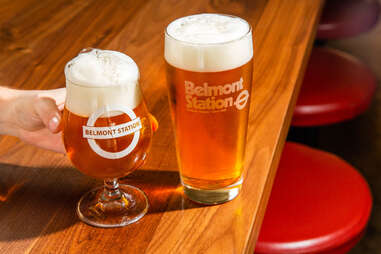 You love a good selection and will stop at nothing to try the best in the West. Good news for you, friend. These bottle shops have you covered with an array of hard-to-find beers, all of which you can take to-go and save for later.
Laurelhurst
In addition to their 34 rotating taps, patrons can choose from over 1,400 beers in the grab-and-go section and enjoy almost any of them on-premise for a small corking fee. It's one of the largest beer selections on the West Coast, and although it's not actually on Belmont Street, Belmont Station is about as close to a straightforward consensus of greatness as it gets in Portland (just check out how many awards they've won).
Boise
Buyer Jim Bonomo has a knack for checking boxes beer nuts didn't even know existed with Tin Bucket's 40 taps and nearly infinite selection of singles from the wall-to-wall cases. Rare is the stray tap of ho-hum lager or pale ale that doesn't have its own small but sincere fanbase, and you're not likely to find a greater selection of the best batches from tiny little breweries from Oregon and elsewhere that are almost certain to be a hit before you know it.
Portland hosts a handful of outdoor festivals where you get to drink all kinds of beer in the company of like-beer-minded friends. If you're in town and don't mind crowds or lines for port-a-potties, make time to check out these beer fests.
Tom McCall Waterfront Park (Downtown)
Now in its third decade of operation, the Oregon Brewers Festival is the grandaddy of craft beer festivals in a town that certainly has no shortage. With brewers from all over the state flocking to Portland to enjoy one another's offerings, it's safe to say that this is the one festival you should attend if you were able to pick only one. That's certainly not the case, but the rise and fall of a dozen smaller festivals with similar goals proves that OBF lives up to its name as the definitive convergence of the people who make the state's beer scene one of the most exciting in the world.
Next fest: July 24-July 27, 2019
Pioneer Courthouse Square
While most other fests seem to default to an emphasis on the West Coast IPA boom that's been oh-so-good to Portland brewery business, Holiday Ale Fest offers a solid counterpoint to the notion that bitter concoctions are the only good beers one can find at such fests. Housed under a gigantic tent in which breweries small and large take a crack at offering a menagerie of malty ales that register as spicy, sweet, soft, and cinnamon-y, it's a welcome respite from drinking hoppy IPAs in a smoldering parking lot under the sun for an entire afternoon.
Next fest: November 28 - December 2, 2018
Sign up here for our daily PDX email and be the first to get all the food/drink/fun Portland has to offer.
Pete Cottell graduated in 2007 with a journalism degree from Ohio State University. He visited Portland in the fall of 2012 and decided to pack up his station wagon and head west. Since then, he's written an award-winning column about living in a van, had a Reddit page devoted to what an asshole he is, and has come to the realization that none of this would be worth unit without such primo access to beer, food and nature. He prefers food carts with only two items on the menu, but will always have a soft spot for Arby's. Follow him on Instagram at @VanifestDestiny for photos of vans, surf trips gone awry and the occasional Oregon mountaintop moneyshot.