We need YOU... to pick Portland's best beanage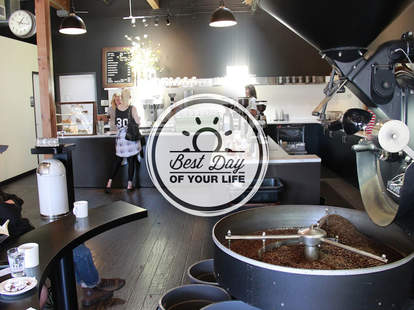 News flash: the Best Day of Your Life is happening on 6/21, thanks to a Thrillist-curated schedule of exactly how to spend the longest day of the year. Second news flash: having the best day of your life requires being awake, which requires coffee. So in putting together this itinerary, we need your help in picking out the city's best java joint: cast your vote in the comments below, then marvel in your own power when you watch readers flock to the place of your choosing
Put "A" in the comments to vote for Heart RoastersBurnside's Heart lets you see the roasters in action, as workers operate gigantic bean-sorting machinery right in the middle of the cafe. Which means you're casually sipping your cappuccino while watching some dude labor. Fun
Put "B" in the comments to vote for Original StumptownBefore it became Brooklynese and Los Angelian for "look, my coffee's sooooo hip", Stumptown was a humble little coffee shop/roaster out on Division, where it remains one of the area's most comfy open air cafes.
Put "C" in the comments to vote for ExtractoIf Dr. Bunsen Honeydew were a barista, he'd work at Extracto, where workers treat the joint like a science lab, pouring individual orders through filters attached to lab jars
Put "D" in the comments to vote for RistrettoA classic example of Portland coffee obsession, Ristretto's beans are hand roasted (as in, hands put them on the fire… Johnny Blaze isn't roasting them with his flames) to perfection and best enjoyed with a dog on the chill sidewalk tables.
These are your options. Now fire away in the comments section below with A, B, C, or D to make sure that the Best Day of Your Life includes the very best cup of Joe this city's got to offer.