Portlanders have a habit of lionizing particular restaurants in town, going to the same spots over and over again, ordering more or less the same thing, and raving about them in agonizing listicles or flooding Instagram with identical photos. The Portland restaurant scene falls into a bit of a hierarchy, then, and sometimes the smaller places without fancy PR firms get lost in the shuffle. But there are some really great spots to be found in between all of the chatter and hype, so here are 10 of Portland's most underrated bars and restaurants for you to consider the next time you're at a loss for where to eat or drink.
Recommended Video
Thrillist's Best (and the Rest): What You Actually Need to Know About Natural Wine
Buckman
Of course naming a bar "No Fun" would draw a flood of ironic cynics out from their weird corners of the internet; taking that irony to its logical endpoint is knowing the fact that the space that No Fun Bar inhabits was once a Christian bookstore. It's a bar's bar -- a place just to sit and drink with no pilfered gimmicks, no cute cocktail names. Attached is Devil's Dill, one of the better sandwich joints in town, even if it doesn't get as much press as spots like Lardo and Bunk. Options like Chinese five-spice pulled pork, meatloaf sandwiches, and actually good takes on a BLTA to vegan sandos made with seitan are all available to order at the No Fun Bar, or delivered to your doorstep, if you're within two miles. For those avoiding wheat, every sandwich is available on gluten free bread for an extra two bucks.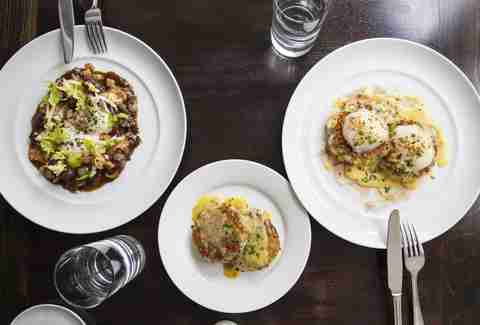 Irvington
When it comes to New American/French-influenced bistros in town, attention is usually paid to places such as Le Pigeon, Coquine, or Imperial. All for good reasons, but it's curious that Verdigris hasn't received the same levels of adoration. This cute and cozy restaurant feels like you've walked into a French country home, and the seasonal, homey food and exceptional old-world wines only add to the air of splendor. You might as well pay the $35 for a three-course meal -- it costs only a bit more than a single entree and gives you a fuller experience of the menu. The brunch here is also an undersung venture in Portland dining.
Powellhurst-Gilbert
It's been said that Portland has no great Chinese food. While it's true we don't boast the amount of excellent dim sim and stir fry cuisine as cities like San Francisco or Vancouver, we do have a few standouts. Spots like H.K. Cafe and Shandong are well-known, but less so is Pure Spice out in the Jade District. Pure Spice has a lot to offer: dim sum made to order rather than off of a cart; a mix of classic Chinese-American dishes like Kung Pao and sweet & sour; and more traditional Chinese dishes like hot pots and congee. It might not reach the levels that some Bay Area restaurants do, but it's pretty damn great all the same.
Clinton-Division
When Portlanders think Mexican food, they tend to think cheap burritos and large plates of cheese-covered chips. Xico, pronounced like "cheek-oh," asks you to please reconsider. Upscale takes on Mexican dishes such as pollo asado and tamales grace the menu, and Monday and Tuesday nights feature family-style meals such as full rotisserie chickens and an unmissable carnitas plate. The bar includes a sizeable selection of hard to find tequila and mezcal, as well as, surprisingly, Mexican wines, something you're unlikely to find elsewhere in town. If you're looking for cheaper Mexican snacks and drinks, go for the late night happy hour that runs from 9pm until close every day of the week, when tacos, tamales, mezcal, tequila, and totopos are only $5 each.
PSU
Portland has a staggering amount of Thai food carts, but it has far fewer Laotian ones. The best is Haan Ghin, which just happens to be tucked away on the Portland State University campus; its relative isolation is probably why hasn't made a bigger stir. The menu is extremely limited. You're either getting mii gai, egg noodles with chicken, choy, and crispy chicken skins, or laap gai, a minced, herbed chicken dish serve with lettuce cups and zesty cucumber slices. Both are exceptional, and which is better depends on your mood. It's worth a trek on to campus, even if you're not a student.
Beaumont
Aalto Lounge on Belmont is packed almost every evening, but its sister restaurant Bang Bang up in Beaumont hasn't yet been greeted with the same level of enthusiasm just yet. The Thai curry bowls and Asian drinking snacks were met with middling reviews when it first opened, but it quickly polished the food menu, and the drinks remain as solid as the ones at Aalto Lounge. These curries and noodle bowls are so good you won't even notice they're entirely gluten free (the whole menu is).
Downtown
Sure, Shift Drink has received a good deal of positive press and had considerable attention when it opened, but since then, enthusiasm has waned. It's really too bad, because with its inventive cocktails, fun and accessible wines, and a small but lovely menu of bruschettas and panini, Shift Drinks is one of the best cocktail bars in the city. It deserves as much love as the places that are packed each evening. Best of all, once the place shuts down at standard bar time, you can take a bottle of champagne to-go.
Clinton-Division
Dot's remains a spot known for its drinks and heaping plates of cheese fries, but its weekend brunch menu often goes missed. It's fairly standard but extensive, with scrambles, waffles (with fried chicken options), benedicts, and biscuits & gravy as the stars. Bottomless mimosas are only $10, and Saturday brunch occasionally has a DJ because it's just that Portland. The best thing about brunch at Dot's Cafe is that it's incredibly affordable, with almost everything on the menu being under $10. While you can maybe find something more unconventional for breakfast across the street at Broder, here, you won't need to wait an hour -- or at all.
Nob Hill
Portland has Vietnamese restaurants aplenty, the best of which are along 82nd Ave, hidden in strip malls and wide lots. However, if you're in Northwest Portland, you'll want to go to Fish Sauce. It's not dedicated to phô or bánh mì, though you can find those here, but rather, less familiar dishes like shaken beef cubes with sweet potato fries or grilled Alaskan salmon with sauteed tomatoes served over greens. Fish Sauce also rivals Pok Pok for the best Vietnamese wings (Cánh Gà Chiên), with its own take on caramelized fish sauce wings. And, unlike most other Vietnamese spots in town, it also features an inspiring cocktail program with a strong focus on rum.
Chinatown
Mi Mero Mole is fighting hard against the commonly held position that Portland lacks good Mexican food. The casual Mexican joint has two locations, one on the east side and one in Chinatown, both of which serve exceptional cuisine. The staple here is guisado, a stew popular in Mexico City, which fills all of its tacos, burritos, and other dishes, and comes in multiple styles, including lamb, a rare meat to find in Mexican restaurants in town. While Mi Mero Mole is popular, what goes most unrecognized is the bar at the downtown location, which carries a wide list of tequila and mezcal and some of the best margaritas in the city. During happy hour, from 2-6pm every day, those margaritas are a mere $4.
Sign up here for our daily PDX email and be the first to get all the food/drink/fun Portland has to offer.