The Bad Decision Bar: the kind of place where one quick drink leads to one quick ride home on the MAX, where you sleep past your stop only to awaken with four texts from "Stripper, Vegan," and someone else's pants on. Here are 10 of PDX's finest (or worst?) examples...

Downtown
If you've ever worked in the industry, or know someone who has, then you're well aware of Rialto's absurdly large pours, which sound awesome but usually just lead to you being woken up in Pioneer Place Mall by a police officer who wants you to do what you can't remember deciding to do at RP: leave.
NW Industrial
Between an ATM that only dispenses $50s, a bar that only gives change in fake blood-stained $2 bills, its in-the-boondocks location, and strippers that encourage touching, no better recipe for disaster exists in Portland.

Hawthorne
After a night of sitting in this windowless slab of awesome -- which resembles what a Rat Pack bar would look like if Sammy Davis Jr. was really into Star Trek -- and drinking strong fishbowl drinks like Long Islands or the sugary Purple Alien, there are only three places you can go: across the street for an ill-advised Big Bertha's gryo, into the inevitable street fight outside of Sewickys, or into a diabetic coma. All are ill-advised.

Downtown
After waiting upwards of three hours to get in, not to mention the 20 minutes for one of their roving bartenders to stop by, you might start to question whether coming to get one of the cocktails being carefully prepared in front of you was a bad decision. This question won't surface again until the next morning, however, when you realize that spending all that time to get one of said 'tails would have been a great decision.
Chinatown
You'll go into this '80s- and '90s-themed dance bar looking to hook up. You will inevitably fail when you give in to the urge to do the Roger Rabbit or the Sprinkler in front of a bunch of hot chicks on the glowing LED-lit dance floor.

Chinatown
It's coming to our attention we may have a wee bit of a thing against Chinatown, but mostly we're just jealous of all the still skinny/not-jaded college kids that flock to the 'hood's bars, and embarrassed that no, none of them are impressed we put Third Eye Blind on the jukebox.
Chinatown
Probably the most aptly named club in all of Portland, I can't imagine anyone thinking an evening spent here won't involve a bad decision or two. Best case scenario? You end up in their Spin Room mesmerized by blinking lights. Worst case... don't ask. We said, "don't ask"! OK?!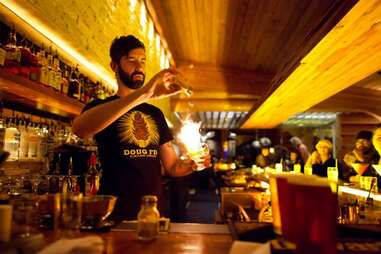 East Burnside
It starts with a trip to the Doug Fir, probably for a show or late-night snack. You're drinking, dancing or eating, having a good time. Maybe you meet someone cute. Now the bar's closing, so you go next door to the biggest party hotel in the city. Whaddya know? They're offering a late-night special on rooms...

Various Locations
There aren't many solid sports bars in Portland, so darkening the doors at one of these fine establishments means you'll probably decide talking to the random sports fan next to you can't be that bad, can it? Yes, it can.

The Pearl
This dive-y boozer's dank smell will probably make you decide to go somewhere else after too long, and the steeply reduced beer/booze price on their happy hour menu will probably make it somewhere like Dirty Nightclub. The former's a good decision, the latter... well, you know.
Sign up here for our daily PDX email and be the first to get all the food/drink/fun Portland has to offer.