Portland's 10 Best Under-the-Radar Drinking Patios
For a city that gets rained on daily (seriously... feet of it every single day. Don't move here!), Portland's patio game is impressive. Between the hipster al fresco scene at Rontoms and the uber authentic Bavarian boozing at Prost, there's outdoor setup to suit the tastes of just about anyone.
Often, though, the conversation about great patios centers on a few usual suspects, leaving a sea of undiscovered outdoor-drinking oases ripe for discovery. Some of the spots on this list are hidden behind non-descript dive bars. Some are tucked coyly behind high-end drinkeries. But they all have one thing in common: They're among Portland's best under-the-radar patios.
Alberta Arts District
With an attractive fire pit and ample seating, the downstairs patio at this popular NE Alberta spot is bumpin' as it is. The real gem, however, is what you'll find up the stairs, which is another patio reserved for the real G's (and smokers) who've known it's one of the best in this patio-heavy drinking district long before Last Thursdays blew it up.
 
Goose Hollow
The namesake of this bar alone implies something tucked away and hidden, which is exactly what you'll find at the Goose Hollow Inn. Besides boasting the best Reuben sandwich in town, this neighborhood joint owned by former mayor Bud Clark has a wraparound patio with maximum shade no matter what time of day, easy MAX access, and is a short walk from Providence Park for Timbers Army members.
Clinton/Division
Though the artisanal manliness at this year-old establishment on SE Division feels a little heavy-handed at times, the paintings of two ladies wearing barrels are a delightfully kitschy touch at what's one of the few patios in an area that's otherwise running laps around the rest of the city in terms of nightlife.
Speaking of SE Division, this may be our favorite bar in the 'hood due to it being off the beaten path of the chaos, just a few blocks away from Double Barrel on Clinton. Night Light's patio is the best in the area, and being hidden behind a fence and lush greenery makes it feel more like a lagoon than the respite for chain smokers that it really is.
 
Downtown
You wouldn't be wrong in assuming a good patio is hard to come by downtown, which is exactly why this popular after-work spot for the West side's service-industry types is such a gem. The heavy pours inside the bar are an obvious attraction, but it's the big-ass patio and all of its shrubberied and argyle-muraled goodness that's the real draw here.
Andy Kryza/Thrillist
Irvington
The small netherworld on the border of Sabin and Irvington is somewhat deficient in quality spots for boozing, but thankfully Free House delivers the goods. You wouldn't imagine this tiny storefront on Fremont would be good for all-weather outdoor whiskey consumption from the looks of it, but the covered patio out back proves there's more than meets the eye for folks who would normally keep on truckin' up to Alberta or Mississippi to meet their alcohol-consumption quota for the day.
St. Johns
Portland lore would lead one to believe just about anything in St. Johns is hidden by virtue of being located at the very edge of our insular little universe, but this unbelievably quaint porch replica hidden behind Kruger's Farm Market on Lombard may be the most postcard-friendly spot to grab a beer in the entire city. Mason jars full of fresh brew from Captured By and a handful of other local brewers? Check. Wood-burning stoves and worn-out plaid couches? Double check. It's only a matter of time before Portlandia pokes fun at the folks relaxing at the Beer Porch with their knitting circle and their mandolins, so you better give it a look before it's "over."
 
Kerns
You're not alone if you only remember a quarter of the visits you've paid to this classic Southeast boozery, but you likely have at least one memory banked away of a night that ended with someone punking you by laying into the massive tree in the corner of the patio before telling you it was fake. It's alright if you've forgotten completely -- the drinks here are stiff, and said patio is waiting for you to rediscover its greatness.
 
82nd
It's hard to pay any attention to the actual bar scene of 82nd, what with the endless expanse of sleazy dim-sum spots and used car dealerships enveloping every last inch of real estate on the Eastern frontier of Portland proper. Be sure to give Stein Haus a look if your search for a used Subaru leaves you exhausted and in need of obscure German beer and an impressive patio to drink it on -- it's one of the few in the area that's not overrun with despondent day-drinkers, and the cornhole set is an added bonus if that's your (bean) bag.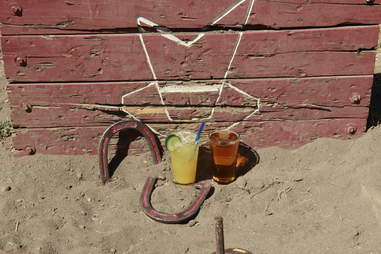 Andy Kryza/Thrillist
Roseway
The hidden gem of Roseway for those in the know (we highly recommend becoming one of those people), Mad Hanna is a no-frills not-quite dive specializing in solid fresh-squeezed cocktails and pudding shots so good, they might make you less sad to think about Bill Cosby. The real gem, though, is the back yard, where covered seating accounts for half, while the other side is populated with ping-pong, horseshoes, and a misting hose for hot days. Throw in a giant smoker for weekend BBQs and a dog-friendly policy, and the joint's basically like hanging out at a friend's house, and your friend has an assload of booze.
Sign up here for our daily PDX email and be the first to get all the food/drink/fun Portland has to offer.