Portland When it comes to taste, no two Portlanders are alike. But there's one thing that we can all agree on: dive bars are wonderful, wonderful things. In fact, we love them so much that even our most sparkly neighborhoods have a few. And our less-sparkly ones are basically like little shanty towns made of places that sell tallboys and loosies. But not all are created equal. Which is why we braved the scenes in 25 very different neighborhoods to find the best in each. It was hard... on our livers, not our wallets. More Stuff You Will Like
Recommended Video
Thrillist's Best (and the Rest): What You Actually Need to Know About Natural Wine
Pearl District
Low Brow Lounge (address and info)   Mismatched, semi-tropical decor and cave-like ambience aside, any bar in a neighborhood crawling with Porsche-driving yogis with year-round tans who prefer to live near the Starbucks with a wine bar in it (and only a block away from Lululemon!) is to be automatically considered a dive. We're totally OK with that, especially when it's as great as this one.
Old Town/Chinatown
Ash Street Saloon (
address and info
)   Like your chain-smoking hesher friend who's in a perpetual state of giving zero shits about anything, Ash Street is defiant in its unpretentious attitude toward nightlife in what's otherwise one of Portland's most obnoxious 'hoods for going out. We'd reckon that referring to a night fueled by cheap Hamm's and metal tunes as "nightlife" is likely to get your ass kicked here, but at least the 'tude keeps the tourists at bay.
Lower Burnside
B-Side Tavern (
address and info
)   Now that the goons that make Chinatown unbearable have creeped eastward across the Burnside Bridge, B-Side is easily your safest bet for avoiding the fuccbois and vape bros that have infiltrated every other bar on this busy little strip of the inner east side. Bonus points for a solid patio and the occasional Union Jacks employee stopping in before a long night of twerking to "What's Your Fantasy" for hours on end. Continue Reading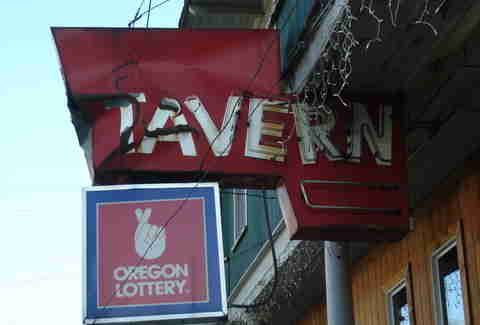 Belmont
Hanigan's Tavern (address and info)   You've got "dives" like Triple Nickel Pub and Belmont Inn, then you've got Hanigan's, a bar so unbelievably dive-y that folks rarely even know its real name. With dirt-cheap PBR and cocktails, ratty carpet, and a wonky pool table, "The 'Vern" -- named so due to its neon "TAVERN" sign being half kaput for eternity -- is the kind of place where you'd find yourself drinking with impunity at noon on a Monday after getting fired from your cubicle job for waking up hungover and late one too many times.
Division/Clinton
Reel M Inn (
address and info
)   Cheap microbrews, some of the city's best
fried chicken and jojos
, optimal TV viewing for all your sportsball needs -- not only is Reel M Inn one of the last remaining vestiges of dive bar culture in what's basically The Pearl 2.0 (condolences, proud Southeasterners), but the very idea of the place is a distillation of what makes Portland truly wonderful. Don't screw this up, people!
St. Johns
Slim's (
address and info
)   Lombard has no shortage of quality dives, but Slim's narrowly edges out the competition on account of their now-and-then $8 steak special, $2 PBR, and the rotating cast of DJs the bar employs to spin classic rockabilly, outlaw country, and just about anything else you'd imagine Sam Elliott's character in
The Big Lebowski
to prefer as a soundtrack for sippin' on a sarsaparilla and shooting a round of pool in the back room.
Kerns
Sandy Hut (address and info)   While the shuffleboard and the mishmash of local music is sorely missed, the "Handy Slut" (their name, not ours!) is still the skeezy purple box we've known and loved all these years before ownership of Club 21 (a close runner-up just a few blocks away) gave it a facelift a few months back. Now that we know what the place actually looks like inside thanks to lights, the retro rec-room appeal of Sandy Hut -- complete with a Playboy pinball machine and studded leather booths- -- is indisputable.
Hawthorne
Space Room Lounge (
address and info
)   The place might be under new management, but the essentials remain. It's still darker than an adult theater inside. There's still a psychedelic mural of Mt. Hood on the wall. The drinks are still stiff, and we're pretty sure that dude at the end of the bar has never left. The only new thing? Breakfast from the folks behind Genies and a great expanded patio. Just don't get blinded by the light when you step out.
Hollywood
Blackwell's Grub Steak Grill (
address and info
)   Residents of the Hollywood district are drawn to Blackwell's by the morbid curiosity of what a "grub steak" might be, but that interest vanishes immediately when you walk in the door and see the weird ads for food specials that look like they were designed in a 90s version of MS Office without the help of Clippy. He was probably here instead, blowing his meager paycheck on cheap drinks -- made by the same bartender who's here now -- and fried apps like jalapeño poppers and mozzarella sticks, both of which we highly recommend.
Downtown
Yamhill Pub (address and info)   For a bar that's only two blocks from a shiny urban shopping center, the amount of grime and graffiti that's central to Yamhill Pub's character is downright unprecedented. Factor in dirt-cheap PBR pitchers and its klatch of surly old-Portland regulars, and this spot sticks out like a sore thumb in the best way possible.
Lloyd District
Black Water Bar (
address and info
)   How could a vegan punk and metal venue with signage that's merely a disheveled black tarp draped over that of the the prior tenant be anything less than the zenith of Portland dive-itude?
Alberta Arts District
The Know (
address and info
)   Standing, loudly, in defiance of the countless mixed-use mausoleums of commerce that now dot Alberta, this scrappy punk bar has done a fine job of holding it's own and hosting raucous shows with a small-town DIY feel in spite of Alberta's recent facelift. Like a glorious middle finger erected to the rising tide of bougie tourist culture, we're nostalgic for The Know's glory days
already
, and it hasn't even been razed to make way for a solar-powered gluten-free commissary kitchen yet.
Kenton
George's Dancin' Bare (address and info)   Choosing between the wood-panelled punk goodness of the Kenton Club and "Portland's Premiere Blue Collar Strip Club" was a tough call at first, but the option of choosing the two-for was too good to pass up. Anywhere with wall-to-wall NASCAR signage and zero windows will win every single time, and it definitely helps that the beer is absurdly cheap and accompanied by a fantastic view. Because it's obviously a strip club. Pro tip: get the steak. But only after several beers.
Gladstone
Ship Ahoy Tavern (
address and info
)   The secret to maximizing the $1
jello shot experience
is to enjoy them at a mellow neighborhood spot that's far, far away from the riffraff that use such a deal as a catalyst to start shit with strangers between vape pen hits out front. Throw in an excellent patio, above-average tots, and a solid selection of pinball machines, and Ship Ahoy is exactly what the doctor ordered for a no-bullshit Friday night. Or Sunday morning. There's always room for jello.
Woodstock
Lutz Tavern (
address and info
)   The lived-in charm of this Woodstock haunt feels a lot like something out of a Paul Thomas Anderson movie, like the place where you'd meet up at two in the afternoon for a drink or six with an estranged half-brother who's involved in some weird pyramid scheme. The cocktails are stiff, the beer list is impressive, and the clientele has way less nail-biting Reedies than you'd expect.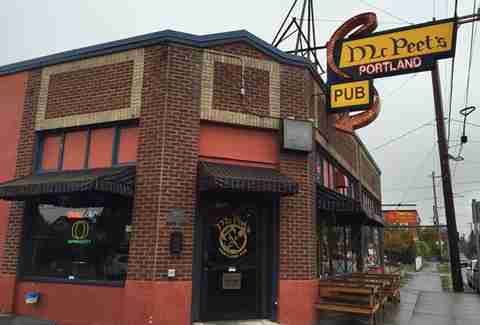 Beaumont
McPeet's (address and info)   The regulars who flock to McPeet's for their Sunday-Funday proceedings could hold their own at just about any other dive bar in town, but they've rightfully chosen McPeet's for its unpretentious vibe and above-average tap selection, which is more than anyone could ask for in a sleepy neighborhood that looks like it could support a Talbots or a free-standing Gap.
82nd Ave
The Lion's Eye Tavern (
address and info
)   The frumpy dividing line between
Portlandia
-Portland and blue-collar Portland is chock full of weird little shitholes of all shapes and sizes, but the Lion's Eye stands out for being
just right
by our impossibly high standards. When we say "just right," we mean the beer is cheap, and you won't get the stink eye for walking in there with your crew and waking up the disgruntled regular who's been staring at the same video poker screen for two hours.
Central Eastside
Gil's Speakeasy (
address and info
)   Cheap pool, $.50 tacos on Mondays, and a rogue's gallery of of old-school punks and the weirdos you often find snatching the cans out of your recycling container every Monday morning. Coincidence? We think not.
Roseway
Mad Hanna (address and info)   It's really saying something that Mad Hanna is coming out ahead of a strip club shaped like a gigantic jug of rum, but that's just a testament to the charm of Mad Hanna, which fixed up the former Rovon Inn, but just enough that it's nice without losing its diviness. The cocktails are great, the pudding shots are better, and the pack porch -- with ping pong, horseshoes, and other greatness -- is one of the city's best. It's also a bar that balances friendliness and surliness perfectly. By visit number two, you're basically family.
Foster-Powell
O'Malley's Saloon and Grill (
address and info
)   Just your average dark, cavernous Irish bar run by metalheads serving great slabs of Sicilian pizza and cheap beer to spill on the pool table. Also,
O'Malley's has its own beer fest
. It's all macro brews. And it's magnificent.
Montavilla
Thatchers (
address and info
)   Montavilla is ever-changing. Except Thatchers, which was always a gigantic, pitcher-slopping, food-frying, no-light-entering spot that looks like it was transported from a land rife with truck nuts. It's a perfect contrast. And they serve breakfast daily!
Boise-Eliot
Billy Ray's Neighborhood Dive (
address and info
)   Rare is the bar that's overtly inserted the word "dive" in it's name and earned the right to do so, but Billy Ray's is no Guy Fieri-approved start-up hospitality venture masquerading as a hole in the wall. This is the real deal, folks. It's cash-only, tallboys are under $3, the stereo only plays music made by dudes with mustaches and Ford Econolines, and the food they offer to skirt OLCC requirements that coincide with liquor sales consists of pretzels and Swanson's Hungry-Man dinners. A few spots come close, but Billy Ray's is easily the gold standard for dive bars in Portland.
Cully
The Spare Room (address and info)   Just your average windowless-bowling-alley-turned-bar with shots served out of brown bags, movie nights, games, and karaoke nights where you get your own backup dancer, and the KJ blows live sax solos. What, doesn't every neighborhood have one of those?
Nob Hill/Alphabet District
Joe's Cellar (
address and info
)   Remember our citywide nightmare a while back when Joe's temporarily closed because they thought the building would kill us? And then it re-opened like nothing happened? Of course you don't remember. You've been drinking in a beat-to-hell old booth all day, and it's been spectacular.
Irvington
Daddy Mojo's Cafe (
address and info
)   If Mojo's isn't Portland's best-kept dive bar secret, it's at least the most schizophrenic bar in town. Yes, it's a sushi place on one side and a full-blown sports/chill bar on the other. The bar-side menu includes smoked-salmon sushi alongside super cheap (like, $2 cheap) burgers, fish & chips, Mozz sticks (served with salsa for reasons unknown), and, um, lasagna. There's also a dozen-or-so-page menu of soul food. And breakfast. And stiff well drinks. Half the people appear to have just come out of church. The wall is lined with celebrity headshots, some signed, some random, meaning Serena Williams holds court next to Chester A. Arthur. It's as if a tornado swooped through Detroit, picked up a Japanese restaurant and an old-school dive bar, and plopped it in the middle of this yuppie epicenter. And it's goddamned perfect.
Sign up here for our daily PDX email and be the first to get all the food/drink/fun Portland has to offer.
Thrillist senior editor Andy Kryza insisted on contributing to this article, since he was going to be doing this tonight anyway. Pete Cottell is a writer at Thrillist. He's pretty sure he was conceived in a dive bar, and his first-born will follow suit. Follow him to family legacies: @vanifestdestiny.