It can be tough choosing the best beer to drink on a hot Summer day, because... well, almost any beer's pretty good to drink on a hot Summer day, and because you don't always have local beer-slingers, bar owners, critics, and other suds-experts on hand to share their personal favorites.
Luckily, we do, so we hit up Ezra Johnson-Greenough from The New School; beer PR wunderkind Jesse Radonski; barman Tyler Voelker from Urban Farmer; Will Oberst of the Oregon Beer Growler; Jake Martin, executive chef of the infamous Daphne Popups; and Matt Genz of 1856 and asked 'em to tell us what 10 Summer beers you should be drinking right now.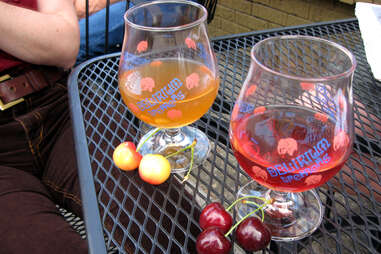 Double Mountain: Devil's Kriek
Hood River, Oregon
This Belgian-style sour ale's made with Bing cherries and a red ale base, and should be consumed with caution, 'cause it's a little boozy (like that's a problem).
Jesse says: "I love how the sour fruitiness provides a thirst quenching effect."
Burnside Brewing: Lime Kolsch
Portland, Oregon
Made w/ 200 hand-zested limes, a pound of Kaffir lime leaf steeped in the kettle, and lemongrass added to the bright tank, this German-style brew comes in bottles, or you can head down to their pub on, you guessed it, Burnside, to get it on tap. But do it now, before it's too late.
Tyler loves: "(The) wonderfully bright aroma of Kaffir lime and lemongrass combined with the light kolsch flavor that makes this the perfect beer for hot Summer days."
Ninkasi: Lux
Eugene, Oregon
This bright traditional-style lager is brewed with premium pilsner malt and bittered with German Hallertau hops, and pours Champagne in for color.
Tyler says: "A Helles lager in their new lager series, it's quite nice with a classic European flavor of ripe pear and yeast. I'm drinking it now."
Portland Brewing: Oregon Honey Beer
Portland, Oregon
Brewed with Oregon-sourced white clover honey and Willamette hops, Oregon Honey Beer is crisp and refreshing with just a hint of sweetness.
Jesse says: "It's quite light in clarity, very close to a Berliner Weisse. Its 4.8% ABV, which makes it a great beer if you want to have a few in the sun."
10 Barrel: Swill
Bend, Oregon
A local shandy, 10 Barrel is definitely going for the float crowd with this beer: very citrusy and sweet, one might mistake this beer for soda, thanks to its intense carbonation. It just hit the shelves and will stick around through August.
Chef Jake says: "The 10 Barrel Swill is perfect for a hot day. Not too alcoholic, but plenty refreshing. A dandy of a shandy!"
Commons: Fleur de Blanc
Portland, Oregon
This seasonal "Belgian table beer" is slightly tangy with hints of citrus, and was just released in bottles (but can be found on tap too).
Matt says: "A blond farmhouse with elderflower & rose hips. Floral and tart with a dry finish, refreshing."
Lagunitas: DayTime Ale
Petaluma, California
We know it's from... ugh, California, but it's light enough to drink in the afternoon without feeling sluggish later, and has enough kick to remind you that you're drinking something substantial. Oh, and it tastes dope.
Ezra says: "Just had it in a blind tasting of Session IPAs last week and it's deliciously similar to a really nice and bready Pilsner with citrusy hops of an IPA."
Dogfish Head: Festina Peche
Milton, Delaware
Despite originating from the East coast, this brew is one of our experts favorite Summer beers thanks to its tartness and thirsty quenching properties.
Ezra says: "It's a slightly sour Berliner Weisse with a concentrated peach flavor."
BridgePort: Stumptown Tart
Portland, Oregon
This year's brew earned a record 95 in Beer Magazine, and its hints of cranberry/blueberry and light carbonation make it a perfect Summer suds option.
Will says: "If beautiful pin-up models, delicious seasonal fruit, and Mexican beer moguls are something you like... then the new Stumptown Tart should definitely be in your glass tonight."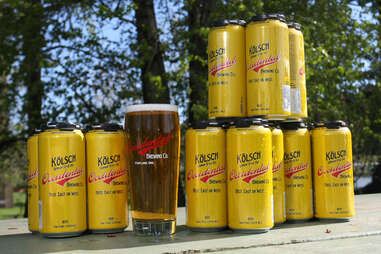 Occidental Brewing Co: Occidental Kolsch
Portland, Oregon
Occidental's homage to the crisp, dry ales of Cologne, Germany; this lager-like and extremely "sessionable" brew has a slightly spicy hop profile supplied by German Perle.
Matt says: "In a 16oz tallboy, this is the ultimate party beer." 'Nuff said.