Drew Tyson
Drew Tyson
There's nothing better than a lazy, booze-filled brunch... except getting a sweet deal on said brunch. But, given all the AM-eating options in this town, and the bad decisions you were probably making the night before, how can you possibly make a good decision about where to drink/eat this weekend? You can check out our hood-by-hood guide to Portland's 40 best Boozy Brunch deals, that's how.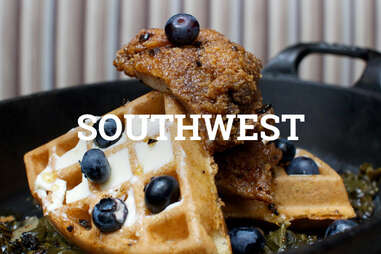 Bunk Downtown
211 SW 6th Ave
The Deal: $3 Miller High Life and $5 egg & cheese breakfast sandwich.
Urban Farmer
525 SW Morrison St
The Deal: The best Benedict in town ($13, but big enough to share) and a rotating Bloody Mary bar!
Clyde Common
1014 SW Stark St
The Deal: Some of the best cocktails in town ($8-10) and definitely the best eggs Benedict.
Tasty n Alder
580 SW 12th Ave
The Deal: Fantastic Champagne cocktails for $8 and, if you bring enough friends, one of everything ($5-9).
Fat City Cafe
7820 SW Capitol Highway
The Deal: Chicken fried steak AND a biscuit and gravy for $8.
Leaky Roof
1538 SW Jefferson St
The Deal: Consistently inventive daily specials ($11).
Bijou Cafe
132 SW 3rd Ave
The Deal: Get the oyster hash. If you don't know, now you know. ($15)
Mother's Bistro
212 SW Stark St
The Deal: Probably the most popular breakfast in the city. Get there early.
Veritable Quandary
1220 SW 1st Ave
The Deal: The classic outdoor patio is perfect for these Summer mornings.
Sugar Mamas' Cafe
320 SW Alder St
The Deal: A real family-run restaurant in the heart of Downtown w/ can't-miss cinnamon rolls, and a new booze menu that includes... um, mostly not booze, aka hard ciders.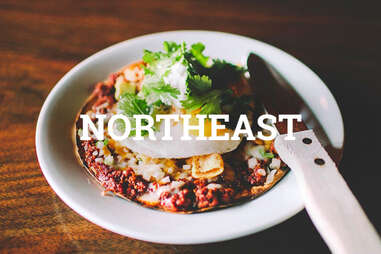 Tin Shed
1438 NE Alberta St
The Deal: Pint mimosas.
Bunk Alberta
2017 NE Alberta St
The Deal: $2.50 PBR tall boys and $5 egg and cheese on a hard roll.
Interurban
4057 N Mississippi Ave
The Deal: $5-7 beers and an enormous breakfast biscuit ($7). Killer food. Killer booze. Killer patio.
Helser's
1538 NE Alberta St
The Deal: 20oz IPAs for $4.
P's & Q's Market
1301 NE Dekum St
The Deal: $16 for a carafe of mimosa.
City State Diner
128 NE 28th Ave
The Deal: $4.50 egg and cheese sandwich.
Tasty n Sons
3808 N Williams Ave
The Deal: Come with friends and order one of everything ($5-9). Also a good place to party.
Kerns Kitchen
2935 NE Glisan St
The Deal: Their breakfast burrito with special cheese ($9.50) and the soon to be famous Bloody Mary.
Broder Nord
2240 N Interstate Ave
The Deal: Baked eggs ($11) and a glass of aquavit. Scandinavian delight.
Sloan's Tavern
36 N Russell St
The Deal: Biscuits and gravy and a BFK.