Believe it or not, especially in a craft beer-crazed city like PDX, just making some sweet beer/serving some sweet bar eats doesn't mean you've got a great brewpub. Sure, having a bunch of semi-nude women in the parking lot helps, but is that enough? Check out our definitive guide to Portland's eight best beer destinations to find out:
Recommended Video
Would You Eat This 3-Pound Chicken Nugget?
Hawthorne
This dark wood-heavy space in an old warehouse boasts a dozen rotating taps, slings Lucky Lab's now signature sandwiches (smoked pulled pork w/ zesty BBQ sauce, etc.), and is the OG of their four locations, which means it's been open since 1994.
Kerns
This newly revamped spot's got a solid selection of hoppier suds and fairly typical brew pub fare, but nothing that makes it seem that out of the ordinary... until a Blazers game comes on and the oversized space goes off, no doubt thanks to the $10 pitchers they're pouring during games, or their Spaceballs-inspired beer. Seriously!
Southeast Side Industrial
Their "Dave" beer sells for two thousand dollars a bottle, so you should probably stick to their far more reasonably priced (but still really sweet) eats (Painted Hills beef brisket braised in beer w/potato salad & whole grain mustard, Chuck Norris Duck Wings w/a "solid punch & a nice kick"), and have their fruity, oaky (and very Portland) "Fred" to drink.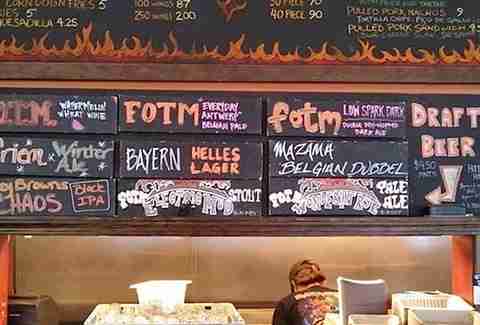 Beaumont/Wilshire
These dudes started out making Portland's favorite wings, then outfitted this wood-heavy space with glass mosaic chandeliers, massive metal works (including a giant mandolin made of scrap), tons of group-friendly booths, and, most importantly, a full bar, a new pizza menu, and a microbrewery mandated to "make beer to wash some wings down", though Linda McCartney, at least, would've probably preferred showering with water.
East Burnside
Not only are they happy to turn their parking lot over to ghoulish go-go dancers, they've also got a cheese-heavy menu (grilled cheese w/oak-smoked cheddar & Emmental Swiss), and some super-creative suds like Sweet Heat wheat ale, which is made with 200lbs of apricot puree, and then dry hopped w/imported Jamaican Scotch bonnet peppers.
Williams
Pedal on down to this brew pub and convince yourself that, because you biked, you can have an extra pint. If you don't have a bike, hop on their stationary one outside and help power the lights while chugging from one of the best cans on the market.
Sellwood
This sun-soaked, garage door-equipped pub in the heart of Rockwellian SE Portland's Westmoreland (who was also great on the first season of Prison Break) is the only Laurelwood location to do what everybody loved most about the now-shuttered original: serves pizza.
Coolest brewmaster/Best new brewery: Ecliptic Brewing
Mississippi
This highly anticipated brewery opened last Fall with a frankly not-all-that-massive-selection of four draft beers and seven sandwiches (Trout Po' Boy, a pancetta-topped burger, etc.)... as if you'd need anything more from the guy who came up with Deschutes' Black Butte Porter and McMenamin's Hammerhead. But if you do, they also have some seasonal mains and stuff.
Sign up here for our daily PDX email and be the first to get all the food/drink/fun Portland has to offer.