This weekend, Portland will be filled with way more people in costumes than usual thanks to the return of Rose City Comic Con (Sept. 19th-20th at the Convention Center), at which people dressed as Princess Leia can meet Carrie Fisher and geeks of every ilk come together in celebration. But what do you do after the convention closes? Or if, you know, you're a geek the other 363 days of the year?
The answer is theme bars. These are the city's best, not just because they have nerd cred, but also because they're genuinely great bars... and they just so happen to have a TARDIS or some tentacles lying around.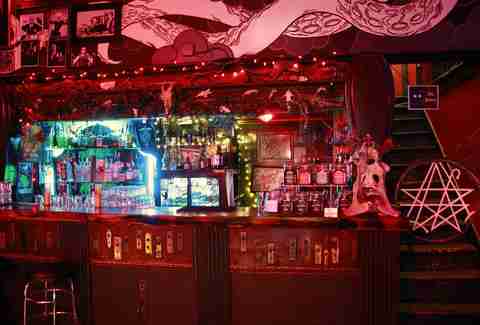 Central Eastside
The theme: Horror & sci-fi 
Most days, The Lovecraft functions as Portland's best horror-themed bar, with coffins, lasers, fog, skulls, and elder gods dominating the space. On Sunday, Sept. 20th, though, the Dark Lord Cthulhu has commanded that Portland's best goth bar become an anime dance party, so make sure to stop by and pay your respects after the convention ends on Sunday. Not feeling all the bright colors? The Lovecraft will be operating as dark as ever on Saturday, with British beats and Bruce Campbell-inspired cocktails.
Division
The theme: Carnivals & theater 
The Funhouse is a wonderland of improv theater, beer, shots (no cocktails), clowns, and a general sense of whimsy. On any given night, you can get anything from stand-up to improvised episodes of Deadwood (Saturday, Sept. 19th) to burlesque. It's kind of like that scene in Fear & Loathing, only with fewer trapeze-friendly wolverines and more grown-up theater kids. Oh, and it's situated just across Ladd's Addition from legendary comic shop Excalibur, just in case you wanted to incorporate more capes into your fandom for the evening.
Old Town
Theme: Classic video games
Like your favorite superhero, Ground Kontrol is a classic for a reason (unless your favorite superhero is Aquaman). Located within walking distance of one of Portland's greatest comic book shops, Floating World, this bar arcade is always a hit for nerds of all ages. With more than 90 classic games -- including six-person X-Men and four-way TMNT -- there's something for everyone, plus DJs every weekend. Pro tip: Star Trek fans should hit up the Next Generation machine that Wil Wheaton signed.
North Killingsworth
Theme: Doctor Who
The tenants of The TARDIS Room are also fans of the tenants of David Tennant, as this is a Doctor Who-themed, British-style drinkery that usually has live music on the weekends. But this year, the stars aligned, with Rose City Comic Con coinciding with the Series 9 season debut on Saturday, which means costumes, trivia, fish fingers, custard, pinball, and pool along with two screenings: one at 6pm and one at 9.
Lloyd District
The theme: Polynesia 
Alright, Tiki isn't exactly on the nerd theme. But, the bartenders sure do take their drinks seriously, even though a lot of people think a flaming sugary drink doesn't deserve the perfectionist levels of attention usually reserved for your private fan-fiction stories. Basically, Tiki fans are the comic nerds of the booze world, and this is one of the country's best thatched slices of paradise. This cozy island paradise  -- right across the street from Friday's big kick-off party at Things From Another World -- can get packed pretty quick so get there early so you can enjoy your fiery bowl of booze, indoor thunderstorms, and kalua pork as soon as possible.
NW Industrial & SE McLoughlin
The theme: Vegan naked vampires
Of course Portland has a vegan strip club where you can only pay in $2 bills. Everybody always makes fun of it. But what's often overlooked is the fact that it's also vampire-themed. Specifically, it's themed after the south-of-the-border bar in From Dusk Till Dawn. That means that both locations of CD (the original in BFE and the sequel in deep SE) are rowdy as hell, and kinda wonderfully raunchy. The vamps sparkle because they're covered in glitter, not because they love Stephenie Meyer. Oh, and they definitely bite. You've been warned.
Sign up here for our daily PDX email and be the first to get all the food/drink/fun Portland has to offer.
* Thrillist senior editor Andy Kryza contributed to this story.
A reformed Texan, living abroad in Portland, OR. She loves comedy, cocktails, and comics and will fight you about any of those on Twitter @shame_y.