With all due (re: no due) respect to Paul Giamatti and your neighbor from Sonoma who moved up here and won't stop talking about tannins, the Willamette Valley is one of the best wine-producing regions in the country. And you don't live 30 minutes away from one of the best wine areas in the world without having a wealth of world-class wine bars. These are the best places to purple-up your teeth in all of Portland.
Urban winery SE Wine Collective is one of the more traditional-feeling of the wine bars in Portland, with a smaller, cozier tasting room serving up small plates and glasses from the 10 member wineries, a barrel room, and a big-ass production floor. Don't let the whole "small plates" thing fool you, though: in its "Cuisinières" dinners, the Collective and Chef Althea Grey Potter collaborate to put our local wines and foods into perspective alongside Old World counterparts. Don't have time for a multi-course meal but still love the wine? Buy one of the growlers and get it filled for as cheap at $15.
You want cheap? Pour boasts a happy hour with $3 pours of both red and white wines. Even during regular bar hours, the owner promises that not a single wine is priced more than $15 over retail. Don't let the prices set the wrong expectation, though: this place is great for casual happy hour fiends and wannabe soms alike. In fact, every Thursday the PDX Wine & Adventure Enthusiasts group hosts a class with a sommelier that's open to the public, just in case you want to up your game.
An all-around more casual spot than most of the places on our list, ENSO is ideal for large groups thanks to tons of open-seating areas with comfortable lounge space. Even the wine club is more accessible because it offers different price points for its wine shipments. Regardless of how many shipments you get a year, all members get lots of tasting lounge perks like a complimentary tasting for up to four people each time you visit, $5 delivery in Portland area, and a free birthday glass of wine. And if you don't want to be a wine club member, well, it's also a damn fine wine bar, too.
Wine Up on Williams caters to wine lovers looking for a second home. Cellar Dwellers club members can get their name put on a plaque in front of their favorite stool, and here it really means something. Sit down at any of the barstools and the staff can tell you not only when your stool's namesake was last in, but probably their favorite wine to boot. Bond with your new bar family at any of the many weekly events including Wednesday classes, jazz Thursdays, and wine-tasting Fridays. The Sweet Spot cellar even hosts comedy performances, making Wine Up a great contradiction to the stuffy reputation wine bars are shouldered with.
Ambonnay is how you'd imagine Wes Anderson's wine bar would feel complete with perfectly twee decor. This intimate space has the upscale yet unconventional feel of a party in the Tenenbaums' brownstone. While the Champagne-heavy menu doesn't offer a wide range of options by the glass, the bottle list can supplement nearly any bubbly craving you could have. The best part of this tiny, slightly hidden space -- other than the excuse to get closer to your Tinder match -- is how much you can interact with and learn from the staff. Quick! Google some questions that will prove you earned that right-swipe.
Most of the Portland wine world seems to sleep in late. So when you're feeling the need to fill that wine glass-shaped hole in your heart and take in a delicious brunch, there is only one spot you should consider: Hop & Vine. Turns out, brunch can be so much more than mimosas (although the mimosas are great too). Keep the party going at your house later by stopping by the attached bottle shop on your way out.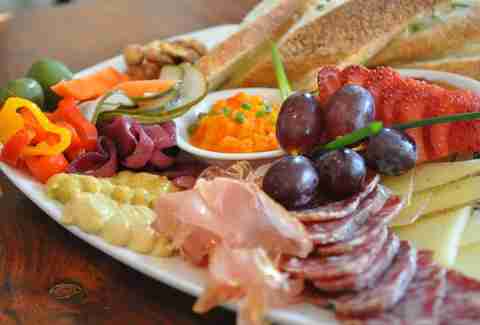 Most of Portland's wine scene seems to cash out early, but Taste on 23rd keeps the party going with a late-night happy hour and DJ sets Thursday-Saturday. Don't let the party atmosphere fool you, though: wine is still serious business here. While everyone has their favorite Oregon pinot, Taste's impressive 18 distributors and sommelier are dedicated to introducing a more varied Old World palate to Portland. Don't worry, it's keeping things local and weird by building great relationships with winemakers who even deliver by hand.
This family-owned and -operated bar wants you to join the family. Come prepared to relax, and don't be surprised if owner/vintner Norm encourages you to just kick off your shoes and curl up on the couch with your wine and the occasional live music. You can even design your own wine blend and pizza to match: a stark and welcome contrast to the usual pairing of wine and charcuterie. Even the pizza dough is made right there in the building by the bar's neighbor, Gabriel's Bakery. It's part of the family too.
Named one of the best sherry bars in the nation by Wine Enthusiast (and even owned by a Cheryl!), Bar Vivant is the number one spot in town for sherry/Cheryl lovers. Nowhere else in town comes close to the selection you can find in the six pages of sherry you find here (Frasier Crane would be stoked), paired up with tapas for good measure. Stick around for the perfect nightcap and dessert from the other side of the business at Pix Patisserie, or take a bottle home for 10% off the list price.
One of the best date spots in Portland also boasts the best rooftop bar on the Eastside. And a great happy hour, with everything from a solid burger to poached pork clocking in at under $10. And great not-happy hour food ranging from steak to albacore. Oh, and wine... a carefully curated list that stays fancy without veering into the ridiculous side of the price spectrum. Basically, if you bring a date here that doesn't go well, it's on you.
One of the newer ventures by local supergroup ChefStable, Coopers Hall is a sprawling place where you can drink wine while feeling like you're in a beer hall. This is a good thing. The spot's in a former auto shop that looks like an airplane hangar full of barrels. The wine is poured from 44 taps (that also pour beer and cider) and paired with rotisserie meat and not an ounce of pretension. Oh, and the wine's made, barreled, and kegged in-house. It's a sprawling celebration of wine that caters perfectly to the amateur and the aficionado.
Williams/Vancouver
New to the Williams St fray -- as is basically everything -- the Portland outpost of Roseburg's TeSoAria ticks off all the right boxes. Cheap flights are paired up with everything from BBQ to nuts, charcuterie, chips, and candy bars, making for one of the most appealing-to-everybody -- and affordable -- wine experiences you can have, and one you can take home thanks to the bottle-your-own program that lets you tap into the on-site barrels. Even better, wine comes with free BBQ on Wednesdays, and free BBQ makes everything better.
The big rustic tasting room attached to urban winery Clay Pigeon is a testament to all things wine, right down to a bar made largely of repurposed barrel parts. It's also a great spot for big wine-thirsty groups thanks to the ample space and big tables. Oh, and the owner used to be associated with Cheese Bar, so you can bet your weight in blue that the selection of dairy and meat here is perfectly calibrated to go perfectly with the in-house vino.
Sign up here for our daily PDX email and be the first to get all the food/drink/fun Portland has to offer.
Thrillist senior editor Andy Kryza contributed to this story, then purchased some teeth-whitening kits.
A reformed Texan, living abroad in Portland, OR, Amy Wolfenberger loves comedy, cocktails, and comics and will fight you about any of those on Twitter: @shame_y.