Portland is rife with cocktail bars, dive bars, tap houses, strip clubs, double-decker bikes, and multiple clichés. But its wine bar selection is slightly more limited. Still, there are some truly great places to grab a glass of Oregon pinot noir or French rosé. We've skipped restaurants with great wine programs, and kept to just the bars that specialize in vino. Here are the 11 best in Portland.
Clinton/Division
The spirit of community runs deep at the SE Wine Collective, which is part winery, part wine bar. Kate Norris and Tom Monroe own and run it, and it's home to their urban winery, Division Winemaking Company. However, numerous other wineries utilize the space as well, and the duo have sponsored many up-and-coming Oregon wineries. Inside the adjacent, cozy bar you can find bottles and glasses from Division Wine Co, participating wineries, and other local and imported varietals. Unlike many other wine bars, SE Wine Collective also offers a full dinner menu, all of which is, naturally, wine friendly. If you're really lucky when you're here, Cassidy, the famous maître-dog, will make an appearance.
SE Industrial
Ambonnay sells just one type of wine: bubbly. And most of them, especially on the glass pour menu, are straight from Champagne. Nestled in the industrial district, the space is modern and small, yet comfortable with empty frames and mirrors adorning the walls. Despite the trite associations of elitism with Champagne, the knowledgeable staff here is nothing but friendly and welcoming, and, being Portland, there's no need to feel like dressing up. Thankfully, they present their Champagne in large wine bowls, rather than obnoxious flutes.
Kerns
Though primarily known for its line of chocolates and pastries, Pix Patisserie's poorly kept secret is its status as one of the best wine bars in the country, Bar Vivant. The list is huge -- over 65 pages long -- affordable, and unpretentious, all printed on eclectically colored sheets in a bound folder. It's mostly European, with an emphasis on bubbles, rosé, and even sherry. A full food menu, along with Pix's titular pastries, pair nicely with the wines. Be sure to stop in on a Thursday, where happy hour all day means $4 pours of Spanish wines, 10% off all bottles, and free tapas with every drink bought. It's best in summer, when you can sit out on the back patio, or in the miniature vineyard out front, and sip rosé all day. We won't blame you for coming here every Thursday of the year.
Buckman
Coopers Hall, the big, bright event space and urban winery filled with plants, is the largest wine bar in town. It brings a unique approach: wine-kegs on tap. Kegs, while more difficult to maintain than bottles, are also more environmentally friendly, and less expensive for wineries to produce, which means high-quality West Coast wines at appreciable prices. Half the menu is dedicated to Coopers Hall's own wines, while the other half is guest taps, mostly from California, Oregon, and Washington. There are usually around 40 options, as well as cocktails, beer, and a full dinner menu, so you'll be sure to find something that pleases. However, Coopers Hall is also an event space, and it feels like half the time the space is closed for private events, so always be sure to check ahead before heading here.
Buckman
Sherry's seen a major uptrend in Portland in the last year or so, and no place is more indicative of that than Bar Casa Vale, a cocktail bar that launched in late 2016 and is filled with enough sherry to drown Frasier Crane. Of course, sherry is incomplete without delicious tapas to pair with it, and BCV has that covered with skewers of pork belly and octopus, charcuterie plates, cheese, and a montadito, which is basically a slice of baguette with roasted cheese and shallots. The happy hour runs both early and late, and you can find $7 sherry flights and $6 sherry cocktails, skewers for $4, and even a burger for $7. All of the action takes place in a sexy, dimly light, narrow bar full of exposed brick, serviced by one of the friendliest, most knowledgeable, and approachable crews in town.
Downtown
It might seem odd to include a cocktail bar in a wine guide, but Shift Drinks was co-founded by a sommelier. Anthony Garcia offers exciting wines by the glass and by the bottle at ridiculously affordable prices thanks to years of experience, industry connections, and the fact that prices are supported by liquor sales. With the inclusion of a new, all-day happy hour, you can ball out on a budget with some truly geeky, fun wines at just $7 a glass. You'll also find insane deals on the regular menu, where remarkable vinos are categorized with labels like "cheap and cheerful rosé" and "hella oak," the latter of which begs you to reconsider any aversion to oakey, new world wines.The bar also operates as a wine store, and everything is available to go until the bar closes and for $10 off, which means you can grab a bottle of killer Champagne to go for less than $30 at 2:30am, so you can keep the party going.
Downtown
Bardot wasn't originally in the plans for Park Avenue Wines, the vast and beautiful wine store that took the place of Brasserie Montmartre, but we're glad it ended up happening. Industry Veteran Doniree Walker has cultivated an impressive list of high-end glass pours; instead of cheap "house wines," you'll find pours that encapsulate the best of Oregon and Europe. The menu also boasts a nice selection of sherries, and Walker has created a fun list of wine-based cocktails, like a "Manhattan" made with an amaro in place of whiskey. On Tuesdays, come in for $15 blind tasting flights, generally with wines that are worth far more. If you can correctly guess each pour, the flight costs $1. If you are looking for a bottle, grab any of the 1000+ ones available at Park Avenue Wines and settle down with it at the bar for a $10 corkage fee. Imported and local cheese and charcuterie, as well as "conservas" -- Spanish drinking snacks likes mussels, sardines, and octopus served with potato chips -- make up the food menu. And don't miss the decadent Jamon Iberico, the star of the show.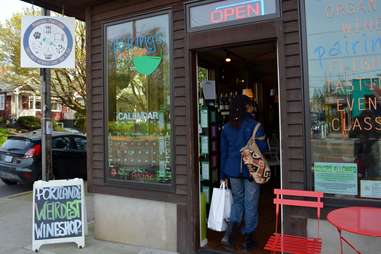 Kerns
With a name like Pairings, you would think it's all about food and wine, and while that's partially correct, there's a lot more to it: Other than food, wine here is paired with musicians who passed in 2016, characters from your favorite TV show, or your astrological sign. Owner Jeffrey Weissler wants to take the wildest, geekiest wines and make them accessible by connecting them to everything from pop-culture to emotional experiences. He's a consummate educator and entertainer who hosts unorthodox tastings and experiences. The wines are less focused on region (though Oregon and Europe make up the bulk), and more on the sort of wines that Weissler finds evocative, as well as a special interest in what he calls "living wines": organic and biodynamic wines that are spontaneously fermented.The space itself is as unique as the concept (and the owner), with bright colors and a chalkboard on one wall, evoking something between a relaxed coffee shop and a kids' play center, and the entire room measures just 380sqft.
Humboldt
Natural wines are produced from organically or biodynamically grown grapes, handpicked, unfiltered, and contain as little additives as possible. The end result is incredibly representative of the grape, the terroir, and the winemaker. Ryan Jones and Victor Martinez are bringing these to Portland at Ardor, an unpretentious pop-up bar at the Red E Cafe. The spot -- open Friday through Monday from 7pm to midnight, is popular with wine-industry folk, but regular drinkers will find it approachable as well. Wine pours are limited, usually around 10 to 12 glasses of white, red, orange, rosé, and bubbles each night, and options constantly rotate. However, you can always purchase one of the 100+ bottles available retail (some of which are exclusive to Ardor), and open them in the bar for just $10 more.
Pearl District
The newest wine bar on the scene fills a much-needed niche in the Pearl District: adventurous, sommelier-picked wines at approachable prices, available in half-glasses, full glasses, flights, and bottles. The building itself is worth the visit: a small, two-story loft, with retail on the bottom floor and a wine bar on the top, full of plants and mid-century furniture. Sadly, since Thelonious brought in a charcuterie board, it had to remove the winery cat from the premises and return her home, but it's still an extremely pleasant place to enjoy a stunning glass of cava or Bordeaux. And, due to its status as a historical building, the space cannot be radically altered, which means it's the only wine bar in town to feature a shower. You are not encouraged to have a shower wine here, however.
Division/Clinton
Just across the street from the SE Wine Collective is Division Wines (yes, it's OK to be a bit confused by the fact that it's so close to Division Wine Making Company). It started as a moderately sized wine store with a petite bar in it, but eventually shifted focus, expanding the bar to a 50/50 split with the retail side. It's a simple, approachable bar with great wines being poured by friendly, educated wine folk. The best part about it may be that you can get each pour as a (generous) half glass, allowing you to taste the full gamut of the menu without blowing too much cash.
Sign up here for our daily PDX email and be the first to get all the food/drink/fun Portland has to offer.
Alex Frane is a Portland native and is glad to be able to pretend that drinking wine constitutes "work." Follow his habits at @franiacdrinks.