Trio Club - An East Burn karaoke temple with a light-up dance floor - Thrillist Portland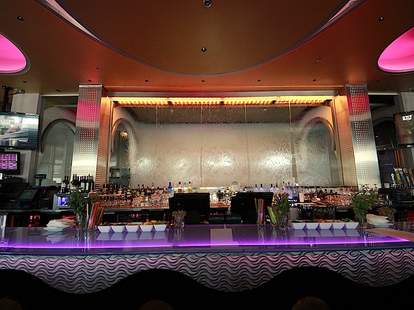 Rising like a phoenix from the ashes of a demolished Denny's, Trio Club is the only place in PDX where you can sing "Waterfalls" while actually looking at them, thanks to a super-swank, ultra-modern setup that includes flowing falls behind the glowing bar and three different high-tech karaoke stages.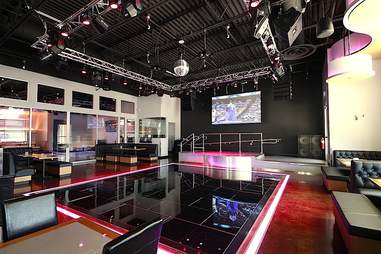 The main room's divided between dining booths and perhaps Portland's biggest karaoke stage... or at least its most laser-y. In addition to a high-tech lighting system seemingly bought from Pink Floyd's garage sale, there's also a booming sound system large enough to guarantee the entire East side will hear your Bieberesque falsetto.
Sound-proofed by sliding glass doors (so you can watch your rivals), there's a secondary stage right by the main one, which also boasts a light-up dance floor. "Billy Jean" fatigue is basically unavoidable.
If you prefer your careless whispers to be heard only by friends, you can rent this smaller room out for parties.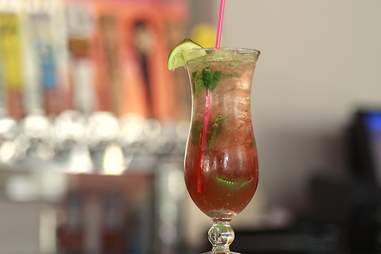 Sadly for Baby Jessica, there are no well drinks. Luckily for the rest of us, cocktails come with the good stuff, and include this Manchito w/ Blackstrap rum, Fernet Branca & fresh lime.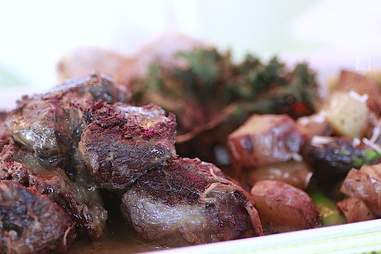 Lunch is panini & burger intensive, while the dinner menu features "country food" from various regions of the world, including this espresso/Chianti pot roast, Asian noodle dishes, linguine & meatballs, and dry-rubbed ribs.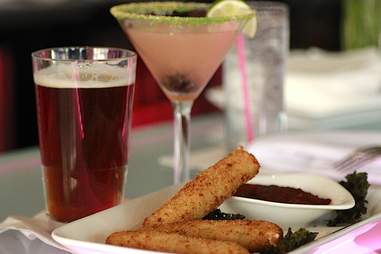 During M-F happy hour (3-6p), you can score discounted drinks (including a daily specialty cocktail), plus $5 bites like crab puffs, charcuterie, and these hand-cut mozzarella sticks... after which it's recommended you wait 30mins before chasing or swimming in waterfalls.