Celebrate Negroni Week With Portland's Best Negronis
The negroni, traditionally equal parts gin, Campari, and sweet vermouth, is an eminently mutable cocktail. Switch out every ingredient in the drink, and you can still maintain that you just made a negroni. It's reached the point that it's (arguably) more of a family of drinks rather than a single cocktail. Bartenders love playing with it. A number in Portland have crafted some brilliant takes on the Italian classic, and one has even dedicated an entire week to it (more on that later).
Any of the cocktail bars in the city, such as Raven & Rose, Teardrop Lounge, Shift Drinks, Bit House Saloon, or Oven & Shaker, are able to whip up a fantastic classic or varied negroni. But we stuck to just the bars and restaurants that featured one on their menu. So in honor of Negroni Week, here are our eight favorite negronis in Portland.
SE Industrial
Renata is Portland's newest great Italian restaurant, and boasts an excellent cocktail program. It also offers its own variation on the negroni -- three, actually. The first drink of the negroni flight is the Mattina, which means morning. This one is made with gin, Cocchi Americano, and Campari's lighter, more citrusy cousin, Aperol. The Mattina is the perfect kickoff: bright, delicate, slightly bitter, and floral.

Next is the Parms, which is far less bitter than most, and made with gin, Cappelletti, and Cinzano Rosso. This lack of bitterness makes the final drink, a classic negroni, even more astringent. The bar's intention is to have you taste your way through the flight once, and then go back to mix & match to see how the variations affect one another. Each drink in the flight is served half-sized, in adorably short tumblers.
Kayt Mathers/Thrillist
Buckman
Collin Carroll is a mad scientist behind the bar, infusing batches of cocktails via sous vide with wood charred in Trifecta's ovens. It serves a double purpose: the batched cocktails allow for quick service to the restaurant and bar's many seats, and it allows Carroll a unique, culinary approach to his drinks. It would be hokey if it weren't so damn good.

The White Negroni is made with Beefeater gin, Suze bitters, and Dolin Blanc, and infused with charred chardonnay stems, which lends a subtle smokiness and an extra layer to an already nuanced cocktail. It wouldn't work well with a more traditional "red" negroni, but pairs nicely with the lighter flavors of the citrusy Dolin Blanc vermouth and gentian-based Suze.
Alex Frane/Thrillist
Sunnyside
The rum negroni at Aalto Lounge, with a funky Jamaican rum substituting for gin, exemplifies that mutability of the drink. With just one exchange, you get a drink that's unmistakably a negroni, but notably different. Really, this drink is probably closer to a noulevardier than a negroni, rum being more like whiskey than gin. But whatever the case, this rich, spicy, bittersweet drink is everything you'd want in a cocktail, as each ingredient stands out yet blends holistically.
Beaumont
From the bartending duo that brought us the Smith & Cross Negroni at Aalto comes the White Negroni at Bang Bang, Kate and Alex Wood's newer Thai restaurant and bar. It's distinct from Carroll's, and not just for the lack of charred chardonnay. This White Negroni uses Suze as well, but also Aria, a Portland gin that's perfect in negronis, and Cocchi Americano, a vermouth with quinine. This make it more bitter and more immediately recognizable as a negroni despite the difference in color. It's a fun, vivid variation on the drink that pairs well with the Thai drinking snacks.
Alex Frane/Thrillist
Buckman
The birthplace of the Negroni Social, an industry costumed gala, which inspired the creation of Negroni Week, Nostrana is Portland's capital of the negroni. This Italian restaurant in residential SE Portland is where Douglas Derrick started the negroni of the month program, later bringing in outside bartenders' and chefs' recipes.

Derrick left Nostrana a few years ago, and the bar program is now in the capable hands of Peter Carpenter, who was instrumental in getting other talent, like wine industry folks for last year's program, involved in the monthly negroni. Starting this month, this year's curriculum will see a return to its roots, using recipes developed by Carpenter and his staff. If the negroni of the month doesn't tickle your interest, you can always just order the standard negroni, made with predictable aplomb.
Alex Frane/Thrillist
Clinton
After leaving Nostrana, Douglas Derrick ended up at Ava Gene's, another excellent Italian place. There, he has continued his love affair with the drink and launched his newest brainchild: working with Beckham Estate, a winery and amphora maker, filling clay amphorae with batched negronis and burying them. Derrick and Beckham Estate determined the exact temperature at which to fire the clay to allow the right level of oxidization, so the negroni mellows and takes on new, earthier qualities. The next batch to come out of the amphora will be made with Aria Gin, Campari, and pinot noir rosé from Beckham, with the rosé forming the bulk of the drink. It's going to be excellent.

Due to limited stock, the amphora negronis are sadly not always on the menu. In their absence, Derrick features a variation on the negroni called the Blonde Redhead (named for the band). Another wild creation, this one is almost like an inverse Manhattan, with Carpano Antica Formula vermouth, Barolo Chinato, and rye or Japanese whisky, depending on availability. This drink is then garnished with Derrick's invention -- dehydrated Campari-orange dust. It's like a deconstructed negroni, and it's delicious.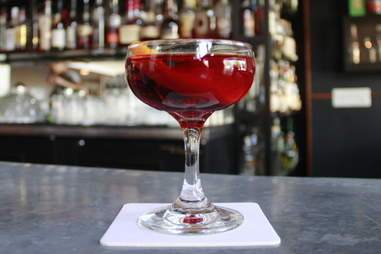 Andy Kryza/Thrillist
Downtown
The drink that started the barrel-aged craze nationwide: Jeffrey Morgenthaler's barrel-aged negroni. What can be said about this drink that hasn't been already? Morgenthaler took an already-perfect drink and somehow perfected it further, all while insuring that he and his bar staff could turn out negronis faster than anyone else (this was before everyone started batching their drinks). The barrel aging manages to both concentrate and mellow the drink, giving you a wonderfully smooth negroni that still manages to let bitterness through. There's a reason it became as famous as it is.
Alex Frane/Thrillist
Division/Clinton
The negroni is ubiquitous and popular enough now that there's generally no reason to put it on a menu unless a) you're doing something really different, like barrel-aging or infusing it with charred wood, or b) you're making the best damn version of the drink. Option b is the case at La Moule, Portland's favorite new cocktail bar and mussel restaurant. It's only $10, equal parts Martin Miller's Gin, Campari, and Antica Formula. Derrick at Ava Gene's has said that water is the fourth ingredient necessary in balancing a negroni, and the staff at La Moule manages to hit that perfectly. The drink starts with a kick, and very slowly mellows as you drink it, without ever getting watered down. It's just a great representation of the drink, without any embellishments.
Sign up here for our daily PDX email and be the first to get all the food/drink/fun Portland has to offer.
Alex Frane loves negronis more than almost any other drink, and is glad there's an entire week devoted to them. Find out his favorite spots @franiacdrinks.