Hiding behind the tourist traps and recognizable national chains, San Antonio is home to an exquisite bar and microbrew scene as diverse as the citizens themselves. From the exploding popularity of the Pearl Brewery to the St. Mary's strip and all the way out to the Northside, there is no shortage of places to find your liquid courage. Like the San Antonio River itself, a hip and chic bar scene cuts a mighty swath through this city. Lest you get swept away by the current, here are 11 essentials you have to try. Reminder: this list is not a ranking.
Monte Vista
What you're getting: I'm Your Huckleberry
Nestled into the corner of an unassuming building and adjoining bakery is this quaint little bar. Another purveyor of craft cocktails, Barbaro doesn't take itself quite as seriously as other joints. The menu is sorted into "The Good, The Bad and The Ugly," and if you time your visit correctly, you might even be served by award-winning bartender Elisabeth Forsythe. Your drink of choice should be the mezcal-based I'm Your Huckleberry, which blends together the sweetness of maple syrup, blueberries, and the heat of ancho peppers.
Downtown
What you're getting: The Smoking Buck; Whiskey Kisses
True to its name, visiting The Brooklynite is like being transported to another time and place, somewhere between Mad Men and a Victorian speakeasy. You might expect a heavy waft of cigar smoke, but all you'll get are some amazing craft cocktails. As if acting like Don Draper (season four Don Draper) isn't enough to win you over, The Smoking Buck's 100-proof bacon bourbon should be reason enough to visit this award-winning bar.
Southtown
What you're getting: Sazerac
In the heart of the Blue Star complex is Bar 1919. Not just your friendly neighborhood watering hole, it's a house of craft cocktails that takes itself seriously and expects you to as well. It seemingly has every Scotch and bourbon ever made and is proud of the fact that it only carries one kind of vodka. The bartenders are friendly and quick with an up-sale suggestion, one you've likely never heard of. If you want the full effect, order up a Sazerac and watch the magic happen.
Stone Oak
What you're getting: Paloma; Sea Legs
In traditional Speakeasy style, this cocktail bar relies on word of mouth to spread its reputation -- a reputation of amazing craft cocktails and homemade infusions of outstanding quality. The dimmed lights of this basement-styled bar would have been perfect for Al Capone and fellow tax evaders. The bartenders are as eager to discuss the history of bourbon as they are to recommend a seasonal beer to wet your whistle. Even drinks with a long history get the homemade treatment, like the Paloma's house-made grapefruit cordial. The Green Lantern may be San Antonio's worst-kept secret.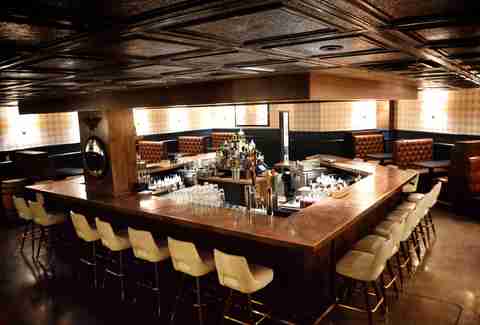 La Cantera
What you're getting: Mexican Firing Squad; Our Tai
Another bar specializing in house infusions and craft cocktails, George's Keep presents a somewhat schizophrenic take on the speakeasy movement. In the front, you'll find a classically adorned bar with a limited selection of draft and craft beers as well as a custom drink menu. As you move to the rear bar, however, you're transported to an entirely different scene, where bitters meet lemon zest as the bartenders mix liquid works of art from a bar that's center stage.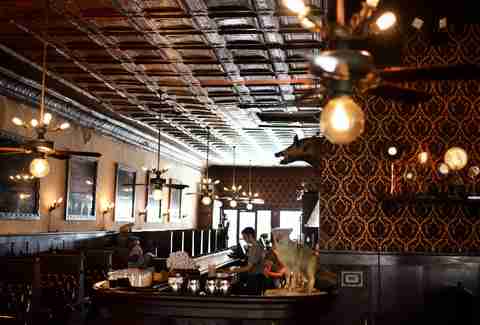 Downtown
What you're getting: Little River; Snakeskin Suit, Alligator Boots
Opened in 1933, Esquire Tavern isn't just styled after the Prohibition era, it literally celebrates the end of it. The old stone building looks like something you might find settled in with the screaming balconies of Bourbon Street, but luckily you don't even have to leave the city to enjoy Esquire Tavern's incredible atmosphere and cocktails. You'll want to try the Little River -- this is San Antonio after all -- but if you really want to live life to the fullest, you have to suit up with the mezcal-based Snakeskin Suit, Alligator boots.
Downtown
What you're getting: Tangerine Bermuda Sour; Jake Collins
It's not often a bar this young makes an essential list, however Juniper Tar is anything but the norm. Seemingly handcrafted from the chandeliers all the way down to the gold toilets, Juniper is a visual treat. If you've ever felt more significant just for being somewhere, you'll quickly feel at home here. Stained-glass art deco meets posh punk rocker in this chic tavern. You really can't go wrong with anything on the drink menu, which is refreshed weekly, but if you get the opportunity go in on the Tangerine Bermuda Sour.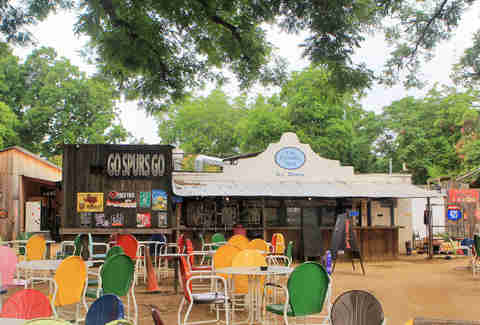 Southtown
What you're getting: House-made micheladas
A beer garden for the gods, The Friendly Spot couldn't be more aptly named. The expansive outdoor seating area is perfect for groups from two to whatever and you can even bring Fido along. Depending on when you decide to join the party, you're likely to find movies playing on the inflatable outdoor screen. Or, if you're really lucky, you'll be amongst some of the most friendly, die-hard Spurs fans you'll ever meet. Not sold yet? There's also a beer list over 300 deep, homemade sangria and micheladas, and $5 16oz mimosas on Sundays.
Northside and Southtown
What you're getting: Witicus; Bat Outta Helles
Freetail is a beacon for microbrew beer snobs. With an ever-changing variety of their own brews, this batty establishment keeps the scene fresh. In addition to its own excellent recipes, Freetail also offers a small, but equally impressive array of other Texas beers. Pizzas fresh from their brick oven betray the noobies among the beer elite. They even offer a mug club for regulars. The menu changes almost daily and while you're really doing yourself a service trying any of their crafts, the Witicus is a standout.
Southtown
What you're getting: Austin Eastciders Original Dry Cider
Formerly a gas station, Filling Station Tap Room now specializes in a different kind of fuel with 25 seasonal, local, and Texas beers as well as Austin Eastciders Original Dry Cider. The outdoor seating is perfect for communing with friends while you fuel your body with their fantastic pizzas and sandwiches. Bring your friends, bring your appetite, and enjoy a great laid-back scene.
 
Downtown
What you're getting: Seasonal drafts
Alamo Ice House is the quintessential Texas beer and BBQ joint. The music keeps your toes tapping and the beer is always flowing ice cold. The open-air environment begs for big groups and parties. Alamo Ice House prides itself as a place to go and "hang with your buddies" (i.e. "rag on your buddies' pathetic washers skills"). It's got lawn games, music, and an assortment of craft and draft beers. Even if you're just looking for a good place to watch the game while you enjoy a brew, this is your spot.
Sign up here for our daily San Antonio email and be the first to get all the food/drink/fun in the Alamo City.
Dustin Dooling is an aspiring novelist and accomplished journalist covering the famed nightlife of his hometown. His use of dynamic and lively language brings the life of the party to the page.