San Antonio's Best Sports Bars for Game Day
The mercury is finally dropping below 90 degrees, which means it's finally fall in San Antonio -- and that means it's football season once again. The time has come to post up at your local watering hole with a brew in one hand and your fantasy league stats in the other… but what if you're in between watering holes at the moment? Where's a nomadic type to go for their live sports trash-talking fix? The answer, dear friends, lies below: We've gathered up the best spots in San Antonio to watch the game, whether you're trying to sneak a peek of the screen on a date or prowling for a rowdy Sunday watchfest. Here are some essential live-sports destinations in the Alamo City.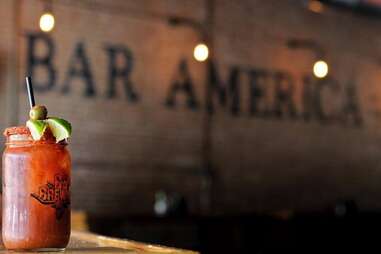 Downtown/Southtown
Party-heavy spot for sports fans looking to rage
Large and rowdy later at night, Bar America is not exactly the place you go for a hyper sports-focused vibe; however, it earns its recommendation thanks to its location on the north side of Southtown, smack-dab in the middle of a burgeoning bar scene and just a short scoot from Downtown. That makes it an ideal a place to pregame with an afternoon of college football (what's more "America" than that?), while leaving your options open for some nightlife afterwards. There's also no shame in staying the course -- you've been camping at that table all afternoon and you earned it -- but just know that it skews toward a younger crowd and gets very lively in the late evening.
Deals: Bar America has a happy hour from 4-8pm Tuesday through Friday (and 3-7pm on Saturday), which features pub fare appetizers under $5 and $2 Lone Stars, domestics, and imports, as well as $3 for select craft beer, margaritas, raspas, and Dos Equis Micheladas.
Northside
Group-friendly barstaurant with outdoor volleyball courts
For those out there who fancy a bit of volleyball with their brews, a visit to Sideliners is the perfect Monday night. Sideliners is both a bar and a restaurant, serving up a variety of class American food (e.g., hamburgers, tacos, fries) -- what sets Sideliners apart, though, is the large outdoor patio and bar area, which overlooks several sand volleyball courts. In other words, if your team isn't doing so well, it's easy enough to pop out back, hit the sand, and forget about the loss until the next week. The restaurant is family- and dog-friendly, so the entire clan can come out to support your team.
Deals: During this sports season, Sideliners is offering a game day Sunday special consisting of $10 domestic beer pitchers, $3 Bacardi, $2.50 domestic pints, and $3 Jim Beam.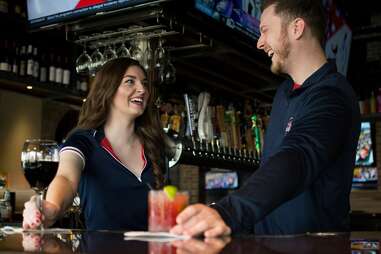 Northside (two locations)
Cajun-flavored sports bar co-founded by an NFL MVP
Backed by Drew Brees (of the New Orleans Saints), Walk On's is your classic American football-oriented bar with a Cajun bend. Walk On's serves up all your usual sports food fare, in addition to Louisiana staples such as boudin balls, fried alligator, and gumbo. Each location has at least a dozen or so flat screens, which broadcast just about every type of game you could imagine. The service is top notch, and for the most part the wait staff is cheering on the home team as much as you are.
Deals: Weekday happy hour runs until 6pm, and includes $3 wines and select beers. On Sundays, expect $3 Bloody Mary's, $2 PBR and Franconia Knotty Brunette, and, for the brunch set, $10 mimosa pitchers.
Northside
Low-key neighborhood watering hole for comfortable game watching
Good ol' Charlie Brown's. A low-key and small neighborhood bar, Charlie Brown's is a great place to go if you just want to feel comfortable. Charlie Brown's has several televisions and a small outdoor patio, and hosts musicians, karaoke, and trivia during the regular week. This is a great place for someone who is into sports, but also wants to be able to sit back and have a conversation with their fellow bar-goers.
Deals: $9.25 domestic pitchers of beer are offered until 7pm Monday through Saturday; on Sunday, reverse happy hour starts at 7pm, and well drinks are $2.50 all day.
River Walk
Touristy sports bar great for people-watching
Mad Dogs is both a tourist hotspot and a jack of all trades situated directly on the River Walk. Featuring British pub fare, kilted servers, and a generally energetic vibe, it's a great place to watch a game if you're traveling solo in the Alamo City and find yourself downtown.
Deals: Daily happy hours vary during the week, including $4 margaritas and $4.50 Heineken pints on Mondays.
Cover Three
Northside
A classy sports bar experience with a legit dinner menu
Cover Three offers a slightly more upscale sports bar experience. Featuring a large patio and about a dozen televisions (including a projector screen they occasionally open up outside), Cover Three seamlessly combines a sports bar's offerings with a comfortable restaurant vibe. With an extensive wine list and appealing menu of entrees, Cover Three is a great spot for those who want to have solid dinner without missing their game.
Deals: Happy hour features $1 off wines and draft beers, $2 off cocktails, and $3 off apps from 4-7pm Wednesday through Friday, and 4pm to close on Monday and Tuesday.
Northside
Entertainment smorgasbord with TVs, bar games, and arcade machines
Schooner's features an assortment of game-streaming televisions throughout, in addition to a variety of non-televised entertainment like darts, pool, and arcade games. This is the ideal sports bar for folks who want a little bit more entertainment than the game itself has to offer (at least during commercial breaks).
Deals: Schooner's has fantastic happy hour specials, including $2.50 Tecate cans all day every day, and $2.50 Dos Equis bottles, Jack Daniels, Tennessee Honey, and Dickel. On Sunday, ALL draft beers are $3.75, and if you're looking to get real wild (or stop remembering a bad pass or fumble), Jager bombs are $4 and Fireball is $2.50.
Downtown
Intimate, neighborhoody alternative to downtown tourist-swamped sports bars
Small, comfortable, and relaxed, Alibis is a great spot to hit if you're downtown, but don't want to face the tourist traps near or on the River Walk (not that those tourist traps don't have their charms). Alibis has a good amount of televisions and a nicely sized (and priced) beer list, all contained inside a house built sometime in the late 1800s.
Deals: Call for daily specials.
Northside
Laid-back craft beer haven with a projector screen
If you're a lover of independent craft beer, then you probably already know about this magical little place on the Northside. Styled like a Belgian abbey with a modern twist, it has a ridiculous variety of beer on tap; Hoppy Monk prides itself on not serving beer from any of the international brewery conglomerates or their acquisitions, so even the biggest beer nerds in town will likely find something on the menu they haven't tried. What most don't know, however, is that Hoppy Monk has a large projector screen on the inside that they pull down for Spurs games and the like. The food is entirely locally sourced (with a cost to match), but it's absolutely worth throwing down for -- where else are you gonna get a 10-day cured wagyu beef tongue Reuben sandwich?
Deals: "Hoppy Hour" all day every Monday, featuring $4 craft draughts (including a lot of local brews) and a variety of $6-and-under cocktails and spirits.
Northside
Insanely large viewing screens in a classy hotel bar
High Velocity is for all the bougies among us. Situated in the JW Mariott San Antonio Hill Country Resort, High Velocity features 120-foot-long video walls along the top of the bar, as well as individual televisions (if said 120 feet of video wasn't enough viewing space for you). Sure, the drinks and food are a little pricey, but this is the perfect bet for a slightly older crowd who wants quality cocktails, beers, and food in glamorous environs.
Deals: Daily happy hour from 5-6pm features $6 wells, $5 domestics, and $1 off drafts.
Rivercenter
River Walk-adjacent sports bar with an impressive array of draft taps
This chain restaurant doesn't exactly feel like a chain; there are a couple in town, but your best bet is the Rivercenter location, particularly if you are visiting from out of town and staying Downtown. Yard House's bartenders say they have the largest tap in San Antonio -- whether or not that's true, beer lovers are bound to find something they like on the menu.
Deals: Happy hour runs from 3-6pm Monday through Friday, with half-off select appetizers and pizzas, and $2 beers, wines, and cocktails.
Westside
Indoor/outdoor bar with scenic views and a horseshoe pit
The Bend might be a little out of the way for any non-Westsiders, but it has fantastic outdoor and indoor seating with some pretty fantastic views, along with a sizeable beer list. You'll also find a ton of outdoor patio games, and on days with nice weather, all the sliding window doors get opened up to let some fresh air in. The Bend's also located right near one of the local bicycling trails, so you can get your biking in for the day and then sit right on down and enjoy a beer and the big game. The only real downside here is that the place doesn't serve its own food -- however, there's usually a food truck parked outside on weekends, so you're not totally screwed.
Deals: No word yet on game day specials, but the Bend's drinks are fairly affordable on a regular day -- better yet, The Bend stays open until 2am (unlike some other bars).
Sign up here for our daily Thrillist email and subscribe here for our YouTube channel to get your fix of the best in food/drink/fun.