Female Bartenders You Need to Know in San Antonio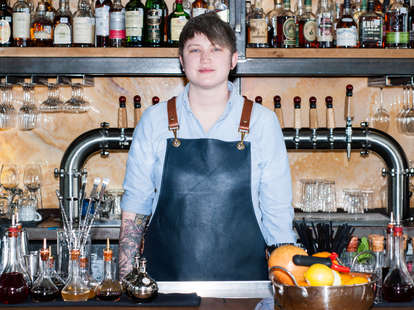 Benjamin Delacombe/Thrillist
In just the past few decades, the occupation of bartender has gone from an old-boy network to a field now dominated by women (60%, according to the Bureau of Labor Statistics). Yes, Beyonce, girls do, in fact, "run this mother." The women profiled below stand out not just for being part of one of the most gender-equitable professions around, but also for being among the elite of SA's cocktail crafters.
Karah Carmack
Where to find her:Paramour
Specialty: "Well-made classics, along with using a culinary mindset to create new cocktails. When I have the tools, I like to experiment with various chemicals in cocktails as well."
Background: "I'm from San Antonio. I moved away with my family in 1995, but returned on my own in 2006."
What she's doing when she's off the clock: "I like to check out new places to eat and drink in town; there are always a ton of new options. I also always make it a point to visit other friends' bars to show support."
What she loves about SA: "The amount of growth is really great to watch happen, and the cultural diversity is ever-expanding. It's an exciting era for San Antonio."
Cassidy Collins
Where to find her:Grayze
Specialty: "I love the classics! The gin martini, Old Fashioned, and daiquiri are timeless."
Background: "I moved to SA about a year ago from Chicago, where I lived for 10 years. I've been a Midwest gal my entire life before coming to Texas; I grew up in central Iowa."
What she's doing when she's off the clock: "My days off are few and far between, but you will probably find me riding my bike, reading by the pool, or hanging with Topper, who's both my dog and my best friend."
What she loves about SA: "Definitely the weather. It was 70+ degrees for the entire month of February! It's so strange to me and has been wonderful. Oh, and the breakfast tacos. Chorizo, bean, and egg is my jam!"
Elisabeth Forsythe
Where to find her: bar manager of both Barbaro and Hot Joy
Specialty: "Seasonal cocktails."
Background: "I am from Kansas City, MO, but I've lived in SA for most of my life."
What she's doing when she's off the clock: "At home with my dogs or on a beach somewhere."
What she loves about SA: "Oh, man, there are so many things! The culture is rich with music, history, art, music, food, booze, life. That's like a million things in one."
Hillary Woodhouse
Where to find her:The Esquire Tavern
Specialty: "I love making Tiki drinks. Rum is such a diverse category, and flavor combinations seem endless. Plus, leis and surf rock aren't so bad."
Background: "I'm from Florida, but I moved here when I was very young. San Antonio has always been home."
What she's doing when she's off the clock: "Lately I've been pretty quiet, catching up on Netflix, eating tacos in bed, and doing general dog lady things. I can't stand the cold -- not even the South Texas cold -- so as it warms up I'll be hitting more of my favorite patio spots."
What she loves about SA: "I've seen this city grow so much since becoming adult enough to realize what was happening around me. We have a blossoming food and drink scene, wonderful museums, a rich history with tons of beautiful buildings, a friendly, neighborly vibe, and a diversity that has helped influence me for the better. There's this awesome sense of pride we get when we talk about San Antonio."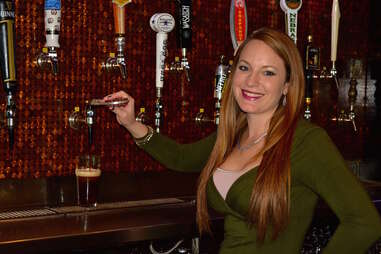 Amanda Snyder
Where to find her:Flying Saucer Draught Emporium
Specialty: "The Lava Lamp is my signature drink. It includes a hefeweizen (wheat beer) layered with a nitro stout -- usually Guinness -- with some Lindemans Framboise dropped in, giving it the appearance of a lava lamp. I also love IPAs, and help my regulars find the perfect beer for them based on their mood, the weather, and what kind of flavors they are looking for."
Background: "I'm from Corpus Christi, and graduated from Texas A&M-Corpus Christi with a bachelor's in business. I moved to SA in 2010 and fell in love with the city, the people, and the relaxed vibe."
What she's doing when she's off the clock: "I'm an avid reader, love hanging out with my husband and our dogs -- Tess and Chalupa Batman -- and my guinea pig, Sancho. I also love checking out the craft beer scene around town."
What she loves about SA: "I love everything about San Antonio! It is an amazingly big city with a small-town feel. There is always something new and different to do/see/try here -- plays and musicals at the Majestic Theatre, listening to live music -- especially dueling pianos. This is a one-in-a-million city."
Sign up here for our daily San Antonio email and be the first to get all the food/drink/fun in the Alamo City.
Michelle Burgess is a San Antonio writer who was inspired by the subjects of this story to learn how to make something other than her signature kick-ass Bloody Mary. Follow her @MishiBurg.